Two of my goals in life:
Start a company
Having a problem I wanted to solve was the prerequisite. I knew starting a company would challenge me in so many ways and be really rewarding.
Travel the world
I've always loved traveling—leaving the familiar to experience new people and places. My feed is full of the latest flight deals and ads for travel gear.
Before pursuing these goals head on, I worked at Facebook. Andrew, my partner and co-founder, left his job at Facebook to work full-time on our passion project. A year and a half later, he had one question: Are you in or out? I had a partner that I trusted and we had a problem we wanted to tackle. I was in.
Soon after leaving my job in November last year, goal #2 re-emerged. I started having thoughts about a life outside San Francisco. We no longer had a weekly schedule or daily commute. Could we build our company while we travel? Turns out, not only is that completely doable, it's beneficial in a lot of ways.
In a few months, I managed to infect Andrew with my travel bug. A month later, we moved out to build our startup Canny as digital nomads.
I was officially in pursuit of both goals:
starting a company (as promised, it's hard)
traveling the world with my carry-on (it's easy)
We've been in Europe for over 3 months now—and we're loving it!
Our nomad life
Our plan is to stay in most cities long enough to soak up the culture and feel what it's like to actually live there. We think that's around a month. Our ideal experience in each city is 90% local, 10% tourist.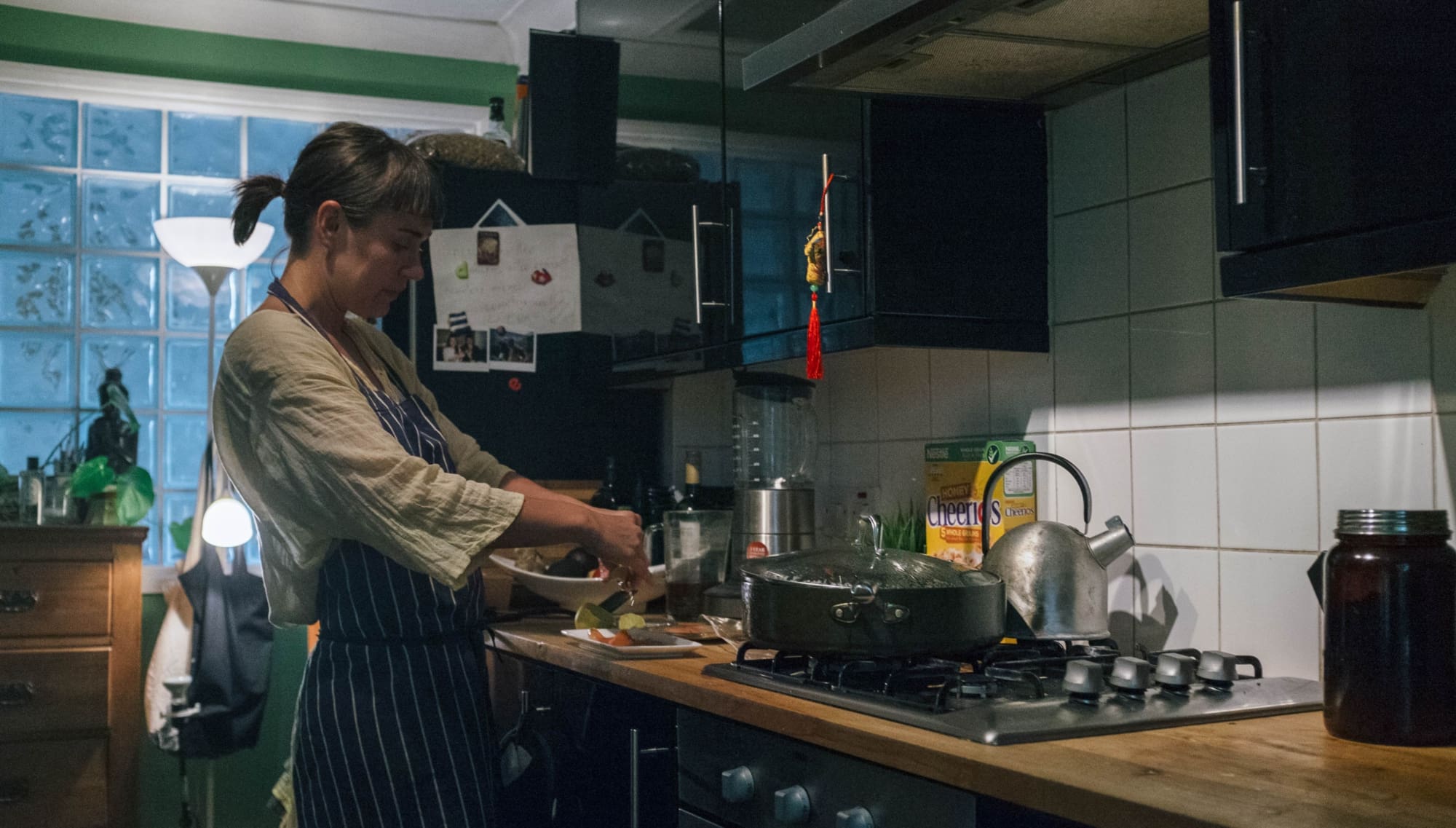 We don't really have a plan—that's the beauty of it! Pending valid visitor visas, any country is fair game. We try to plan about a month in advance so we don't get hit by the highest flight costs and limited selection of Airbnbs. The tradeoff is flexibility so this process may change as we go on.
The cities we're interested in usually have:
A budding startup community

San Francisco is all about startups, all the time. It's refreshing to meet like-minded people with completely different backgrounds.

Good wifi

Bad wifi is so frustrating but it's definitely a perk that we can work anywhere as long as we have wifi

Awesome coffee shops

Co-working spaces are expensive. Coffee shops are great and they have food. Seems like a no-brainer. Plus, Andrew gets cranky without his daily dose of caffeine.
Our day-to-day usually consists of finding a coffee shop to work from. Thankfully, coffee is a universal indulgence so we usually have a large selection. I'm writing this from a breakfast spot in Budapest: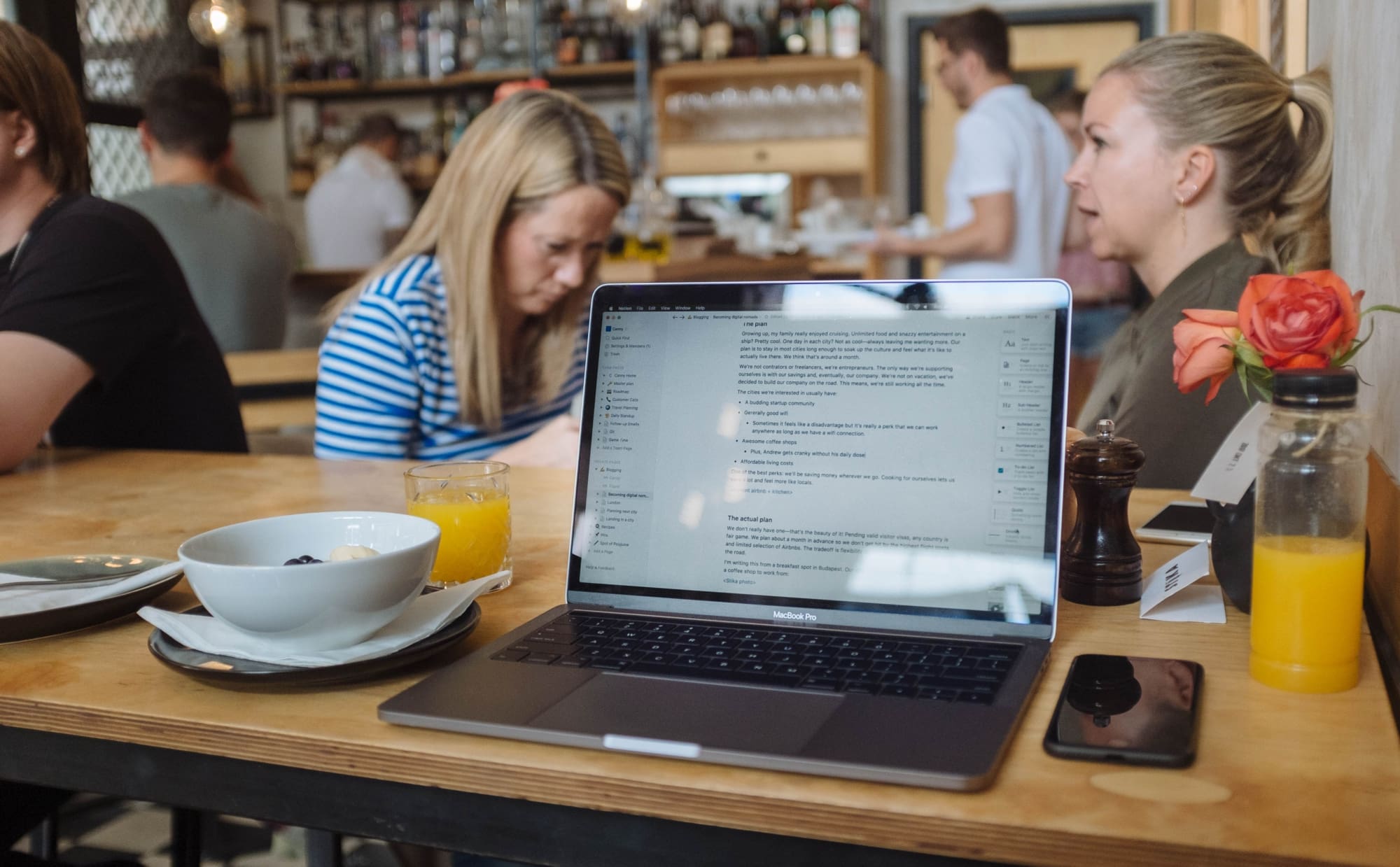 How's business?
We're not contractors or freelancers, we're entrepreneurs. We're not on vacation, we've decided to build our company around the world. This means, we're still working all the time. We're bootstrapped as well so reaching profitability was really important for us. Now that we've achieved that, we can dream bigger.
Some ways traveling has been beneficial:
More focused

While we miss our friends in SF very much (hi guys!), we're much more focused when we don't know many people.

Affordable

Our runway is naturally extended. Coming from San Francisco and being a couple makes this even easier.

New connections

It's been awesome to check out which of our customers are in town. Connecting in person definitely beats live chat.
We've already noticed that we spend too much time heads down on work. We need to be mindful and find balance between work time, personal time, and adventure time. The change of scenery helps fuel our mind and reminds us to explore. Personally, I've found joy in climbing, photography, and drawing. I'm still on the lookout for a cappella groups I can hang out with in each city.
Every city is different: some are small and walkable, others are sprawling and need longer commutes. Discovering its culture and quirks are all a part of the fun. Our friends have raved about our next stop, Berlin. Expectations are high!
Coming up
Andrew and I are both learning so much every day and we're excited to start sharing more. We'll be posting more about starting a SaaS company and becoming digital nomads. So stay tuned!
Until then:
You can find me on Twitter @sarahhum and Andrew @a13n
You can follow our adventures on Instagram @carryoncode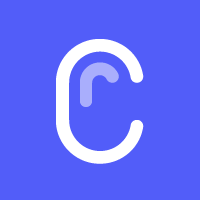 Canny
is a user feedback tool. We help software companies track feedback to build better products.