Let's rewind back to February 2018:
Canny was almost officially one year old.
We were sitting at a cool $9k of MRR
The team was still two founders, Andrew and me
We were starting to feel stretched thin. From building product to doing marketing, we split founder time into many areas. Granted, that's inevitable when you're starting a company.
But since we were profitable, we started to ask ourselves:
How can we best spend our money to grow faster?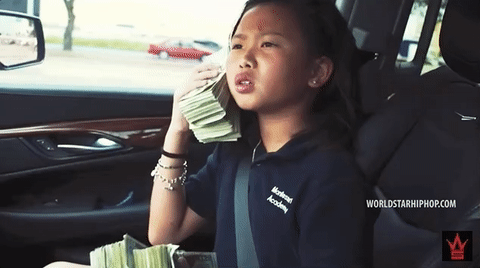 An obvious choice: hire.
Reliving this experience by sharing it with you has been tough (so you're welcome!). We're glad to have come out the other side with so much knowledge.
What follows is our whirlwind journey, from first hire to first fire.
Deciding which role
Our first instinct was to hire for outbound sales. Sales = revenue, right? Outbound sales seemed like a straightforward way to get more customers. It would be great to have someone working on acquisition while we continued to focus on product.
The important thing to note here is that, up until then, we had never done outbound sales.
Thankfully, we reached out to other, more seasoned, founders. We described our situation and they all asked us the same question: which acquisition channels were working for us today?
Not sales!
Their advice was that we should double down on the channels that were already working for us. Makes sense. Step on the gas instead of switch to a new car that may not even work.
The channel that stood out for us was content marketing. We'd written a few articles that people enjoyed. They always brought new eyeballs to our website. The thought of bringing in an expert to do more of it was very appealing.

So, we threw together a job listing for a content marketer.
Takeaways:
Hire someone to do the things you have found success doing yourself. That way, they have a great starting point and can go up from there. Spinning up a completely new area of work is a risk.
Talking to people who have experience is always good insight.
Interviews
Andrew and I being nomads, the job was going to be 100% remote. This helped tremendously with attracting applicants. Our listing went live on several job boards. Notably, Hacker News: Who is hiring? and RemoteOK forums.
Within the first week, we had over 100 applicants for our content manager position. We easily passed on 90% of applications that:
Opened with something like: "Dear Hiring Manager" or "Dear Sir/Madam"
Were obviously mass-emailed, templated, applications
Didn't mention a thing about why they wanted to work at Canny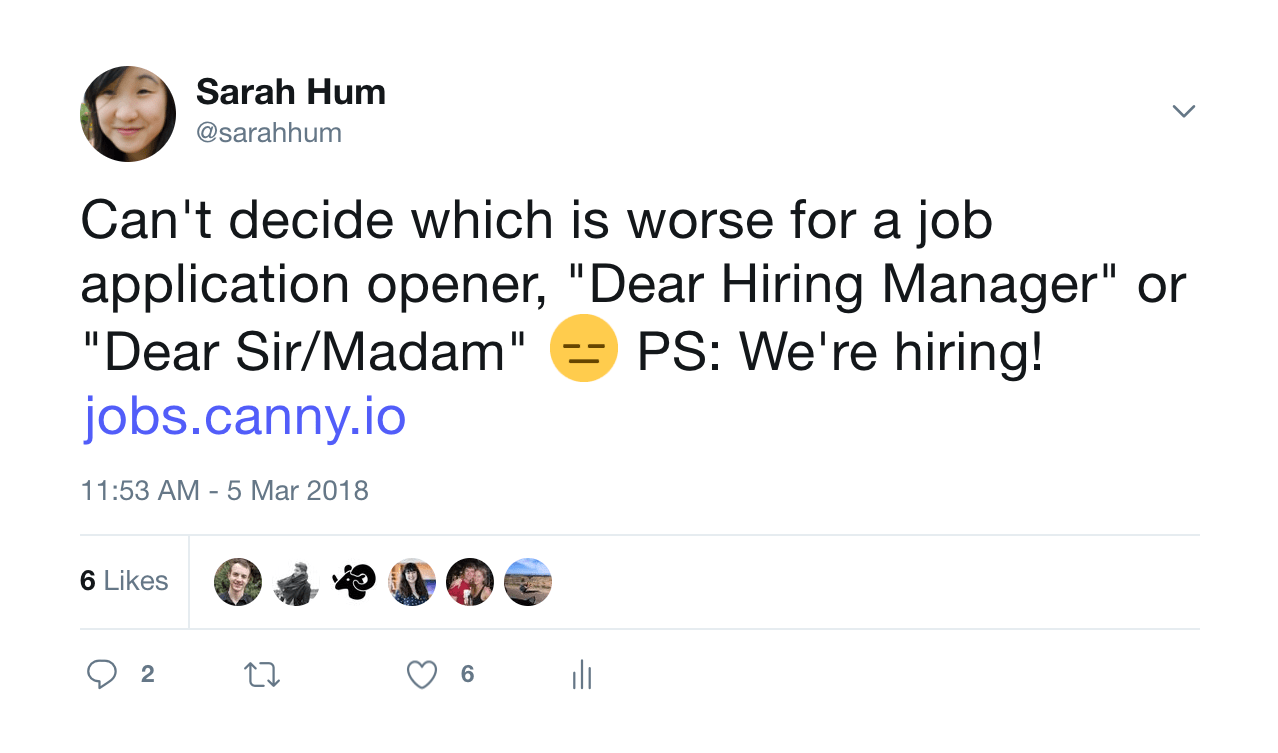 We followed up with the promising candidates to schedule interviews.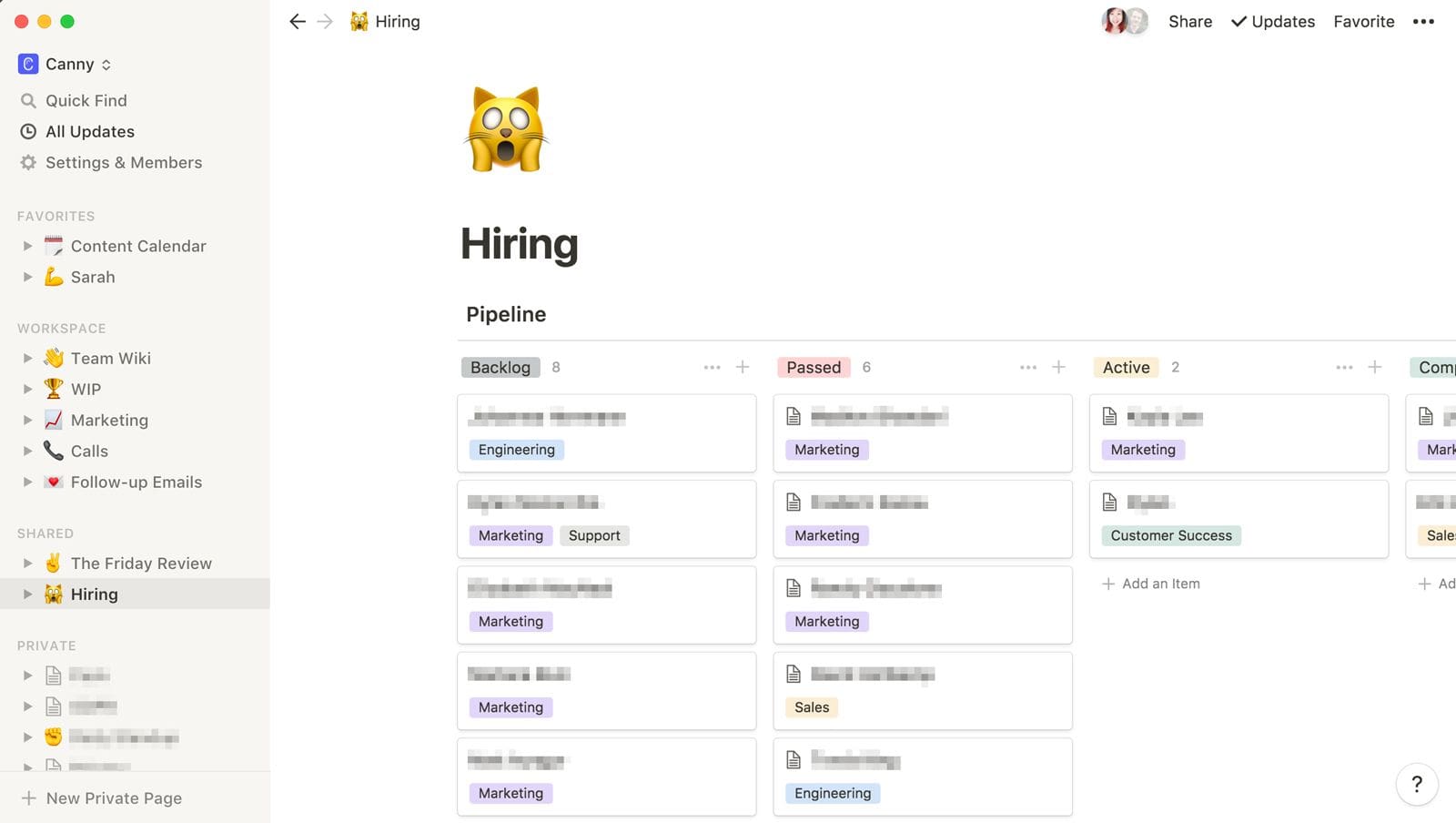 Our general approach to interviews is pretty simple:
Screen
Get to know the person. Would we enjoy working with them? Would they enjoy working with us?
Technical interview
Test some hard skills. Are they smart? Do they know their stuff? If you're interviewing for something you aren't an expert at, do some research first.
We narrowed down our pool to two, fairly different people: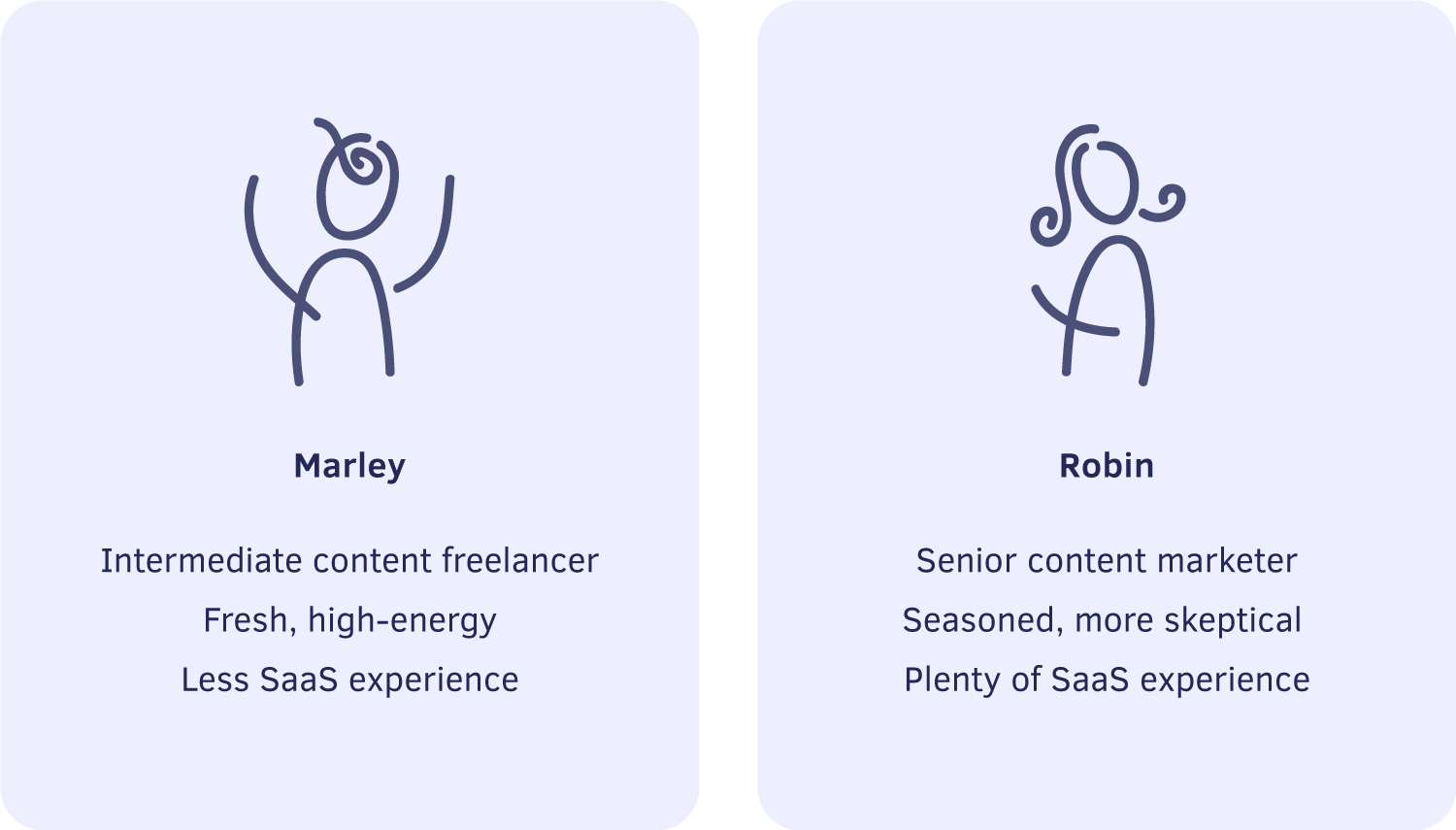 We ended up going with Marley. We really wanted someone who would live and breathe Canny. We also thought Robin might be too senior for our stage. Marley would bring a fresh perspective to our marketing and push us to try new things.
A month after listing the job, we extended an offer. Just in time to go to the Philippines and hang out with some sharks:
Takeaways:
As a remote company, you'll get a much higher volume of applicants. But also note, there is more variation in quality vs. if you hire from a tech hub like San Francisco.
Cut liberally. If they don't put effort into their application, they won't put effort into your startup.
When narrowing down applicants, go with your gut. No regrets.
First week
Given this was our first hire, our first week went pretty smoothly! We had set up some basic docs to help with onboarding. Stuff like a day one checklist, how we work, tools we use.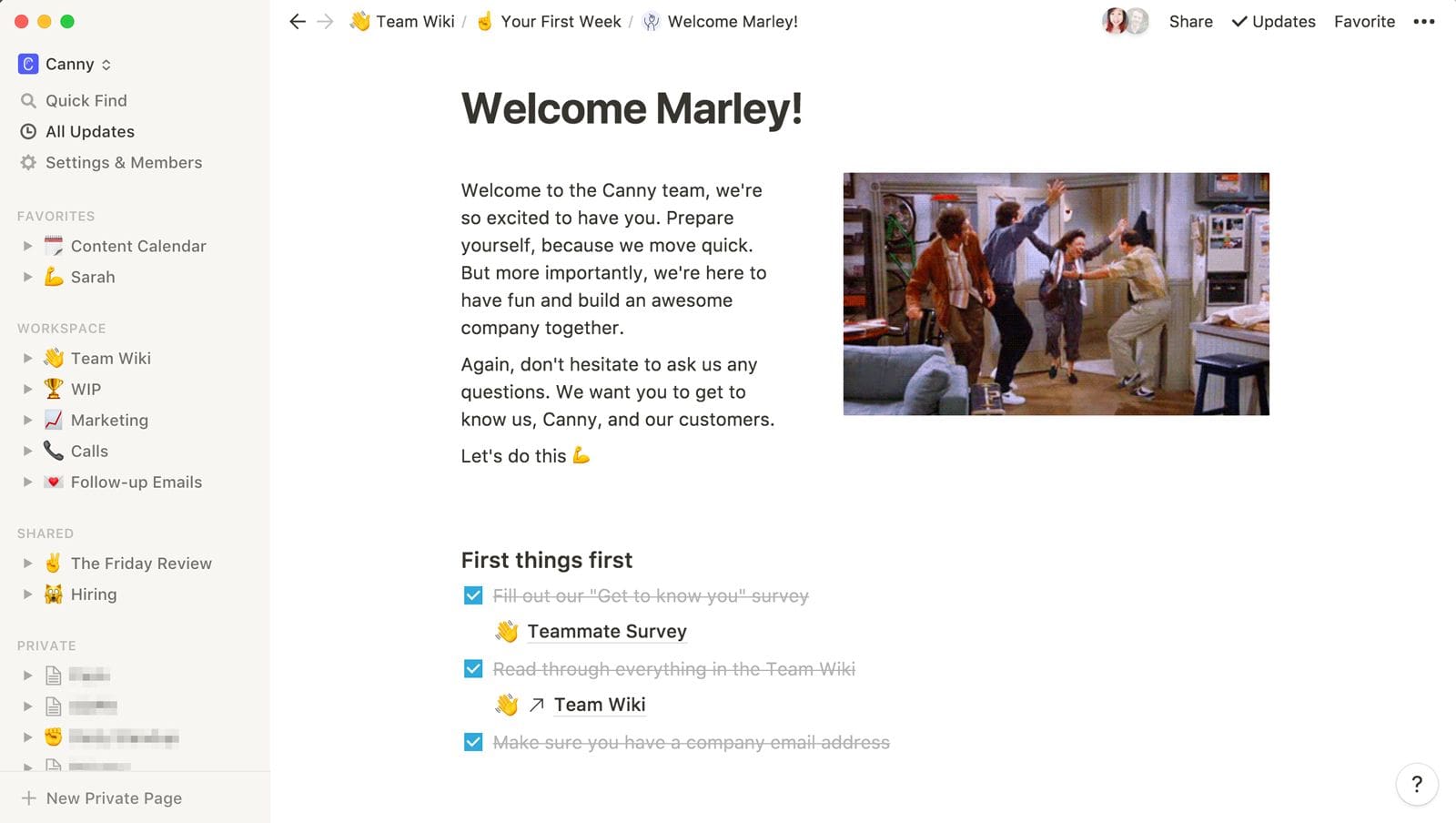 In our first meetings, we put plans in place for our marketing strategy. We started to get a feeling of how we could effectively work together.
Especially if you're starting a remote team, get a bunch of face time in with a new teammate. You learn so much about a person when you can actually see them. Marley and I scheduled weekly 1:1s and we did team syncs every Friday. In between, we stayed connected via Twist.
While I didn't have experience as a manager, I did have experience being managed. I made our 1:1 meetings about him. Not about the work. We discussed things like:
What is he excited about?
How is he handling the workload?
Does he have any concerns?
Does he have feedback for me?
Is he happy?
We didn't hold back on giving feedback either. Both Marley and I were very honest about things that weren't going well. We discussed how we could improve and made plans to do so.
It was open communication that helped us see when things took a turn for the worse.
Takeaways:
Communicate. I can't stress this enough. Especially when onboarding a teammate. Talk, and then talk some more because you're probably not doing it enough.
Going downhill
Weeks 2-4 brought up some major issues:
Expectations not being met.
A month in we had published one post (that we weren't stoked about). We had hoped to be doing one post per week. Worse, we were still spending just as much, if not more, founder time on content marketing.
Unaddressed feedback.
My 1:1s with Marley were

becoming increasingly frustrating. Week after week, we pushed through and tried to make it work. I gave constant feedback but improvements were not made.

Power struggle.
Looking back, I think it was about trust. We didn't establish trust early on. We didn't trust Marley to get the work done well and, in turn, he felt stifled and micromanaged.
Stress. Doubts. Defeat. It's crazy how quickly we got here.
Did we start with the wrong projects?
Was it an onboarding problem?
Maybe we haven't given it enough time yet.
These thoughts ran through my head for weeks. They also came up in my 1:1s with Andrew.
We tried switching projects. We tried adjusting the way we worked together. We continued to give feedback.
We had to be honest with ourselves. This wasn't working.
Takeaways:
When things aren't going well, try to define the problems and what potential solutions are. It's worth spending some time to see if an issue can be resolved. You can get a lot of signal in a week.
Your gut is surprisingly accurate. The only way we could've come to this decision sooner would have been trusting our gut sooner.
Firing
On week five, we called it quits.
We weren't happy with the content work we did. Other areas of work were being neglected. We realized that things weren't going to get better if feedback was not acted upon.
We also concluded that we hired for this role too early. While we had some early success in content marketing, we had no semblance of a real strategy. We expected someone to come in, take over, and save the day. Not realistic.
In my last 1:1 with Marley, I told him that we would be ending his time with us. It was a very difficult conversation to have. What made it easier for both of us was the fact that he saw it coming.
Be super transparent throughout the hiring process.
We talked about logistics, he gave us some advice, and we went our separate ways.
Takeaways:
Make sure to have an ongoing feedback loop with your teammates. Everything should be on the table so you can make confident decisions.
When letting someone go, just be honest. Use firm language so there's no confusion about the decision.
Subscribe to Canny Backstage
[mc4wp_form id=\"554\"]
Breathing a sigh of relief
We're not experts now; hiring will continue to be a big challenge moving forward. But now we know better.
In fact, we have since brought on a fantastic engineer, a role that we have expertise in. He has enabled Andrew to ramp down on engineering and up on other things. Being product people, we have a clear idea for how this role can be successful and impactful. We didn't have the same clear idea for our content role.
Could we have avoided this whole thing? It's hard to say. But this is what we'd consider for next time:
More rigorous and thorough interview process.
Doing a live coding session with our engineer helped a lot. We could have pushed on hard skills more in our content marketing interviews.
Using our network to help with interviewing.
I'm a designer so it's much easier for me to evaluate a designer. It's much harder for me to evaluate someone for marketing. Bringing in an expert we trust to help interview would be tremendous.
Paid trial phase.
In some cases, you just need to work together for a while. Working together on one content piece would have given us great signal for long-term success. This doesn't work as well for other roles like engineering.
I think this is a good time to mention we're hiring more great people!
Overall, we have no regrets. Making the wrong hire is stressful and slows down the team, but it's these experiences where you learn the most. I hope our story helps you navigate the hiring process. Or at least helps set your expectations. Good luck!
Names were changed for the privacy of individuals involved.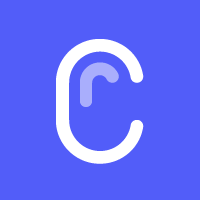 Canny
is a user feedback tool. We help software companies track feedback to build better products.