Two years ago, I quit my comfortable desk job at Facebook.
Last week, I tweeted this: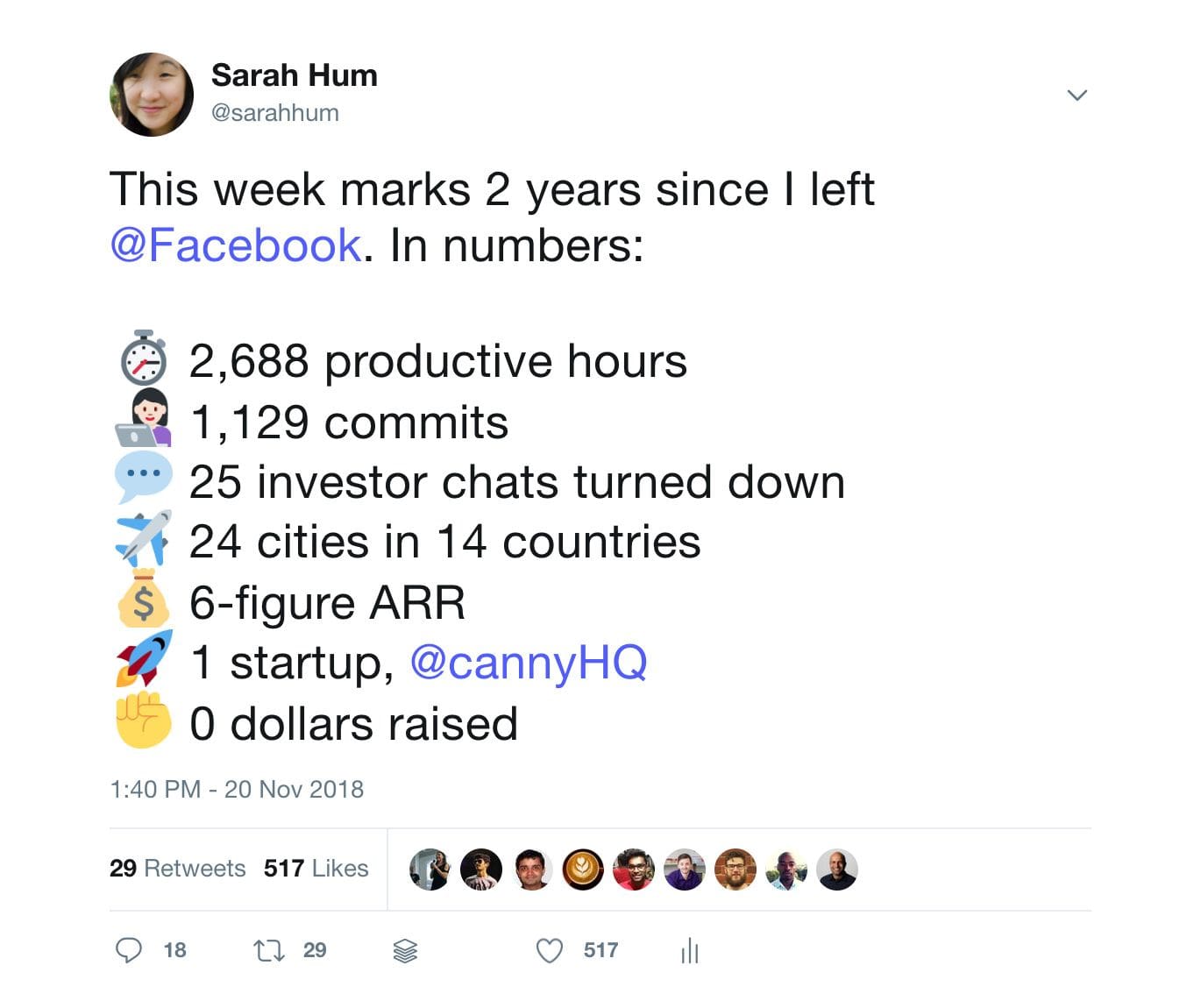 One and a half years into my job there, I left it all behind and I'd do it again in a heartbeat.
I didn't quit because I hated my job. I quit because there was an opportunity worth pursuing and I had goals I couldn't achieve at Facebook.
Earlier this year, Andrew shared learning lessons for Canny's first birthday. Yes, we've learned a lot about how to build a business. But we've also learned a lot about ourselves as individuals.
Here are some lessons and observations behind each of the numbers I shared.
⏱ 2,688 productive hours
Yes, we still work a lot! However, we're not killing ourselves by doing 80-hour work weeks. This is about 5 hours of laptop productivity a day.
The major categories were:
28% email + customer support
9% design
8% team communication
7% development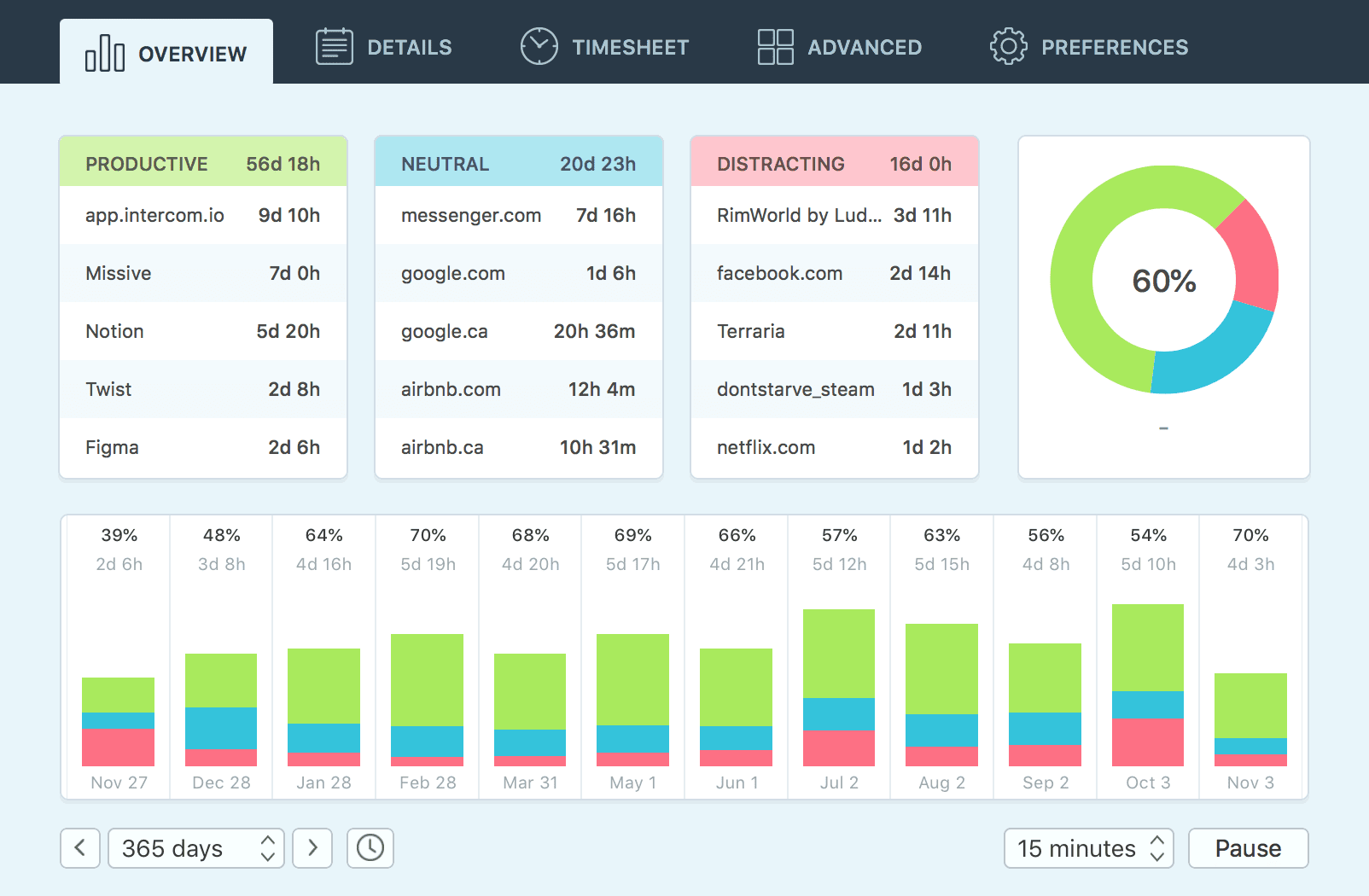 A lot of productivity happens offline as well. In my 1:1s with Andrew and in my sketchbook. Stepping away from my laptop is usually very helpful.
With the rest of our time, we do things that make us happy. Play video games, watch TV, travel, exercise, sing, etc. There's time for work, and there's time for play.
Lessons learned
As founders, doing customer support helped us understand the problem we were solving and for who.
People have different working styles. Andrew is a sprinter. I run marathons.
Running a startup doesn't have to mean everything else falls to the wayside. Make time for other happy things.
👩🏻‍💻 1,129 commits
Learning to code wasn't mandatory in design school. I remember spending that first summer building out my first portfolio website. I'm so glad I did that because now, years later, I can proudly contribute to our React codebase.
At Facebook, I was hired to do product design. Being a founder means constantly learning and adapting. I've become a marketer, videographer, recruiter, you name it.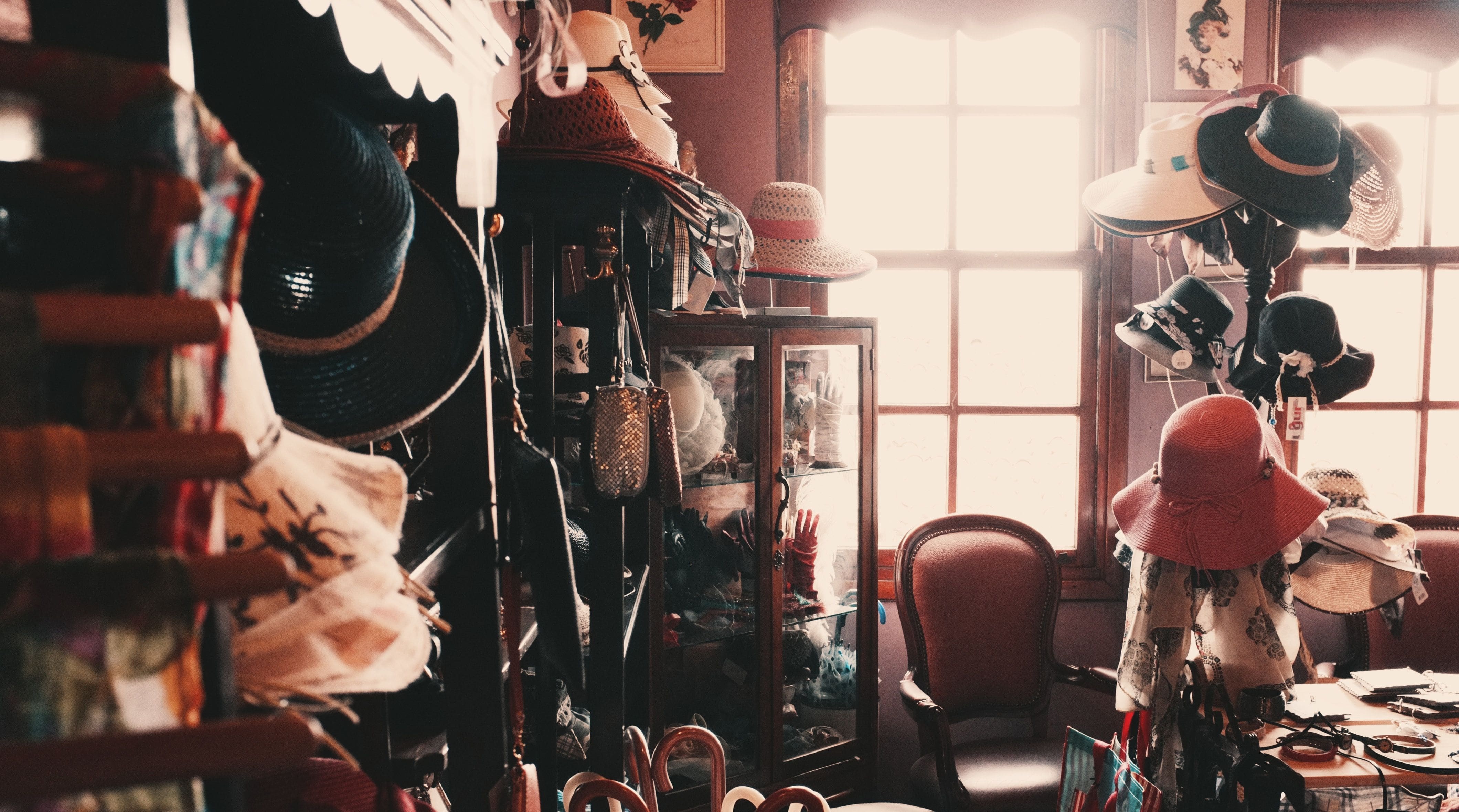 Lessons learned
Being a founder is a great way to try all the things.
There's great content out there for pretty much everything. Knowledge is power but you'll learn the most by going out and trying things yourself.
As a founder, you may have to do things you don't particularly enjoy. It's worth asking yourself which of those things are actually critical. I find I do much better work when it's something I enjoy.
💬 25 investor chats turned down
Since the beginning, Andrew and I were determined to bootstrap Canny. We took some calls early on but soon found they usually weren't very helpful. So we started turning them down.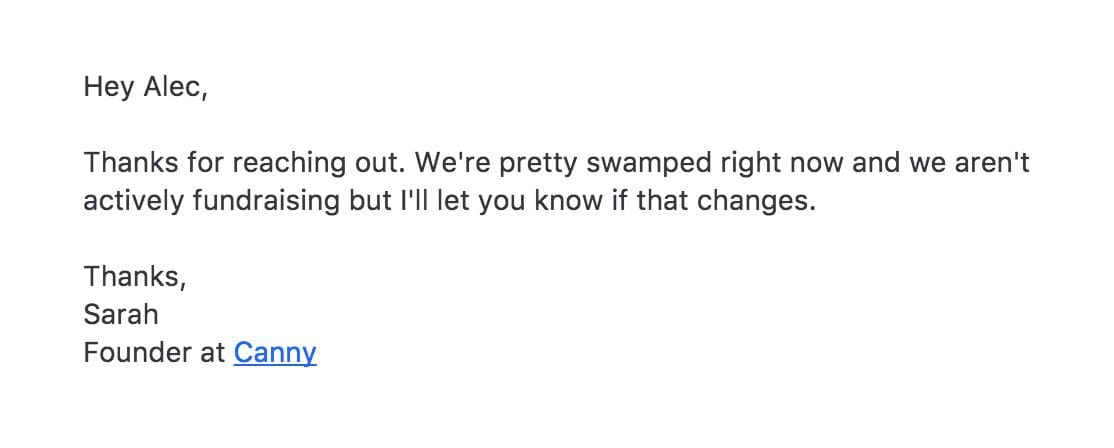 It's the investor's job to start relationships with startups. If you're not looking to raise money, these relationships are often a distraction.
To be clear, this number is across the company. 23 went directly to Andrew. 2 went to me. Coincidence? Probably not.
It's the same reason why people automatically assume Andrew is our CEO. We don't have labels here so there is no acceptable reason to assume that. I experience this bias in customer meetings and doing customer support. It sucks and @investors, you can do better.
Lessons learned
Some investors are more helpful than others. Make your best judgment.
Some things that seem helpful are often just distracting.
To the female founders out there, having a supportive team as we navigate biases helps a lot. They can stand up for you when it counts.
✈️ 24 cities in 14 countries
A big personal interest of mine was to travel. Leaving Facebook to do my own thing enabled me to pack up and hit the road for over a year.
We started in Europe for half a year, went home for the holidays, and went to Asia for another half. It was so cool to experience cities as they are and not as tourists. We worked in coffee shops with locals and just wandered around a lot. We've written a bit about our travels.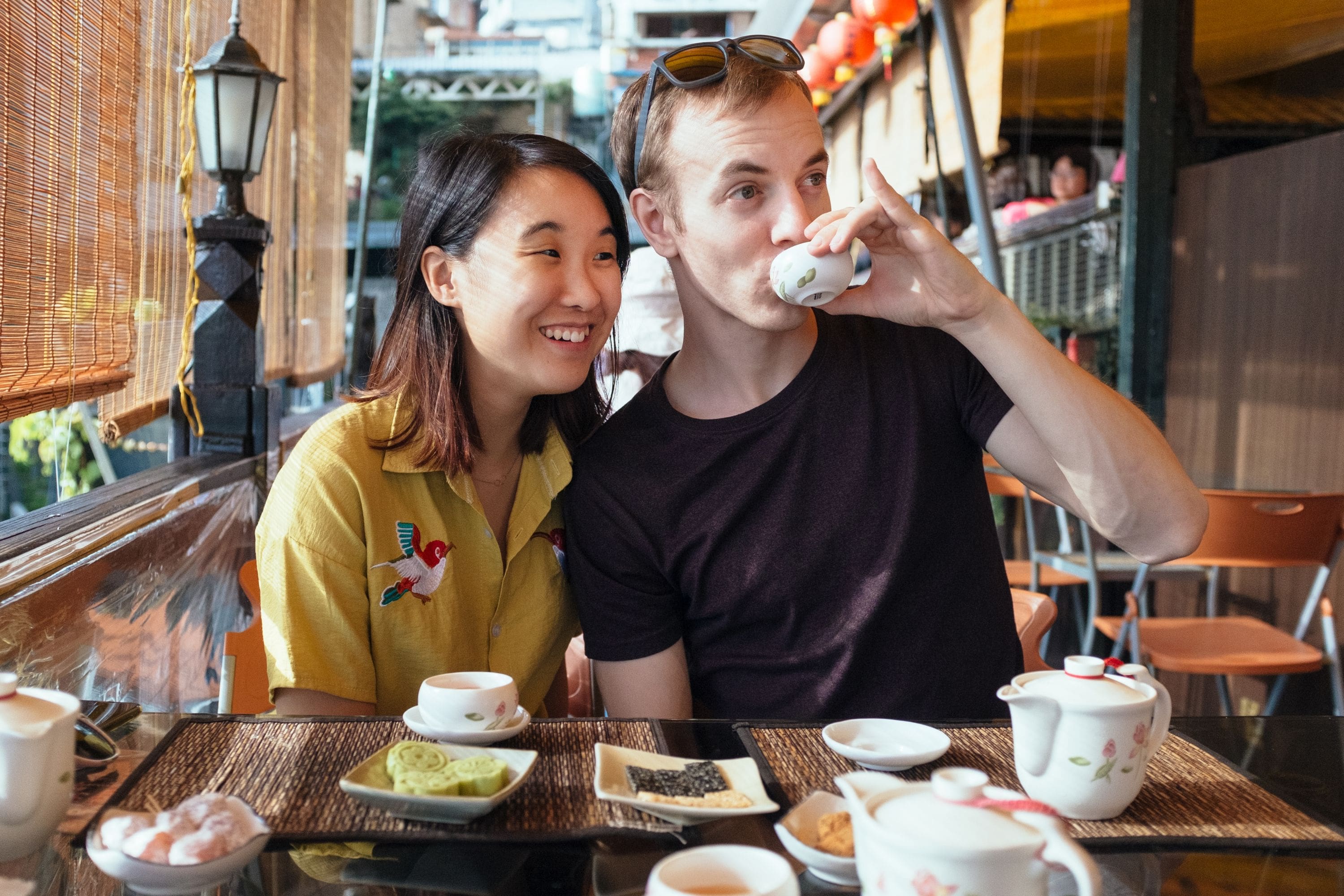 While I hope to do more traveling, Andrew wants to slow it down. His main reasons:
Consistency – Always being in a new city means there's a period when you don't know what's what. This can get exhausting.
Friends – Most of our friends are at home. Meeting people while constantly moving is challenging.
Nice things – Like a blender. Nice things don't usually make the cut into our single carry-on suitcase.
Our plan, as usual, is to be decided! Follow along @carryoncode.
Lessons learned
The "digital nomad" lifestyle isn't for everyone. There are physical, mental, and emotional challenges.
Customer support is trickier when you're half a world away.
Stay in each city for a least a month to get a good feel for it. Valencia and Seoul were a couple of our favorites.
💰 6-figure ARR
You often don't notice how far you've come when you're in the thick of things. This kind of crept up on us. But it's a big deal! It's also a pretty graph:

This number is more than just a number. It means we don't need to rely on raising money to live.
It also means we can hire! It feels so good to be able to bring great people onboard with money we've made ourselves.
We're always pushing ourselves to do more and do better. Our job now is to figure out the best way to turn money (profit) into more money (growth). Spend it or else the tax man will take his cut.
Lessons learned
Take time to celebrate the wins. Andrew and I still fist bump for every new paying customer. We'd get a gong, but it wouldn't fit in the suitcase.
Consider the losses but don't let them ruin your day/week/month.
New MRR is great but retention is equally important to building a sustainable business.
🚀 1 startup, Canny
Canny started out as a side project. We are first-time founders so at first, everything was new to us. Naturally, there were several times along our journey that we questioned what we were doing.
Are we working on the right things?
Should we try something else?
Should we start over?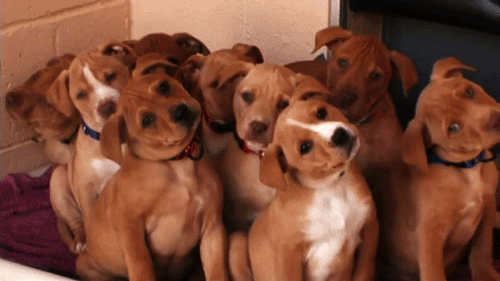 For some ideas, I even created mockups. Thankfully, we never ended up building anything out.
Sticking to our path has taught us the value of focus. Starting another project would have meant compromising on Canny. We built Canny to solve a problem and we have hundreds of teams paying us to do that. We still have so many things we want to do. Other projects would distract us from that.
As we build out our team, it'll be on us to keep everyone focused and motivated.
Lessons learned
Building things in-house is always an option. Paying for a great tool that solves your problem is usually a better option.
As Jeff Besos says, "disagree and commit." Avoid getting paralyzed with options and just make a decision.
Identifying quick wins is great but don't be afraid to try things outside the box too.
Subscribe to Canny Backstage
[mc4wp_form id=\"554\"]
✊ 0 dollars raised
Once you raise VC, you're locked into the path of trying to become a unicorn. If you don't raise money, people assume you're building a lifestyle business.
According to Wikipedia: "A lifestyle business is a business set up and run by its founders primarily with the aim of sustaining a particular level of income and no more"
I really don't like that term, "lifestyle business".
I've heard it several times now during interviews. I feel it implies we're not taking Canny seriously.
Raising money sets you on a path to build a billion-dollar company or fail. There are a lot of great success states in between.

So we don't have the "growth at all costs" mentality. We're still here trying to build a very successful, ambitious business. We're doing that at our own pace, on our own terms and we're going to keep it that way.
Lessons learned
Not raising money means we're completely focused on our customers and revenue. While our unicorn counterparts focus on fundraising.
If you don't raise money, you'll want/need to monetize quickly. Monetizing is a great way to understand if you're building something people want.
Having limited capital means you're forced to be scrappy and play to your strengths. For example, instead of paying an agency, all our videos are made in-house.
Onwards
Most of the numbers will increase next year.
We're excited to be growing another number: teammates. This year, we welcomed Andre to champion customer success. I'm sure you'll be hearing more about him soon.
Through it all, I'm fortunate to have a co-founder that doesn't waver. Startups are so tough already, having Andrew as a constant presence is a big advantage. We challenge each other but, ultimately, we're on the same team.
I look forward to another year!
If you have any questions, leave a comment or shoot me a message.
Hats image from Unsplash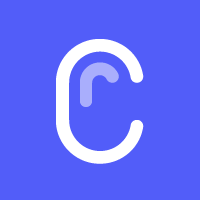 Canny
is a user feedback tool. We help software companies track feedback to build better products.