Product and support are often portrayed as the two parts of a business that just "can't get along". Improving communication between these teams is a topic that many of us don't want to deal with.
These professions stand on two opposite sides of the moon. One is the maker, and one is the messenger. The issue is both sides not seeing the other one.
Support people are (usually) not technical. They don't fully understand how much work goes into building a product.
Product people (usually) don't have as much contact with users. They don't fully understand how much work goes into communicating with (potential) customers.
These departments don't have enough touchpoints to facilitate effective cooperation.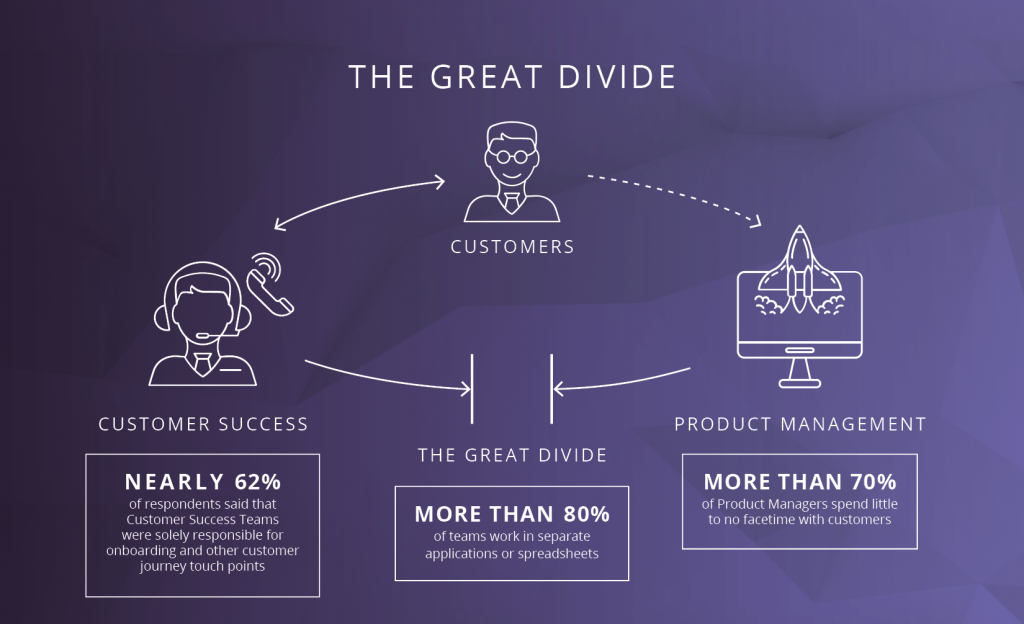 There's also the issue of "demands and denials". Product teams can feel like all support teams do is "demand" things. Support people can feel like product teams always "push back" on their requests.
Neither of them understand why.
The good news is there is no "natural" feud between product and support people. It all comes down to encouraging communication and, more importantly, understanding.
Here are some tips on how to reduce friction between product and support.
Create respect for the other's challenges
Like we said before, product and support are drastically different professions. This makes the main issue in their co-existence simply not knowing about the challenges the "other side" faces.
Even if they know (or think they know), they don't experience it first hand. If they don't know about it and don't experience it, they can't appreciate the effort.
Empathy is a crucial pillar of any kind of healthy communication between very different people (and in this case, professions).
Empathy only shows up along with really understanding. Truly understanding only comes with experience.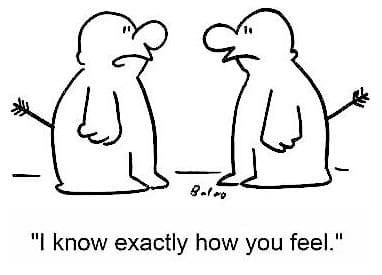 Improving communication starts with giving each team the experience they don't have.
Encourage opposite days
Ask product people to sit in on a few customer calls or demos (if they haven't already). Even better—ask them to take a bit of time regularly to take over customer support.
Ask support people to sit in on a product meeting, preferably a roadmap prioritization one. Even better—give them an exercise of trying to prioritize the roadmap themselves.
This allows both parties to witness, first-hand, the truly challenging parts of each other's jobs.
"Jeez, Greg really has eighteen pissed off people asking for the same feature every day. That really took a toll on me. He really has a lot of patience."
"Wow, Jenny spends four hours every week going through and assigning all these roadmap items. That's some sh*t. She's really great at analytical thinking."
And, most importantly—after giving both sides a taste of the "dark side of the moon", encourage discussion about it:
What did both sides feel when they had to do the others' work?
What did they struggle with most?
What did they learn?
Do they have any feedback or thoughts about the process to make it better?
As humans, we tend to focus on our own struggles first and foremost. The more different than us the person we're dealing with is, the harder it is to appreciate their effort.
Dipping a finger into the work the other side does on a daily basis is a great start for establishing mutual respect.
Establish a "why?" culture on both sides
One of the main issues that causes friction between product and support is the "demands and denials" aspect.
Product feels like something is constantly being "demanded" by support teams (a feature, a fix, whatever). Support feels like product is constantly pushing back on their "demands".
Both being "demanded" something from and constantly being "denied" are negative feelings. This often reaches a personal level of resentment.
Drastically improving communication can be accomplished by establishing the "why?" rule. Basically—both sides are allowed to ask "why?" on both occasions—no judgement involved.
Digging into the real, objective reasons behind any ask is a crucial part of a well-oiled product development process: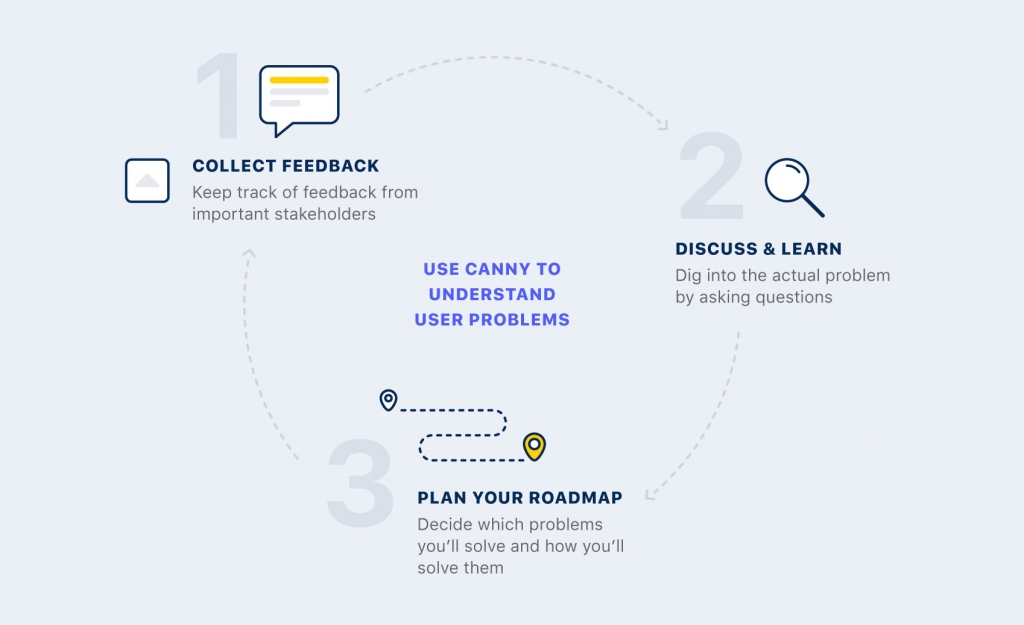 Product needs context behind a request to understand why it should be done.
There's a lot of prioritization involved in the product team's work. If they don't have a good "why?" ("why does this customer want this"), it comes across as just an "unreasonable" demand.
They would have to go to their team and ask them to build something "just because". This makes their job harder. Result = product is pissed.
Same with support—if product pushes back on something, they can ask "why?" for context.
If there's no reasonable "why?" ("why we can't do this right now"), it comes across as if product just doesn't care.
They would have to go back to a customer and tell them they can't have something "just because". This makes their job harder. Result = support is pissed.
If there is neutral "why?" included in both sides of the communication, both teams will have rational context. It will provide a smooth reasoning behind their tasks, and it will be easier to not take it personally.
Think through your feature request process
Whether you track your feature requests and other issues in Trello, Canny, or somewhere else, it's important to think through the structure of the process.
Feature request/bug report/other feedback boards can easily become a "dumping ground".
It's not only one team's responsibility to deal with organizing this mess.
It should be a collaborative effort:
Support can help prioritize and organize by adding information about which features or other items are more important based on information available to them
Product can add context about how much effort is required for these items, and when it'd be realistic to be done
Both teams should be responsible when it comes to avoiding duplicates, not enough information, baseless requests, etc
This consolidated source of action items should be gone over regularly by both teams together.
Again—the main issue with friction between support and product lies in lack of context.
Encourage communication on the same things, while both support and product provide relevant context. The level of understanding will be much higher on both sides.
PS: if you don't track issues, requests, or fixes in one specific place at all, it's time to start. Lost issues, questions, and requests getting lost or being forgotten about creates even more tension.
Something like a Canny board is a great place for product and support to collaborate without losing track of information.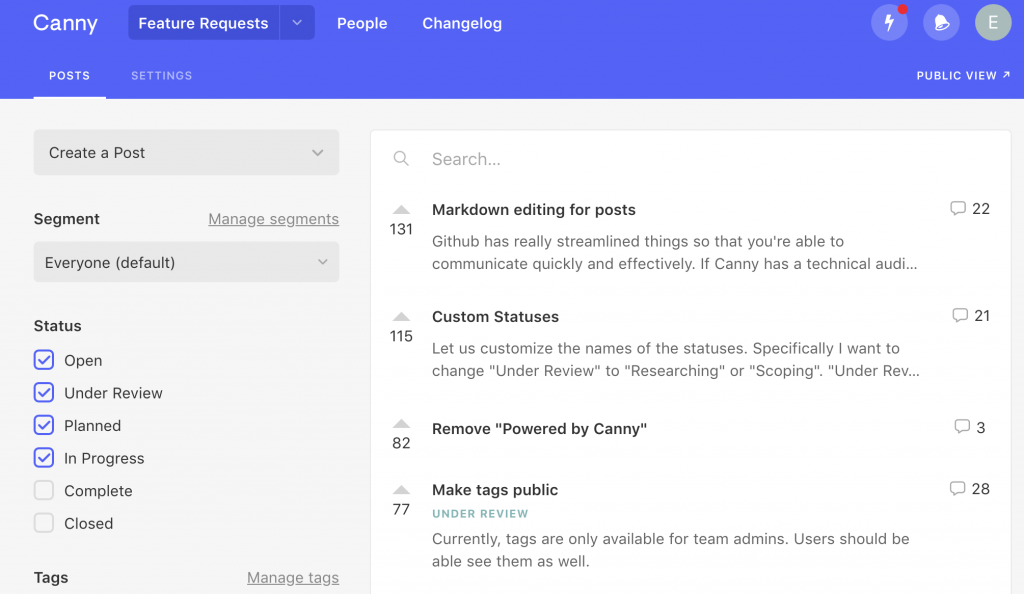 Make sure you have one place where everyone can add things and go over them together. A random Slack conversation can and will be forgotten.
Improving communication is about increasing understanding
Product and support are two very different parts of a company.
These jobs require different personalities, skills, and knowledge. However, they also have to communicate with each other often.
They depend on each other for aspects of their jobs either going smoothly, or not going at all. This can cause a lot of tension and resentment.
Cultivating respect, creating context, and encouraging information swaps is key in successfully improving communication between the two.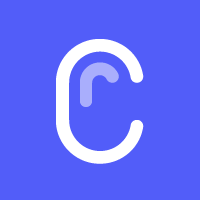 Canny
is a user feedback tool. We help software companies track feedback to build better products.