We were a two-person company with no recruiting experience and little time. So, when we wanted to start hiring, we decided our recruiting had to be inbound; people come to us. Attracting people to apply is one thing. Trying to attract top talent is another. I'm happy to say, we're doing it!
Andre, who works on customer success, joined us last October. In his own words:
"I wanted to join a small start up again with innovative, smart and passionate founders. That they were solving a problem I understood, and knew would be making a big difference for other people. It was as if the stars had aligned when I came across Canny."
Andre worked at Airbnb for seven years. He's the nicest guy, and we knew he was smart from our first chat.
Dan, a software engineer, joined us last month.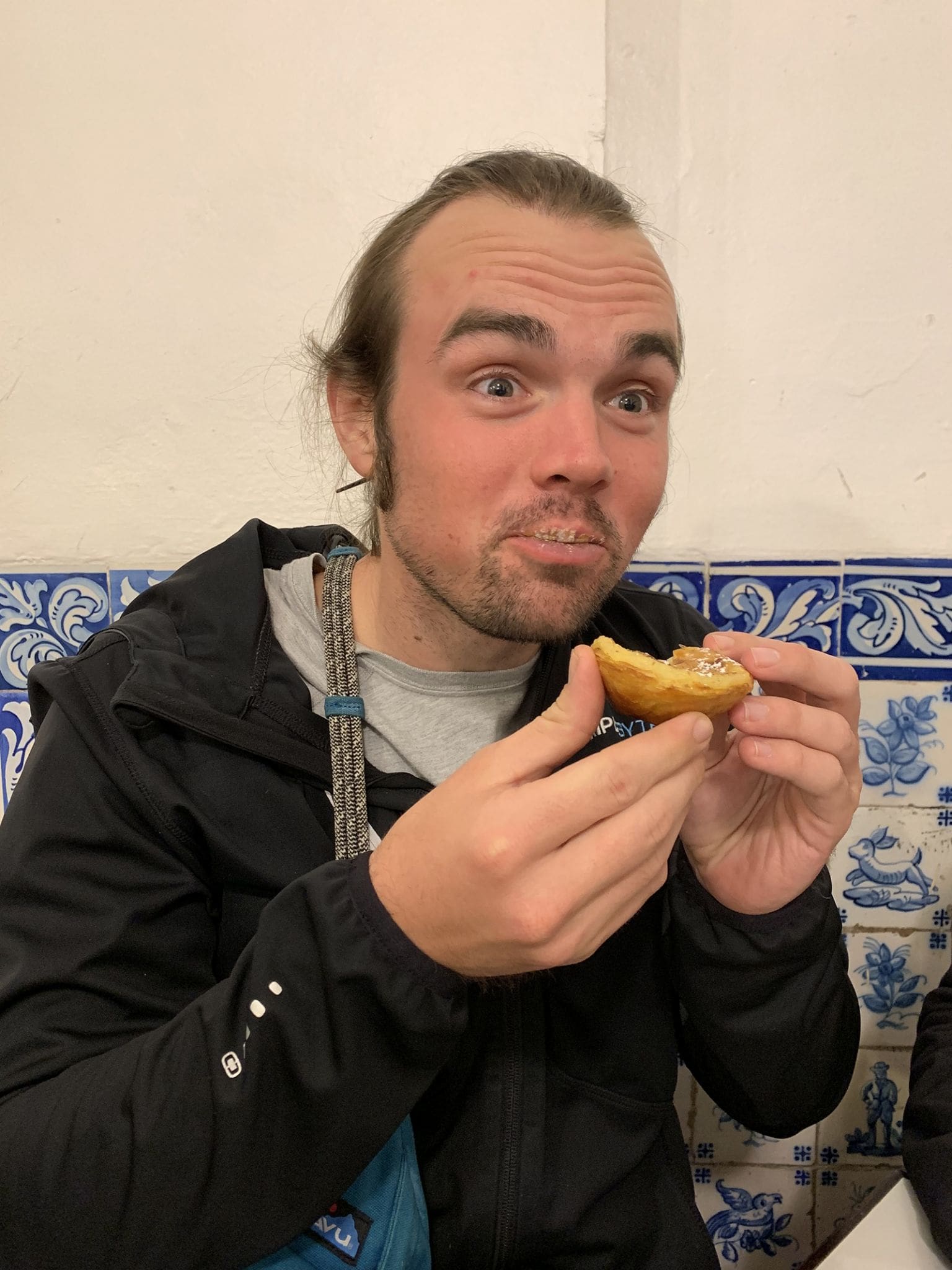 Dan worked at Tesla for three years. He's a free spirit that breathes new life into the team while challenging us to push harder.
Last but not least, Elen, a marketer, joined us last week!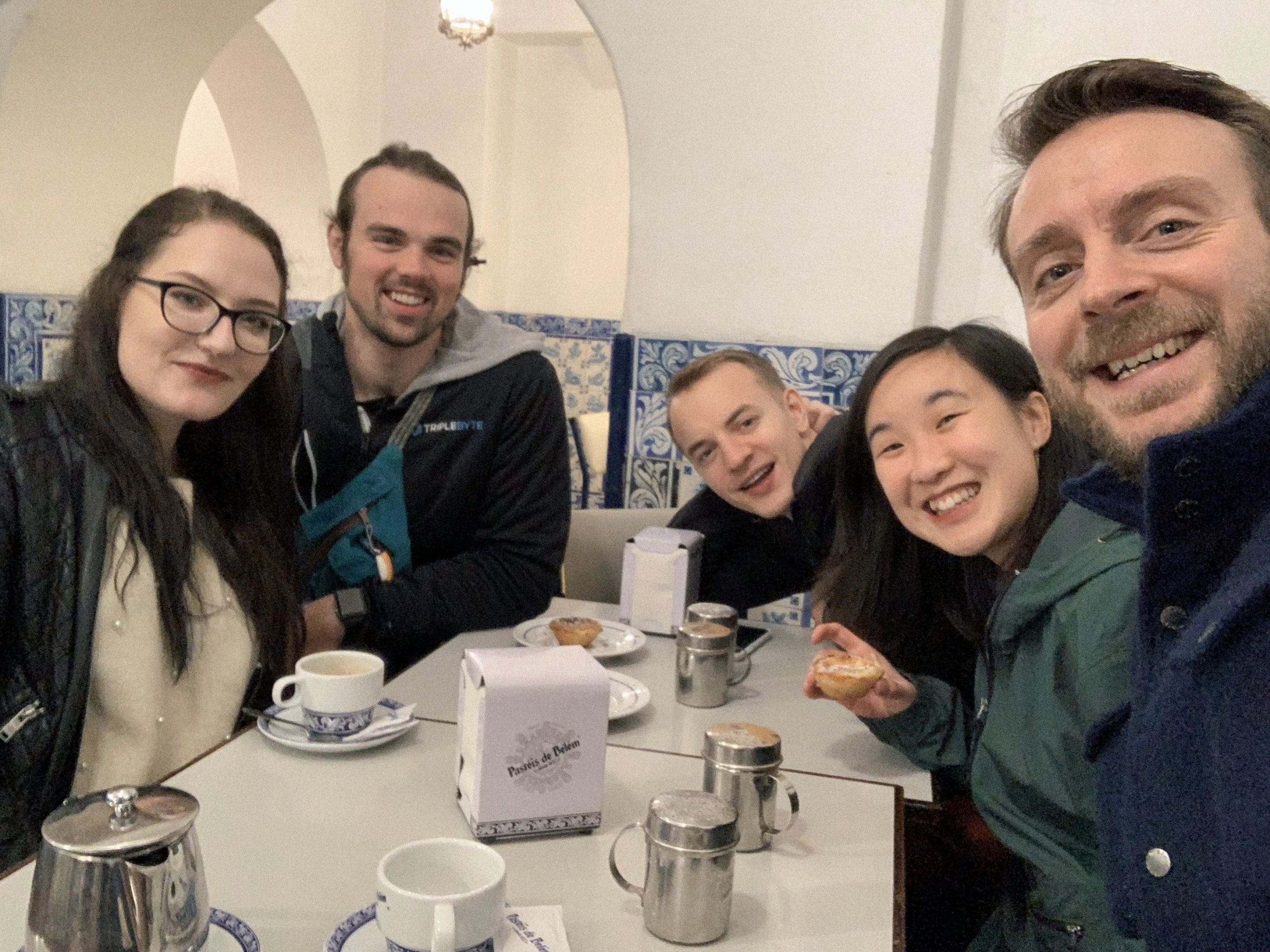 Most recently, Elen was one of the first marketers at Groove. With some beer in her system, she's a master with words and the numbers that drive them.
Each of them could've worked for any company, but chose Canny instead.
Beyond that, our hiring inbox is constantly growing with people who have worked at companies like Amazon, Freshworks, and Spotify. Here are a few things we're doing to attract rockstars like Andre, Dan, and Elen.
Showing off our personality
I checked out your Instagram and you look like fun people.

– Applicant
One advantage small companies have is being able to show personality. All you have to do is be yourself. In contrast, big companies are inherently more closed and mysterious because they're bigger. In the early days, you and your company are one. Use that to your advantage!
Many applicants mention in their emails that they checked out our Instagram and blog. Neither of these channels were meant to be recruiting tools.
After learning more about your product via the Canny website, your Instagram, and reading your blog articles, I thought that this may just be the company I've been searching for!

– Applicant
Our Instagram was just a fun way to document our travels while we build Canny. Turns out it's also a great way to show applicants the kind of people we are. We share stories about our day-to-day. Nothing fancy. Being candid is kind of the point.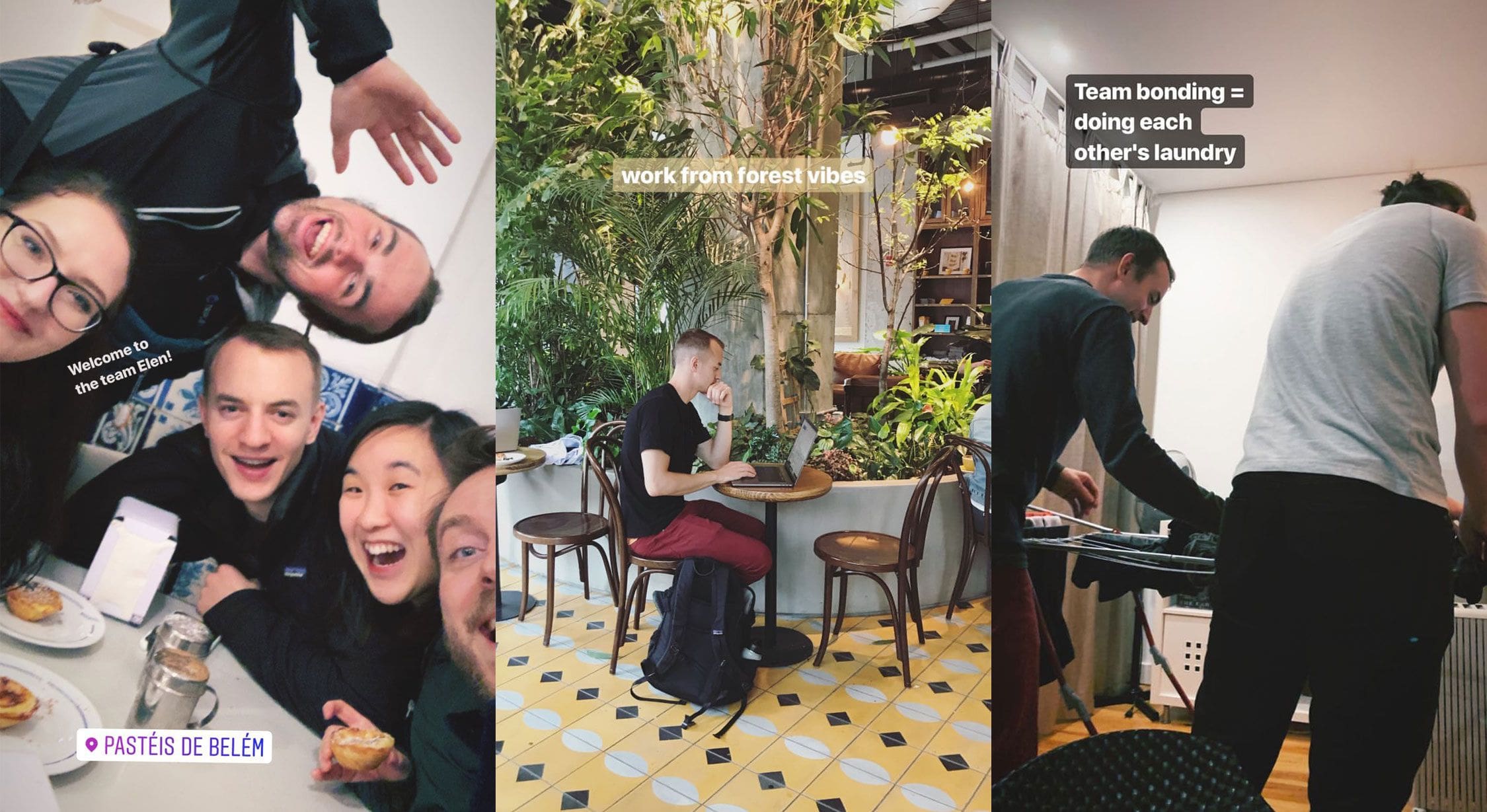 The blog is another thing. It's much more business-focused than our Instagram, but has a similar effect. Most of our current blog posts share a direct glimpse into what we work on and how.
A lot of SaaS companies focus on content marketing: writing to attract leads for the product. While that's definitely important, brand content is the other half of the equation. It's the half that really gives you a personality and a voice. I did a whole talk about the advantages of storytelling to build your brand. Doing this successfully is huge for attracting talent and also for weeding out the ones who wouldn't be a good fit.
I appreciated how candid and reflective you came across in your writings.

– Applicant
People who are interested in joining an early-stage startup usually know the kind of lifestyle they're looking for. Showing off your personality is a great way to sell your company without actually selling. If you can convince them that you're awesome, that's your foot in the door.
Elen knew what she was looking for: "I have three requirements for a job: a product or service I strongly believe in, an environment that allows me to have a significant impact on the company's success, and people that I respect and want to spend time with.
All of these three requirements were met before I even interviewed for the position at Canny—and I wasn't proven wrong when I joined. It's a perfect match and I couldn't be happier!"
Working remotely
Everyone on the team so far has experience working at a desk job. Going into the office, usually around the same time every day. Working for "the man".
Something about working under those constraints for years makes you want more freedom. A huge aspect of that is having the freedom to build what you want. Another big aspect of that is freedom of location. Soon after we started Canny, Andrew and I left San Francisco to travel.
When we started growing the team, we knew we weren't going to get an office. Everyone was going to work remotely. Remote work allows everyone on our team to be location independent. For Andre, it means he can go back to his UK roots. For Dan, it means he can shoot off to anywhere (as long as there's wifi), whenever he feels like it. For Elen, remote work gives her the flexibility she needs to be most productive and impactful.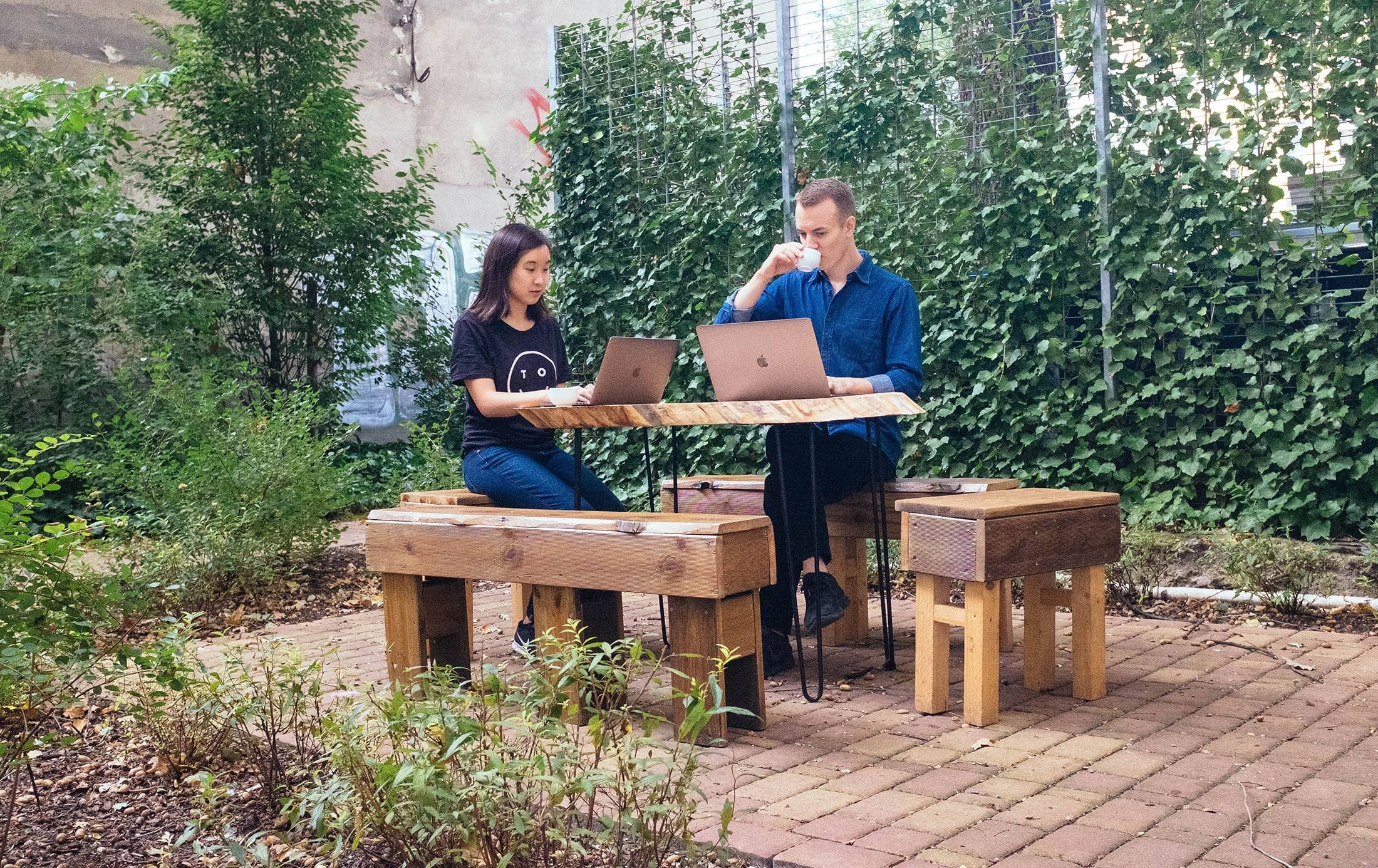 My name is Dan and I saw your comment while "ctrl+f"ing the word "remote" on the Who Is Hiring post on Hacker News.

– Dan
Had we started a home base, we would significantly cut down our applicant pool. If we had stayed in San Francisco as a bootstrapped startup, hiring would have been much more challenging. Competition for talent in the Bay Area is fierce and the cost of living is insane. It used to be pretty common for people to move for a job. Today, it's a whole different playing field. One where remote roles make talent across the world accessible.
Convincing people we're going somewhere
Joining an early stage company is a risk. As founders, we have to be able to reassure people that we're on a path to success and beyond.
Before candidates even talk to us, they should have an idea of how well we're doing. Our company blog is a great place to share the success we've found along our journey. We've shared a few blog posts like that. If we do it well, people should feel inspired to apply.
I like […] the great vibrations that I somehow got while reading about you 😉

– Applicant
We share numbers in these posts because numbers speak for themselves. We're quite open with our numbers with candidates. How much money we're making, how many customers we have, and what growth looks like.
This transparency is especially helpful as a bootstrapped startup where you don't have millions in the bank. You can't have candidates worry they would be joining a business at risk of shutting down.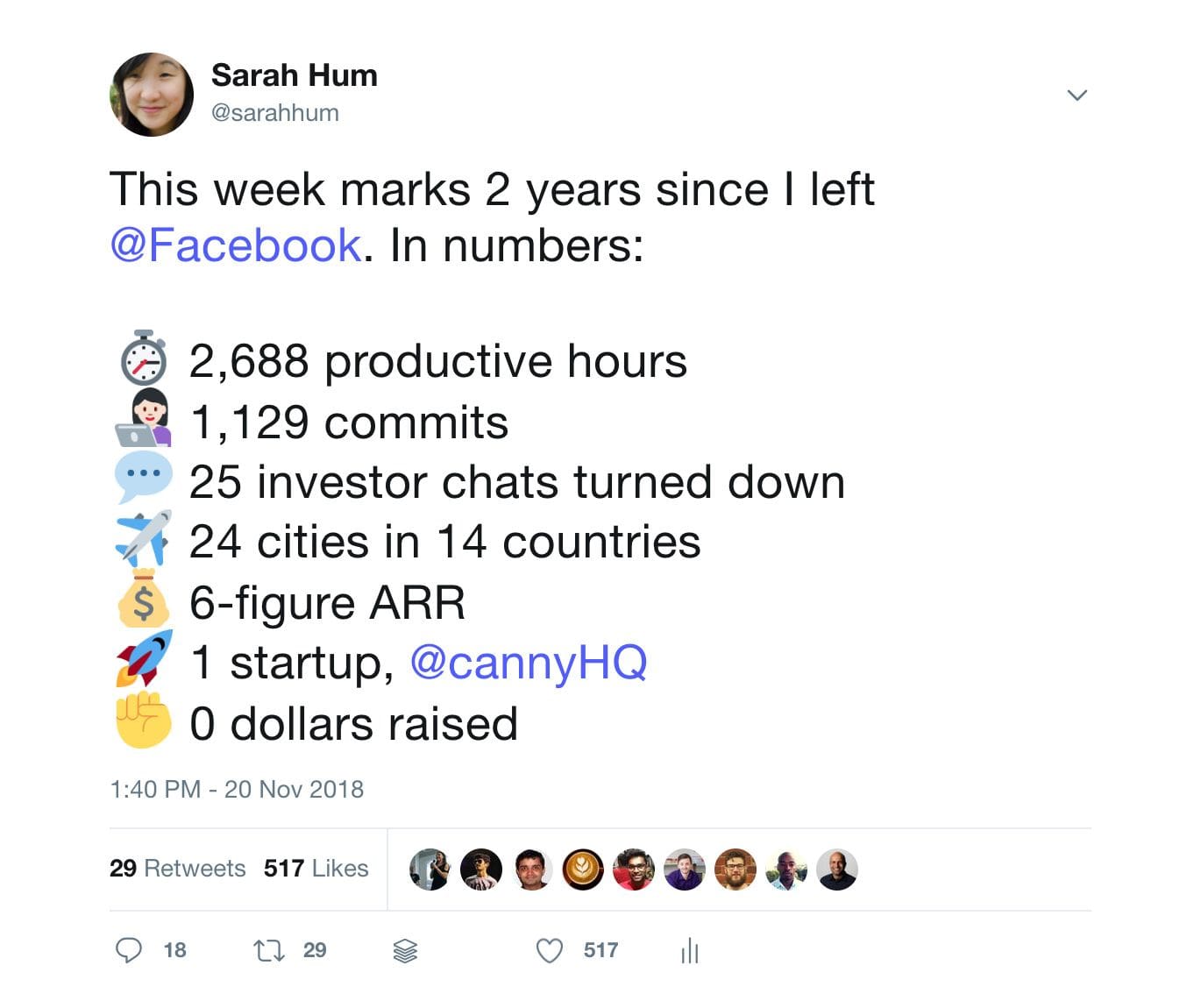 Once you get to the actual interview, it's show time. It's your chance to reinforce all the good things that the candidate now thinks about your company. Speak with confidence and enthusiasm—it goes a long way. This shouldn't be hard if you genuinely believe in the future of your company.
An interview is a two-way street. You're asking people skill-testing questions to see if they're a good fit for the role. You also need to sell yourself and your company. If as a founder you can't get excited about your own mission, how can you expect anyone else to be? The best candidates have options. Why are you the best one?
Branding is crucial when trying to attract top talent
In general, all of this comes down to branding. Intentional or not, everything I've talked about above adds to the Canny brand. There is so much competition for good talent. As an early-stage startup, we need to do what we can to stand out. What we offer at Canny is a unique culture, flexibility, and success. By showing off these strengths, we've been able to attract some stellar people.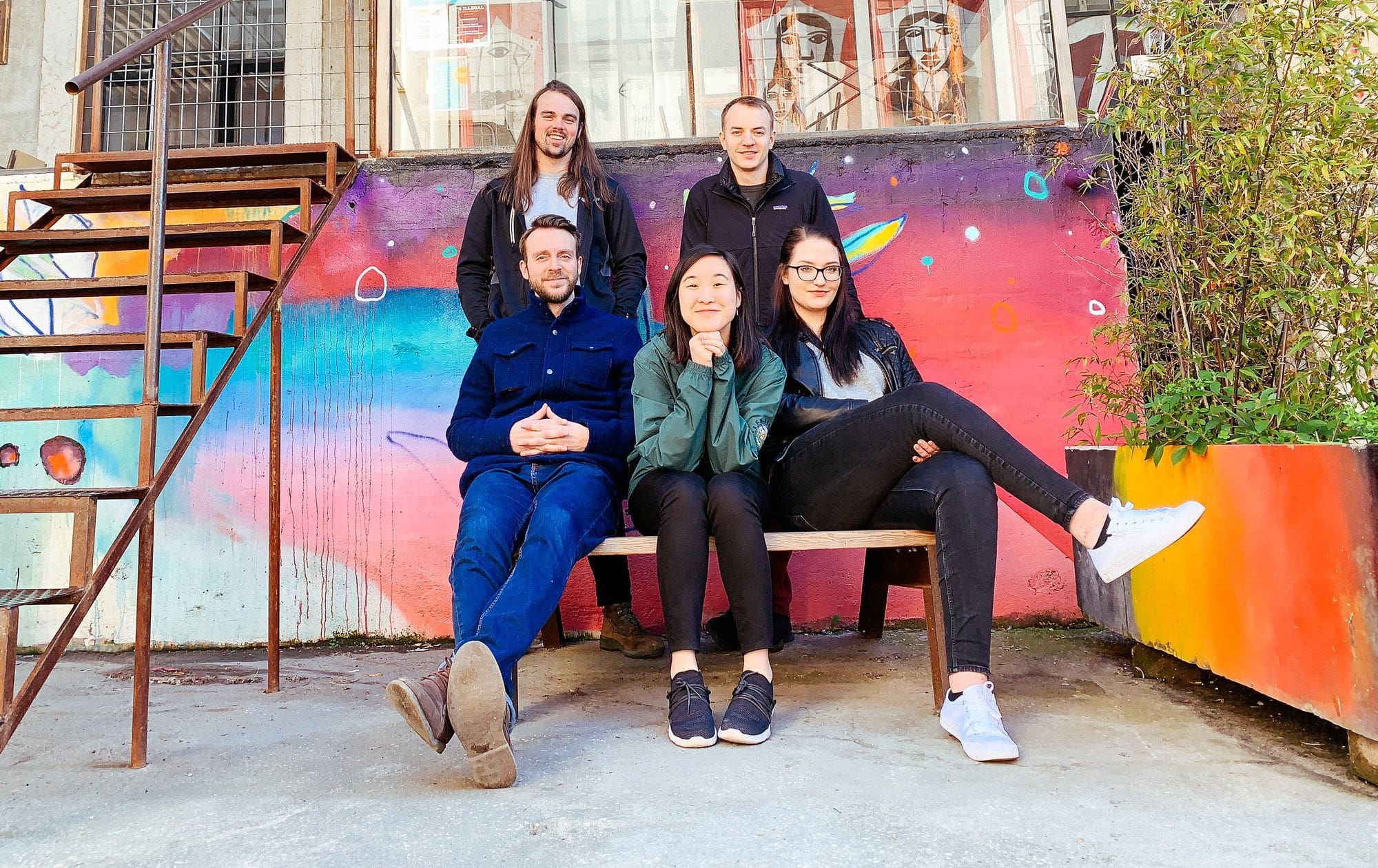 After grinding hard on Canny as a team of two, we are so excited to be expanding the team. I hope this was helpful. Good luck!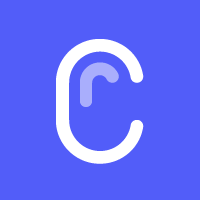 Canny
is a user feedback tool. We help software companies track feedback to build better products.