It's officially been three years since we launched Canny. It's always interesting for us to take a moment and reflect on what we've done and learned so far.
Here are our reflections from our last two years:
Lessons learned from bootstrapping our SaaS startup
Lessons from our second year of bootstrapping Canny
Here are some highlights from this year:
Ended our nomad journey
After living and working from 27 cities in 16 countries, Andrew and I are now settled in Toronto. Check out this post if you're curious about this decision.
Over $750K annual recurring revenue
We have aggressive goals this year so this'll be an interesting number to keep an eye on for next year.
7-person team
We've added more brain power to the team to push Canny forward even more. We all work remotely and love it.
4 retreats
We've gone on four amazing team retreats and are planning our fifth! I recently wrote about how we plan retreats.
Raised $0
Still no plans to change this. We're proud to have bootstrapped Canny to where we are today.
Highlights aside, nothing good ever comes easy. We've had a pretty interesting year.
Here are some of the lessons we'll be taking with us into year 4.
Recruit early
One of the big themes for us last year was hiring. Our attitude with hiring is simple. Once we have enough money, we decide which role would have the most impact.
Over the course of the year, we decided to hire a third engineer and a second marketer.
We also found ourselves needing to re-hire for customer success (things happened, I won't write a whole blog post about it this time).
One advantage we have over bigger companies is speed. We try to keep the whole cycle short and fast.
We filled both our marketing and customer success roles within three weeks from putting up the job listing.
Filling the engineering role was a whole different story. We finally found Jake after about a year since listing the role. We did hundreds of interviews and gave five offers.
Each rejection was heartbreaking but, as we always say, deal's not done till it's done.
This is why it's important to start recruiting early. Hiring people can take a long time. At our stage, we can afford to be cashflow negative for a few months while growth catches up.
If the right person comes along, sooner than we expected, we would still hire them.
Here's the hiring process that's working for us so far:
1. We source candidates from remote job boards like WeWorkRemotely
2. Applicants apply via email and we immediately disqualify about 80%
3. 20% get a quick take-home assignment
4. About half make it though to an initial call
5. Another half of that makes it through to technical interview(s)
6. Final candidates meet the rest of the team to reinforce culture fit
7. Final candidate receives an offer
A successful hire means a perfect alignment of timing and fit. It takes a while for that to come along.
As soon as you think filling a role might be helpful, put a listing up and see what's out there.
TIP
If you can, schedule interview screens back to back. After talking to so many people, it can be hard to remember details days later. Blocking out chunks of time also helps keep your schedule sane.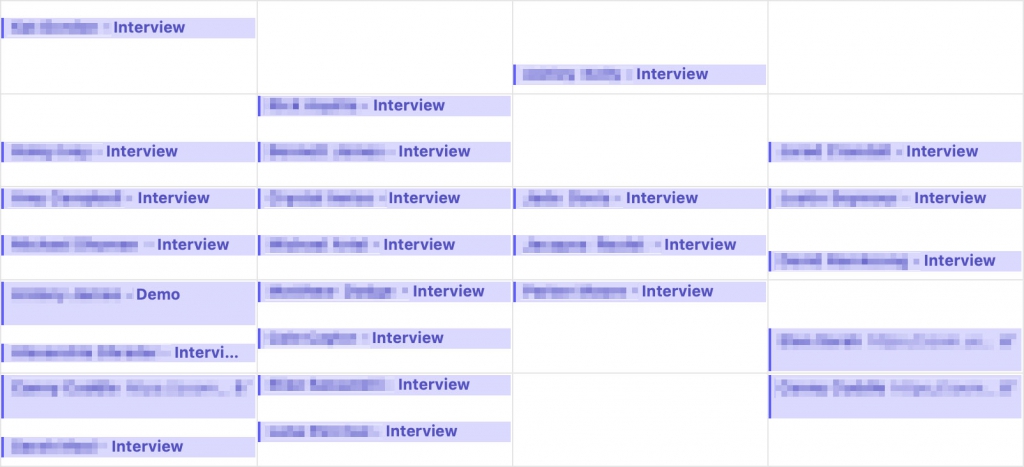 Doing them consecutively will give you a better idea of how people stack up.
It's a good idea to keep brief notes to refresh your memory. I even take a screenshot of the candidate because I'm a visual person.
The ones that stand out in your mind should move forward.
Embrace becoming a manager
For the majority of this past year, we've had a team of five. With that, came a lot of new responsibility as a founder.
Managing people was something I hadn't done before. As a maker at heart (I design things), it's easy for me to get very absorbed in execution.
However, being heads down all the time is not a good place to be as a leader.
This year, I've started to transition away from the maker mindset a bit. A big part of my job now is to make sure the team is empowered to do their best work.
Some basic things that I think are important:
Doing one-on-ones (AKA 1:1s)
Andrew and I make sure we have weekly recurring, 30-minute meetings with everyone. In these meetings, work is secondary. That half hour is reserved to talk about the other person and their needs.
Good people are hard to come by. I want to make sure they have what they need to be successful.
Managing my time
Since I'm kind of in between maker and manager at this point, I really need to manage my calendar.
I block off time to get my maker work done. Meetings spread across my day is super disruptive. I only open my calendar for specific chunks of time.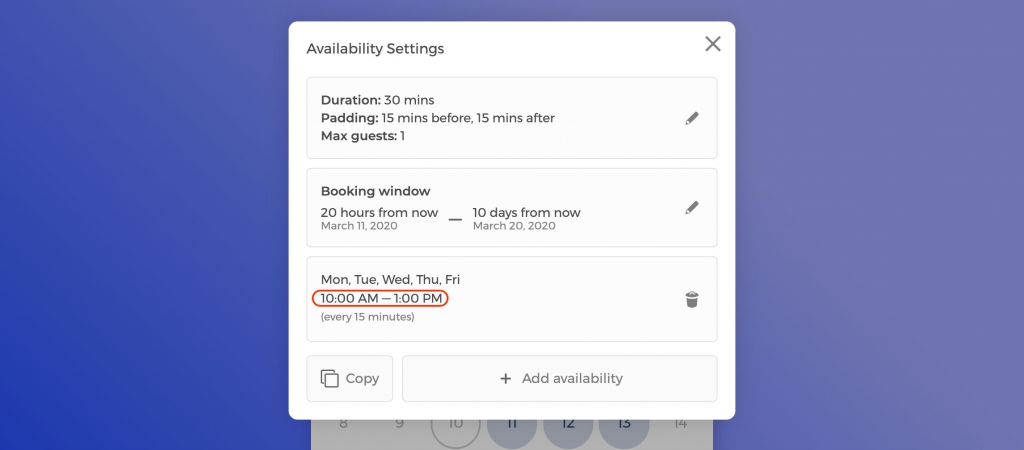 Everything outside of that is sacred.
Leaving it to the pros
As founders, we're so used to doing everything. At some point, you need to trust your team to take things off your plate.
There are things I've held onto just because. I'm learning to delegate and let go. Especially because we hire people who are more qualified than us in what they do.
Giving praise
It's easy for me to be critical about things. How can we do better? What needs to be fixed? My mindset is always about improving.
Remembering to give praise is something I easily overlook.
It's important that we take time to celebrate wins. Reaffirming good work is just as important as reflecting on what needs improvement.
I can write a whole blog post about being a manager. I probably will.
Communicate openly
This one's a given but it's important enough to reiterate here.
The moment anyone on the team avoids talking to me about something, is the moment I've failed.
A culture of open communication means creating a safe space for the hard stuff.
An easy way to do this is to encourage feedback. During our 1:1s, we make sure feedback is exchanged.
What can they do better? What can I do better? More importantly, there should be action items afterwards.
The only way relationships (professional and personal) can progress is if expectations are clear on both sides.
We ended up letting someone go recently. Because we're such a small team, we were really worried about how everyone would take it.
While it wasn't easy, everyone trusted the decision we made. I would attribute this to the trust we've built by having open communication.
Startups are like riding a rollercoaster blindfolded.
It's hard to predict the highs and lows but we can make sure everyone is excited for the ride.
TIP
Not everyone communicates the same way. Maybe there are blockers you aren't thinking about.
If people aren't expressing their opinions in open forums, talk to them privately.
When I worked at Facebook, there were always more senior people in the room. It made me anxious about speaking up in fear of being wrong. Encourage thoughts from new/junior people first.
Take time to understand how people prefer to speak up so you can help them feel comfortable sharing their thoughts.
Trust our gut
As a new leader, I'm always doubting myself and whether or not we're doing the right things.
In a lot of ways, I think it's a good thing. Being critical and self-aware is how you improve.
Where we can do better is not hesitating when it comes to making tough decisions.
Over time, we've learned that our instincts are usually good. That allows us to trust our guts more.
It's always a good idea to measure impact:
1. Have a hypothesis and goal
2. Come up with action items
3. Quickly test the hypothesis against the goal
For example:
Hypothesis: Manual outreach will convert better than automated outreach by 30%.
Action items: If it converts 30% better, double down. If not, switch back to automated.
Test: Try manual outreach and measure the conversion.
Sometimes emotions come into play. Those scenarios are much tougher. Being diligent about tracking results will make your decisions objective.
Get in the habit of documenting relevant information so you don't forget.
Quickly testing is key. We've drawn out decisions because we let other things get in the way.
Time at startups is always in short supply, make the best use of your time.
TIP
When other people get involved, disagreements are common. In these cases, disagree and commit. Don't waste time going back and forth about something you can test just as quickly.
Make time for hobbies
Closing off with a more personal note here.
Just over a year ago, I picked up an iPad pro and Apple pencil for the first time. They had just come out and we were close to Portland (hello no sales tax!).
Suffice to say, my life changed pretty drastically from there.
I had always wanted to be good at drawing. Working at Pixar was my dream job. A dream I knew I wasn't good enough to attain… so I ignored it.
Something about the iPad unlocked that interest again. Maybe it was the low barrier to entry. Maybe I naturally feel more comfortable in a digital environment.
Whatever it was, I became obsessed with drawing.
It gives me something outside of work that I can feel good and productive about. I started an Instagram account to show my progress to the world.
Now, over 50K people are following and supporting me on my art journey.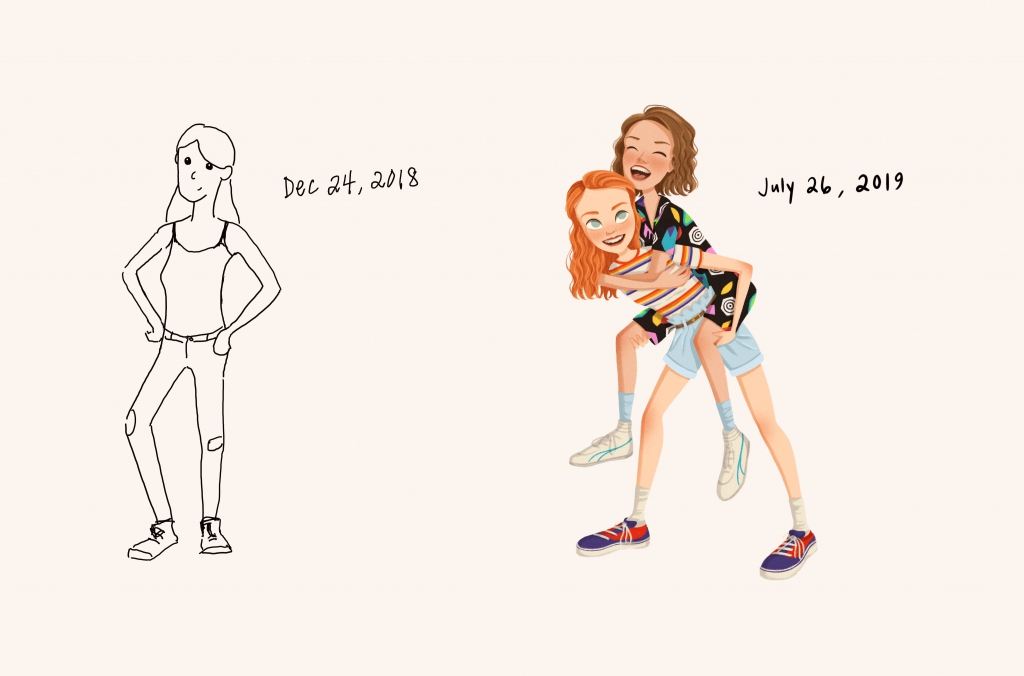 Having something I'm passionate about beyond work has been healing.
It gives my brain a break which I believe makes me a better founder. Thinking about work during all my waking hours is asking for burn out.
I don't know what the future holds for my art.
What I do know is that I need to make sure hobbies are a part of my life. I'm being careful not to turn this into another "job".
Beyond art, I'm also going to the gym on a regular basis and I joined an a cappella group!
TIP
Don't force it. True hobbies are stimulating and fun. They shouldn't add more stress to your life.
I've tried a bunch of things that didn't stick. You'll know when you've found the right thing.
Year 4 of our bootstrapped startup
Last year, I said:
"In our third year, I expect to learn a lot more about leadership. Before this, I've had no management experience. As we're growing the team, I'm already seeing a change in dynamics and what takes up my mental space. A lot of firsts to come!"
This was definitely true. I am still slowly transitioning to be more of a manager and learning a lot.
I don't expect to be a full time manager this coming year but I will be doing a lot more of it.
I'm excited to see how my role and impact changes.
As for the team, this will be a big year for us. We're looking to get a stronger foothold on the market that we're in.
Clarifying our product direction will be key here. From there, we have a solid team to execute.
One of the best things about being bootstrapped is being able to do things our way. We work on projects that are not only impactful but fun as well.
I expect we'll continue trying new things and making mistakes along the way.
Three years ago, I wouldn't have been able to predict we'd be where we are today. The deeper we get, the more I appreciate how tough it is to start something from nothing.
It's easy to get bogged down by monthly metrics. Once in a while, it's nice to take a breath and look at how far we've come since the beginning.
Onwards to year four!


Come backstage, where we share an honest look into building Canny. You'll be the first to know when we post new content.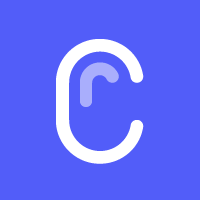 Canny
is a user feedback tool. We help software companies track feedback to build better products.