Canny, our SaaS startup, recently hit a major revenue milestone: one million dollars in annual recurring revenue.
Some quick facts:
⏱ We launched in March 2017, so it took us just under 3.5 years to get to $1m ARR
💰 We're bootstrapped, meaning we've never taken any money from investors
📈 We've never done outbound sales, meaning all of our growth came from inbound channels
👩‍💻 At the time of hitting $1m ARR, our team was 7 people (now 9)
🌎 Our team is fully remote, distributed across 3 continents, 4 countries, and 7 cities
It feels pretty surreal. When you start a SaaS company, $1m ARR seems impossibly far away. Now that we're here, it feels very much like a turning point. Like a major chapter has ended, but another one has begun.
It's a perfect moment to reflect.
What went well? What could have gone better? What have we learned? These are questions that we've been pondering over the last month, and I'm excited to share our learnings with you in this post. 🙂
Timeline
Here's what our journey looks like so far: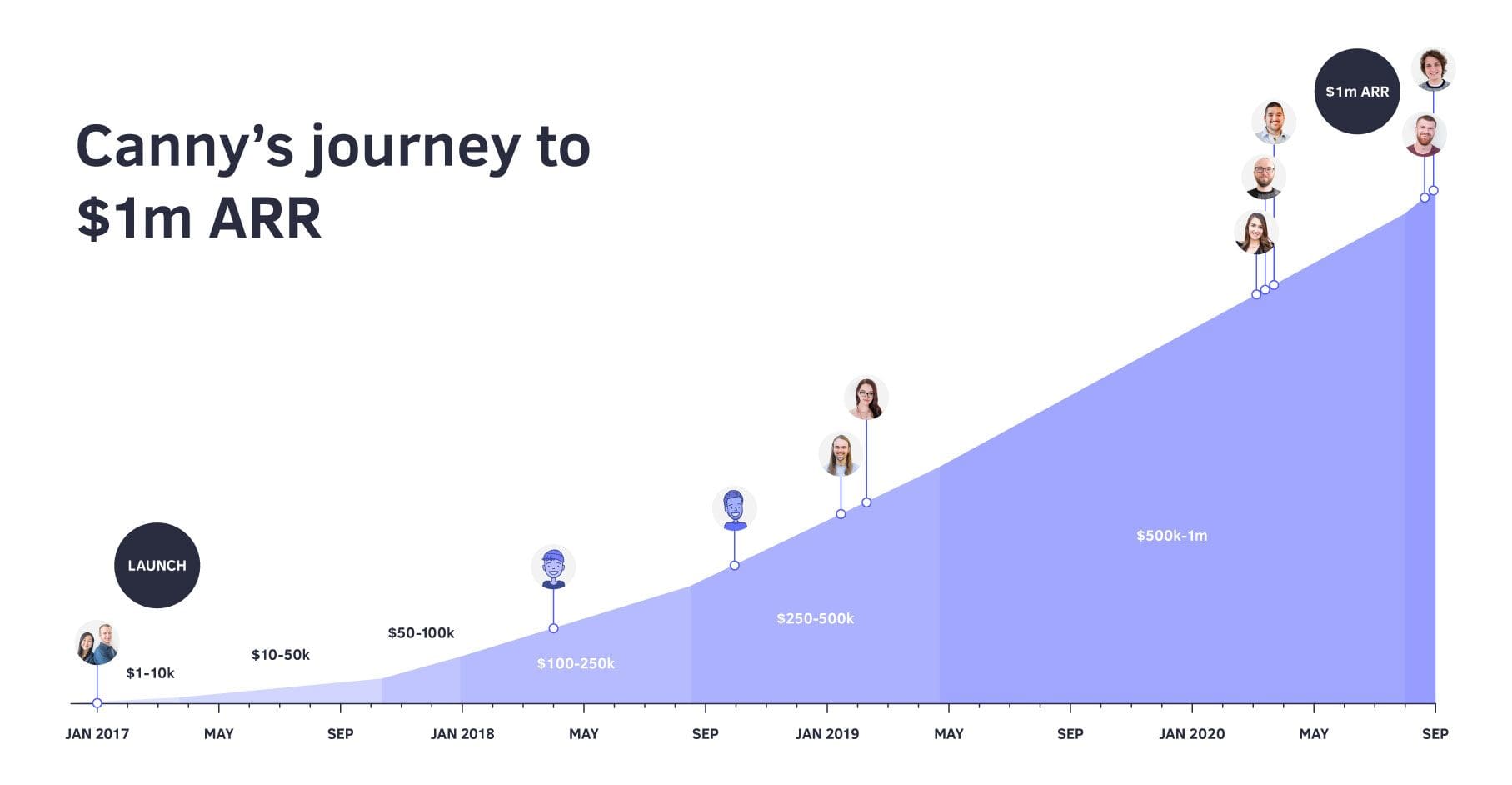 We decided the best way to break down our learnings is by specific stages, defined by revenue/hiring milestones:
Building the foundation: $0 ARR
I would argue that this is the most important stage to "get right." This is when you build the foundation for your company.
It's easiest to change your target audience or the problem you solve in the early days. After you have a product and customers, it can be painful to make these changes.
Here's how we broke this down:
What problem do you solve?
We help software companies build better products by doing a better job of collecting and understanding user feedback.

Who do you solve it for?
The product team at software companies. Canny works especially well for customer feedback at B2B/SaaS companies, and for tracking internal feedback at larger companies.
How are you different than existing solutions?
Product quality. Our product is designed and built by a team of FAANG-caliber engineers and designers. We know how to build good products.
I'd recommend thinking long and hard about these 3 simple questions. Your answers will significantly impact the rest of your journey.
Lesson learned
Be focused—don't try to solve every problem for every business. Build an amazing product for a small group of people instead of a mediocre product for everyone.
Your product and messaging will be so much clearer. People will resonate more with what you're building if you speak directly to them.
After you get a good foothold you can explore adjacent problems and target customers.

Zero to one: $0 to $1k ARR
When you feel good about your foundation, it's time to build your product and find your first customers.
Andrew's a software engineer and I'm a product designer, so for us building the product was the easy part. Acquiring customers has always been the challenge.
Here's how we got our first paying customers:
1. We gave away a free version of a product, a user feedback community.
This wasn't even Canny yet. I go into the backstory a lot more in this guest article I wrote for Baremetrics.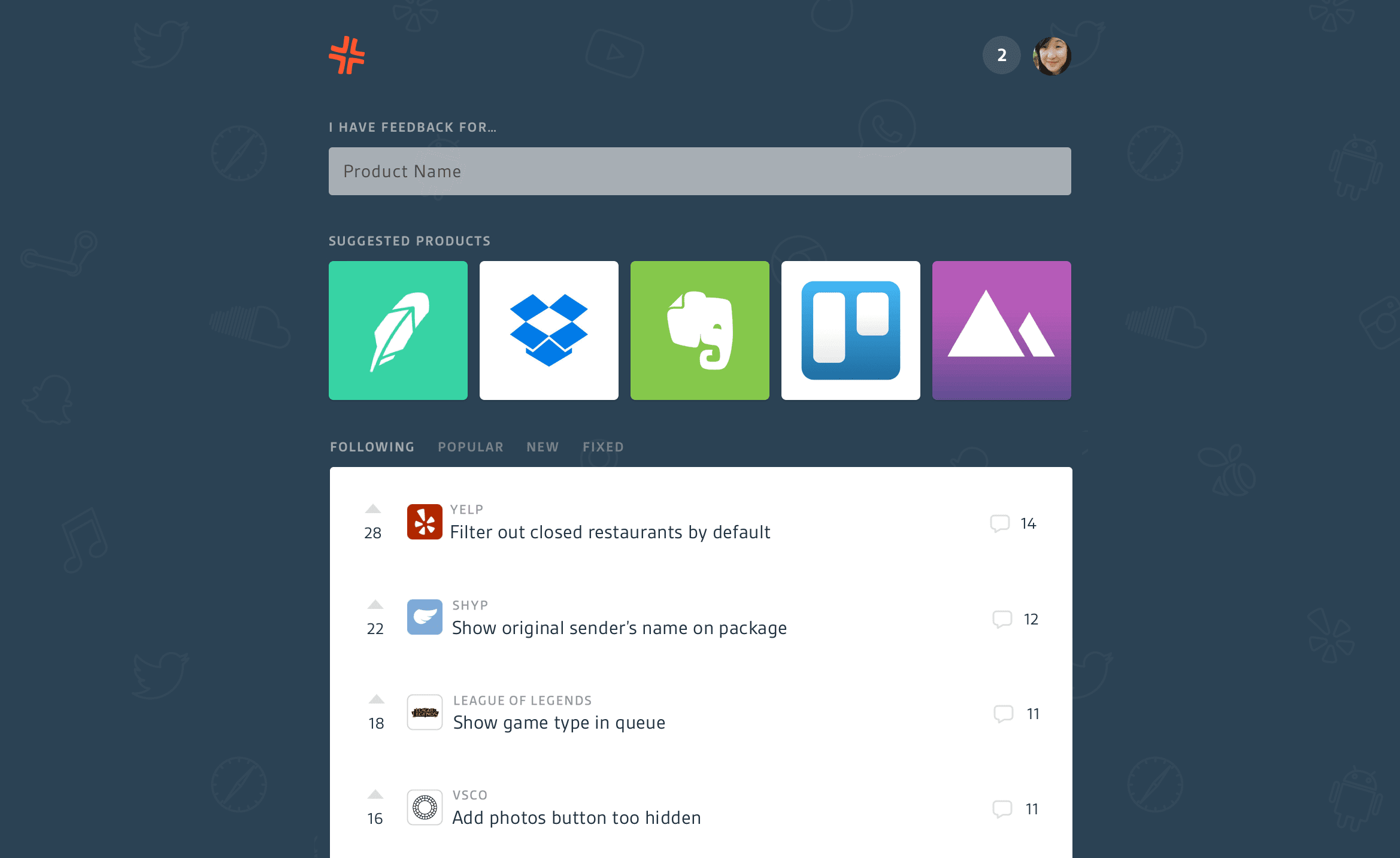 2. We got lucky and landed an influencer customer from our personal network.
Andrew used to work on the React team at Facebook, a popular web framework. They started using Canny to keep track of feedback for React Native.
3. Out of the thousands of users who left feedback for React, a handful of them ended up using our product to collect user feedback for their own product.
4. We learned that people were willing to pay for a feedback solution.
5. We turned our user feedback community into a user feedback SaaS tool.
I do want to highlight that we got super lucky here. Many SaaS products don't have a viral channel, or the opportunity to land an influencer user early on.
That said, if you solve a real problem that's better than existing solutions, you should be able to find your first customers.
We also put effort into:
Writing and distributing good content on our blog
Reaching out to product people for feedback
Implementing a free trial
If you're struggling with acquiring your first customers, it's likely due to one of the following problems:
You aren't talking to enough people (sheer volume)
The people you're talking to don't have the problem you solve (wrong audience)
The problem you solve isn't big enough that it's worth paying for (wrong problem)
Your solution isn't good enough compared to existing solutions (wrong differentiation / weak product)
Lesson learned
As product people, it's easy to spend 90% of your time building your product. Building a good product is important, but it's useless if nobody wants to use (and pay for) it.
Launching: $1k to $10k ARR
We officially launched Canny in March 2017.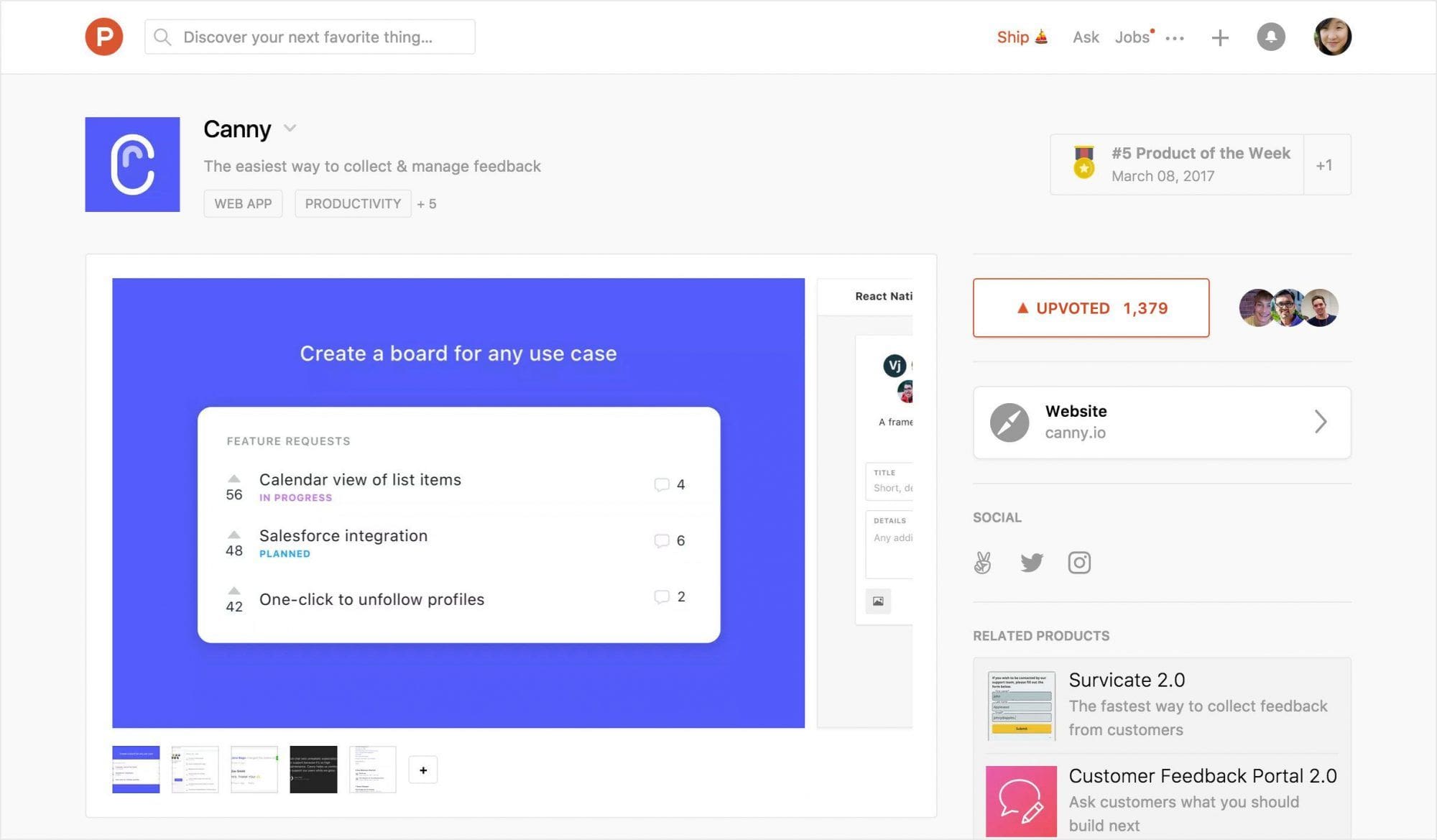 At the time of launch, we had five paying customers from our user feedback community days. Not many, but even these small numbers were a big indicator.
If you have multiple paying customers, you have validated many parts of your business:
You know that you solve a problem that's worth paying for
You probably have a good idea who your target audience is
You likely know whether your product solves the problem well
In the two months following our launch, we got 50 paying customers, paying on average $20/mo.
Our target audience was software companies, and especially small ones (at this price point). Therefore, Product Hunt was a great place for us to launch, as the majority of their users work in tech.
Lesson learned
Try to validate your product/business before launching by getting a few paying customers. If some people are willing to pay, it's a great sign that others will too.
By launching before getting customers, you'll still learn a lot, but you risk not getting paying customers. By validating first, your launch will be more successful.
Consider whether there are any waves you can ride to make your launch bigger. For us, this was Product Hunt itself, which was super popular in 2017.

Ramen profitability: $10k to $50k ARR
Ramen profitability is going to be a slightly different amount for every founding team. It's however much money you need, on an ongoing basis, for the company and founders to break even.
This milestone is super important because you've eliminated one of the greatest risks of your company failing: running out of money. You aren't dependent on outside capital, and don't have any specific time pressure.
For us, ramen profitability was at about $50k/yr. Andrew and I are a couple, so our living expenses are cheaper (per person). We were also digital nomads, and Airbnbs in Spain are a lot cheaper than rent in San Francisco. 😉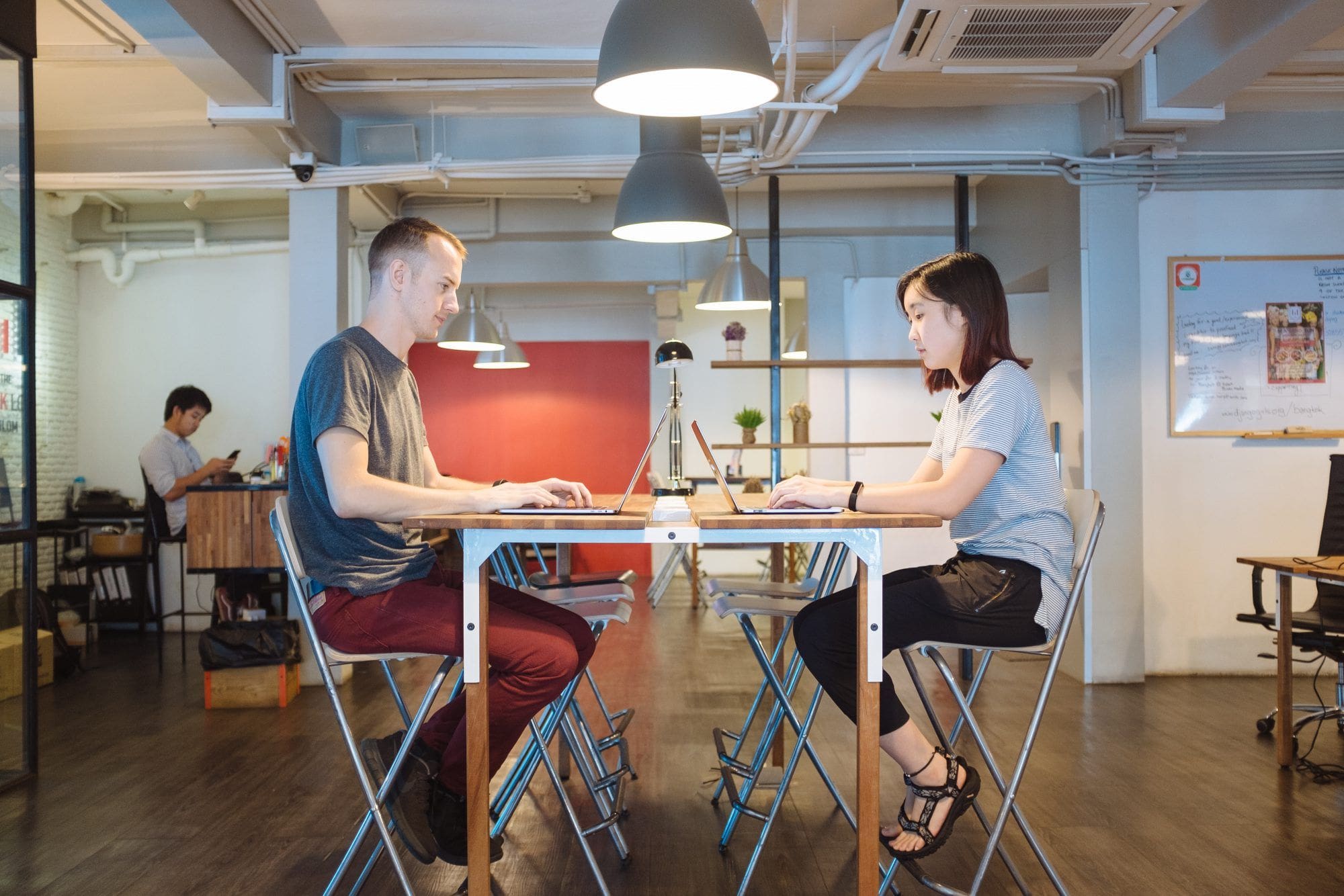 Growth definitely slowed down 2 months after our launch. Most of the buzz from launching had died off, and we had to learn how to create evergreen content.
The easiest way to acquire customers via inbound is to get in front of them when they're actively looking for a solution:
Which search queries would a prospective buyer make? Try to rank organically or via paid advertising for these queries.
Which web pages would a prospective buyer end up on? Especially if these are on sites like Reddit or Quora, be sure to mention your solution there.
What information would be particularly useful to the buyer? Explain how your product solves their problem, or how it's different/better than alternatives.
It took us 6 months to acquire another 50 customers. But, we had raised prices, and these customers were paying $60/mo on average (3x as much). These customers mainly came from Product Hunt, Hacker News, Quora, Google ads, organic search, and through "Powered by Canny" (our viral channel).
We changed our pricing four times that year.

It's easy and cheap to change your pricing when you're small. Every time you change it, you get a lot of feedback, and learn a lot. Pricing is not something you set and forget, at any stage.
Lesson learned
At this stage, there are loads of low-hanging fruit in both product and marketing.
Success is all about identifying these tasks, executing on them, and seeing what works.
Talk to your customers to learn what they want in a solution. That will also help inform how you market your product.

First hire, first fire: $50k to $100k ARR
We continued knocking off the low-hanging fruit in product and marketing:
We built many key features and integrations, some of which we were able to launch on Product Hunt
We set up paid advertisements and landing pages, focusing heavily on buyer-intent keywords
We wrote blog posts, some of which were well-received on Hacker News
This stage is really just a grind. It's fairly obvious what you need to do, you just need to do it. You have to show up every day, figure out what's going to be impactful, and get it done. Rinse, repeat.
It took us around 3 months to double from $50k ARR to $100k ARR. By then we had around 150 customers.
Around this time we decided we wanted to hire a full-time marketer. Here's why:
We knew that marketing was super important to our future growth and success
Neither of us really enjoyed marketing, and we didn't have real experience
We finally had enough profit that we could afford to hire someone
This hire didn't end up working out, but we've been over that already.
Lesson learned
As a founder, try to notice if you're spending a lot of your time repeatedly doing similar groups of tasks.
This can be a good indicator that hiring someone for this role will be successful. Especially if it's something you're not personally an expert on.

First hire, take two: $100k ARR to $250k ARR
We were a bit scarred from our first hire not working out. We didn't try hiring again for another ~4 months. We continued to invest in product improvements and buyer-intent marketing.
Around August 2018, we had 200 customers and were making $200k ARR. It was still just the two of us.
I remember a distinct feeling from this time that we were drowning in support work. Realistically, we were each spending ~15 hours per week doing support, which was about 30% of our total time/energy. Support was also so random that we'd be going in and out of flow—not good.

What's more, we weren't doing a great job at it. We would rush support conversations because we wanted to get back to product/marketing.
So we decided to hire a customer success manager. Their primary role would be to take over support, while also spending time working on our help center, onboarding, and customer success in general.
After reading hundreds of applications and interviewing dozens of folks, we found someone.
This was super successful. This hire unlocked Andrew and me to really focus on growth. They could give our customers their full attention, to ensure they were well taken care of.
Lesson learned
Hire deliberately and carefully as your first people are key players.
Whether they can do the job well is baseline. Continue to pay special attention to whether you can see yourself working together for the long haul.

Double down: $250k ARR to $500k ARR
Hiring for customer success went so well that we were no longer discouraged from hiring. We felt much more confident in our ability to determine whether a candidate was a good fit.
At some point, we were making enough profit that we could afford to hire again.
We decided to hire for two roles:
Marketing: Basically the same reasons as before. We knew marketing was important to our continued growth and success. We didn't enjoy doing marketing and weren't particularly great at it.
Engineering: We're always going to be a product team. There were a whole slew of features and integrations that we wanted to build. Having our first full-time engineer would help us grow faster via sheer product velocity.

Up until this time, we could pretty much attribute our success to two things:
Building a great product.
Getting it in front of our target audience while they were looking for a solution.
In other words, product and marketing. Hiring for these roles was simply doubling down on what was already working well for us. I don't think we did this deliberately but, in hindsight, it makes sense.
In January 2019, Dan joined us as our first engineer. Shortly after, Elen joined us as our first marketer. Both are still with us today, almost 2 years later, and have been instrumental to building out the foundation of our company and culture.
Lesson learned
Identify what's working well for you and continue to invest in that.
When hiring, always do some form of a technical interview/assignment, no matter the role.
Support: How would you respond to this live chat conversation? Write us a help article.
Marketing: Do some keyword research, choose a blog post topic, and write an outline and draft.
Sales: Shadow us on a demo and give us feedback. Put together a brief prospecting plan.
This gives you a chance to get a feel for what it's like to work with the candidate, and gives you an idea of their skills. One of the biggest indicators for us is ability to take constructive feedback.
Note: You'll notice these tasks are fairly large. You should pay candidates for their time.

Focus up: $500k to $1m ARR
Prioritization started to get much harder. We had already built a lot of the must-have features and integrations. We were already marketing on a lot of the popular buyer-intent channels.
There was still a long list of product and marketing tasks we could do. But it was less obvious which of these tasks would be the most impactful. It also felt like we didn't have a specific focus other than getting more customers and revenue.
We decided to focus on maturing the product. "Make Canny work better for big companies" was the main focus of 2020. This is a pretty natural progression for SaaS. You start out selling to startups for cheap, and as you mature the product, it starts to work well for larger orgs at a higher price point.
This focus helped with prioritization too. We broke out our spreadsheet (Airtable), and used a simple impact/effort formula. We felt the popular RICE framework was slightly overkill.

We hired another engineer and marketer, Jake and Bri, to continue to double down on what's working (they're both awesome!).
At this point, recruiting was down to a science. From sourcing to screening to interviewing to offer, we had built a solid process.
We built integrations with Salesforce, Microsoft Teams, Azure Active Directory, and Okta. We refined our product demo, and built out our inbound sales motion for bigger deals. We got our SOC 2 security certification. These were all checkboxes for bigger companies.
A while back I published a post about saying no to big customers and I still stand by what I wrote. We don't build features for a single company and we make sure there's a good fit. We're definitely dipping our toes upstream but we feel good about how we're doing it.
Lesson learned
At some point, you need a more specific, strategic focus than "make more money." Especially as the team grows, it's important that everyone is aligned, and understands how they impact the company's larger goals. This focus makes it easier to prioritize and measure success.

Beyond $1m ARR
We recently hired another software engineer, Ramiro, and our Head of Sales, Ned. As a product designer, I'm personally super excited to hand off sales to someone who is actually good at it! I'm also excited that we're doing outbound sales for the first time.
We're in the process of rolling out Canny 2.0, which is a more mature version of our original product. It's focused on making workflows in Canny easier but also more powerful.
It's crazy that two years ago it was just Andrew and I, and now we're 9 strong. This might sound slow compared to a venture-backed startup, but it feels fast.
I'm very happy that we chose to bootstrap—it's given us time to learn and grow into each stage. It feels very sustainable, which is something more software companies should strive for.
Our mission is to help software companies build better products. We've got a long way to go.
Lesson learned
We'll let you know! 🙂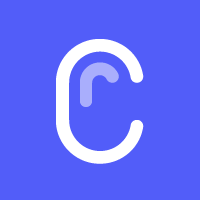 Canny
is a user feedback tool. We help software companies track feedback to build better products.