By now you've heard (and maybe even tried) ChatGPT. Copywriters, marketers, social media managers, and even developers are on the edge of their seats, watching ChatGPT simplify their lives.
We've decided to show you how you can use ChatGPT to streamline your product management process.
We talked to several product experts to see how they've improved their product process thanks to ChatGPT. Here's what they had to say.
What's ChatGPT?
ChatGPT is an artificial intelligence chatbot developed by OpenAI.
While ChatGPT can answer your questions (just like a search engine), it can go so much deeper.
Amogh Sarda, Founder of eesel.app, found 21 (!!!) different ways of making ChatGPT simplify the product process.
"There's SO much hype right now, but ChatGPT can truly be a game changer for product managers."
"You can use it to:
✅ Write a first draft of a project 1-pager
✅ Come up with QA testing scenarios
✅ Challenge your arguments
✅ Brainstorm novel and uncommon ideas
✅ Learn technical concepts
✅ Get first thoughts on a new business idea
✅ Prepare for an interview
I've compiled a full list of 21+ prompts use cases and the prompts here."
Product builder
Let's say you're trying to get started with a new product idea. That's always the hardest part, isn't it? Well, ChatGPT to the rescue!
Richard Paul, Director, Product Leader at NTT DATA Services, created a whole case study for an Instagram alternative.
In this study, he used "TESTGRAM" (a made-up Instagram Alternative 😉) as an example.
"From there, ChatGPT was able to derive the below information. A pretty decent job I would say!"
✅ Create a detailed product description
✅ Performed market research, identified competitors, and suggested what features to build to create a differentiator (value proposition)
✅ For the suggested features, the tool built a multi-year product roadmap, categorized by each quarter
✅ Converted the features from the roadmap to user stories and PBIs
✅ Created 'Acceptance Criteria' for each feature
✅ Generated questions to ask during requirement-gathering sessions for each feature
✅ Create surveys to capture feedback for each feature
✅ Created A/B Testing scenarios and code suggestion
✅ Created deployment plan and communication strategy
✅ Calculated benefits and ROI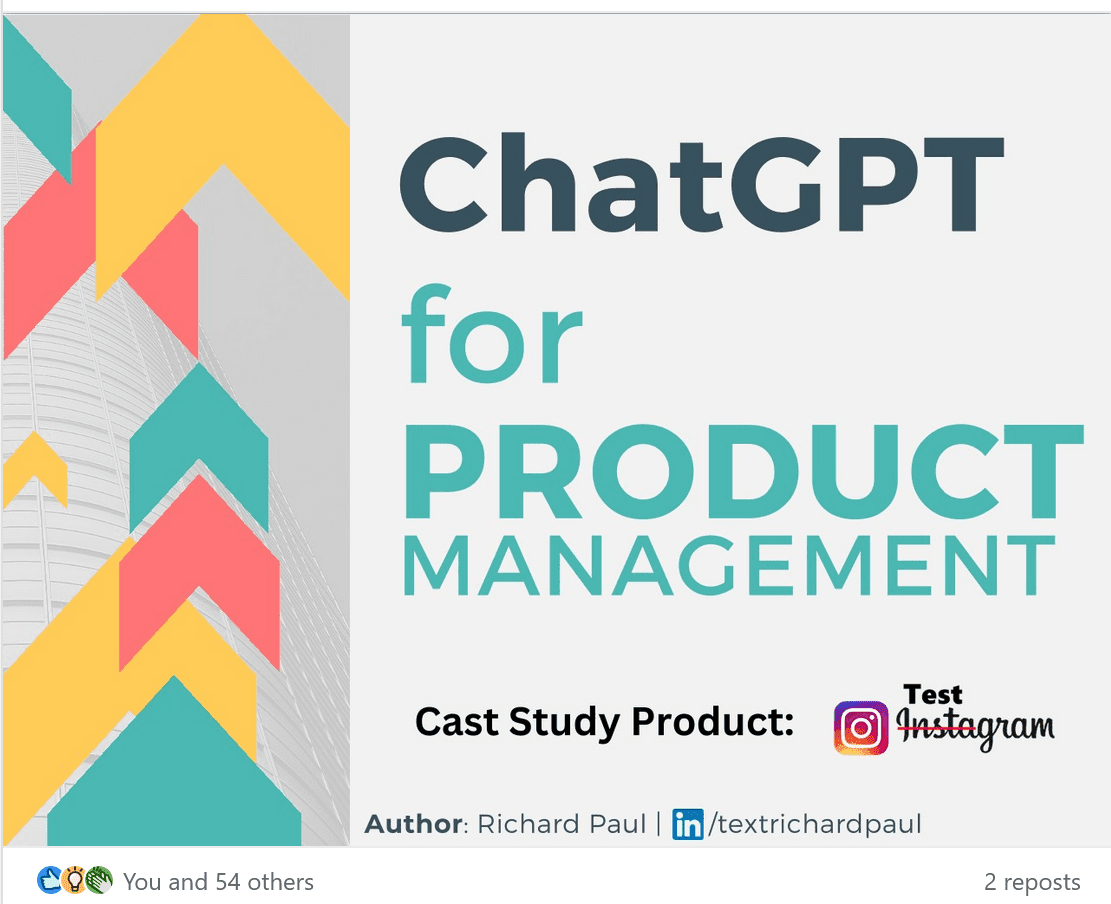 Parth Amin, Sr. Consultant at Cognizant, tested something similar. Here's how he approached it.
Define the company's vision and mission
Identify the problem and pain points
Add ChatGPT

Fine-tune #1 and #2
Generate a list of potential features
Prioritize them (based on user needs and business goals) – I used Value vs Effort framework
Create detailed PRDs
Create a strategy
"As you can see, you can save lots of time and effort and build a better product in the end.

My favorite part about ChatGPT is how it helps me understand my users better."
Parth also recorded a video all about ChatGPT for product managers – check it out below!
Researcher, planner, communicator, copywriter
Many people mainly think of ChatGPT as a copywriter or an aggregator of information. But it can be so much more!
Deborah Bittencourt, Product Manager and Product Designer at Traders Eco, outlines how ChatGPT helps her every day.
"We can divide the moments in which ChatGPT helps her into 3 bigger chunks:
Researching and testing
Deborah has to do lots of research in her role. The artificial intelligence (AI) can assist in providing:
1. Market analysis
ChatGPT is a powerful tool that can provide valuable insights through data analysis. Not only can it help with the research phase, but also articulate the relevance of the product. This helps to build a compelling case for your product and secure buy-in from key decision-makers.
2. User persona descriptions
Having a clear picture of who will use the product is an important step. By providing the target audience, the AI is able to craft your user personas in detail. You can then share it with team members to ensure everyone's on the same page.

3. User flow
It can suggest a flow to follow at a certain stage of the user activity. For example, it can help with checkout, sign-up, or adding personal information. This can lead to a more seamless user experience.


4. User test communication
When reaching out to users to test products, clear and concise communication is essential. The AI can help list the requirements and connect the dots to create a clear message.
Managing the project
When you get to the stage of designing interfaces and building the product with the engineering team, ChatGPT can also be a loyal ally.

1. Task planning

ChatGPT can help break down the project scope into small tasks and set delivery dates. This can save time and make the process more efficient.

2. Programming logic
It can also provide programming logic in the programming language of your choosing. This can be helpful for non-technical product managers who may not have experience in coding. It can also become a blessing for the development team that you work with.
Shipping to the world
When it's time for the launch, product managers often collaborate with product marketing.
Announcement material
Product managers usually explain the product or feature to the marketing team. ChatGPT can help provide more details where the product manager may be feeling stuck."

ChatGPT saves Deborah's time and makes lots of tasks more efficient. However, she reminds that:
"It's not a replacement for the PM role. Product managers still need to have deep knowledge of the product and its user base to ensure clarity."
Pattern finder
The main benefit of ChatGPT is how much time it can save. Sarah Hum, our co-founder at Canny, recently asked ChatGPT to find a feature request in a customer support conversation. Huge time saver!

Sarah also needed to group some feature requests (that were phrased a bit differently). So, instead of reading and trying to make sense of each of them individually, she asked ChatGPT to do that for her. And it didn't disappoint!
Guodong Zhao, Product Manager at Pacer Health, also used ChatGPT for product-related tasks, including analyzing feedback. Here's how his experience unfolded.
"I use ChatGPT throughout my product workflow:
Brainstorming ideas
Market research
Generating content
Analyzing user feedback sentiment
Gathering pain points/requests
Writing release notes
But mainly I use it to analyze user feedback and extract useful information. This information comes from countless in-app user feedback, support tickets, app store reviews, and more.
"Instead of using ChatGPT itself, I'm using the GPT API with a simple Python script to automate the process. You can actually ask ChatGPT to write the scripts for you!"
"My workflow is:
Use Python to pull raw human feedback
Turn that customer feedback strings into embeddings (vectors)
Calculate the similarity and cluster the strings so that similar ones go together
Use GPT API to summarize each cluster for the pain points, feature requests, and suggestions"
GPT-4 – website creator
And just when we thought ChatGPT can't get any cooler, this happened.
This AI-generated content goes far beyond the regular AI chatbot that we're used to. With very simplistic AI art prompts, ChatGPT was able to build an entire website. And with some more machine learning, it can probably create even better content in the future.
Partho Ghosh, GM, Product at Hootsuite has something to say about this.
"I think ChatGPT is advancing at an intrepid rate. If you aren't using it in your day-to-day to test out your product ideas, you're missing out. We've tested out landing page designs, high-level proof of concepts (PoC), and many other ideas with ChatGPT + MidJourney. The output is fantastic!"
"While it's not replacing our great designers any time soon, it is helping us be more nimble than usual. ChatGPT/MidJourney are great for agile development.
You can even use ChatGPT's API to parse through data, your customers' feedback, or feature backlog to input those requests into PoCs. Pretty awesome!"
Partho mentioned that his team at Hootsuite's not looking to use ChatGPT to replace anyone. Let's talk a bit more about that.
Is our job in danger?
When it comes to ChatGPT, that's the first question that many people jump to. "If ChatGPT is so great and can do all this, what will I do?"
Aatir Abdul Rauf, Director of Product Marketing at vFairs, explains exactly how ChatGPT can help, not replace you as a product manager.
"ChatGPT (and now GPT-4) is truly a force that will empower product teams in meaningful ways. We haven't even scratched the surface in terms of use cases."
"PMs are using it to:
Help with product discovery
Create questionnaires
Brainstorm solution ideas
Workshop buy vs. build decisions
Create spec blueprints
And more
However, over-reliance and complete dependence on ChatGPT isn't the best strategy for a PM.
At the end of the day, you understand your customers the best. You know the history of your product, the market dynamics, the industry trends, and the inside scoops.
ChatGPT is a trained model, fueled by public data. It's an AI tool that successfully uses machine learning to generate natural language outputs.
The unique insights you have from human feedback aren't always well-documented though. ChatGPT will run into several limitations when it has to get into specifics. And you'll have to be there to guide it or fill in the gaps. In this regard, human intelligence can't be beaten.
Therefore, instead of using it to independently drive PM activities, think of it as a "co-pilot". Give ChatGPT enough context and feedback to deliver meaningful outcomes. Otherwise, while a single-shot prompt may look like a neat party trick, it won't help much in practical business scenarios.
"ChatGPT might take the burden off PMs when it comes to large data analysis, spec work, or ideation. However, AI won't entirely replace you as the roots of your role are grounded in doing what machines can't do that well. Specifically, understanding the human side of the business equation."
"For example, product management involves stakeholder management. That demands hardcore negotiation skills, emotional intelligence, and diplomacy. Similarly, all product decisions aren't purely data-driven. PMs have to leverage customer empathy, compassion and psychology to make those decisions.
In the end, ChatGPT will certainly evolve the product manager role, but in a positive way. It'll empower them to do a lot more with less."
Streamline your product process with ChatGPT
We're watching history happen. From the rise of the internet to the first cell phones, and now to artificial intelligence – we're living in a pretty exciting time. Now it's up to us to use the new technology to the fullest. We hope that this post has inspired you to do just that.
If you'd like to check out another great product technology, check out Canny's free product management software. It's driven by user feedback and helps you prioritize the features your users want most.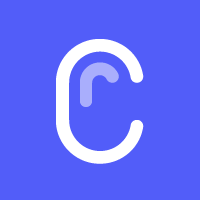 Canny
is a user feedback tool. We help software companies track feedback to build better products.