Progress happens through innovation. "What got you here won't get you there." To drive progress, you need ideas. You can usually come up with a few by doing some research, asking others, or just winging it.
Or, you can take a slightly more scientific and structured approach. That's called "idea management", and that's exactly what this blog post is about.
We'll go over idea management as a concept, illustrate with examples, and ‌explain why it's so important. We've learned a lot by building our idea management software, and we're happy to share.
What is idea management & why you should care
Idea management involves coming up with good ideas and bringing them to life.

It includes generating, collecting, evaluating, and implementing those ideas. Effective idea management improves productivity, efficiency, employee engagement, motivation, innovation, and growth.
Everyone wants to be a trendsetter. But you can't really become one on your own. Every successful startup became great thanks to various ideas and experiments, many of which failed. But the ones that succeeded – those made a big difference.
It's all thanks to ideas.
Driving innovation
Idea management truly drives innovation. Without new ideas, your business will remain stagnant and might become irrelevant very quickly.
New ideas can also help you improve your product. When you get feedback from your users, team members, and the community, you'll know exactly what to fix or build. Without it, you'll end up just guessing.
That feedback often comes from lots of different sources – your team members, clients, prospects, and more. The trick is to keep track of them all.
Here's an example from our Canny board. This is a discussion of a feature request for changelog search. One person requested it, and others upvoted this idea and added their comments to the thread.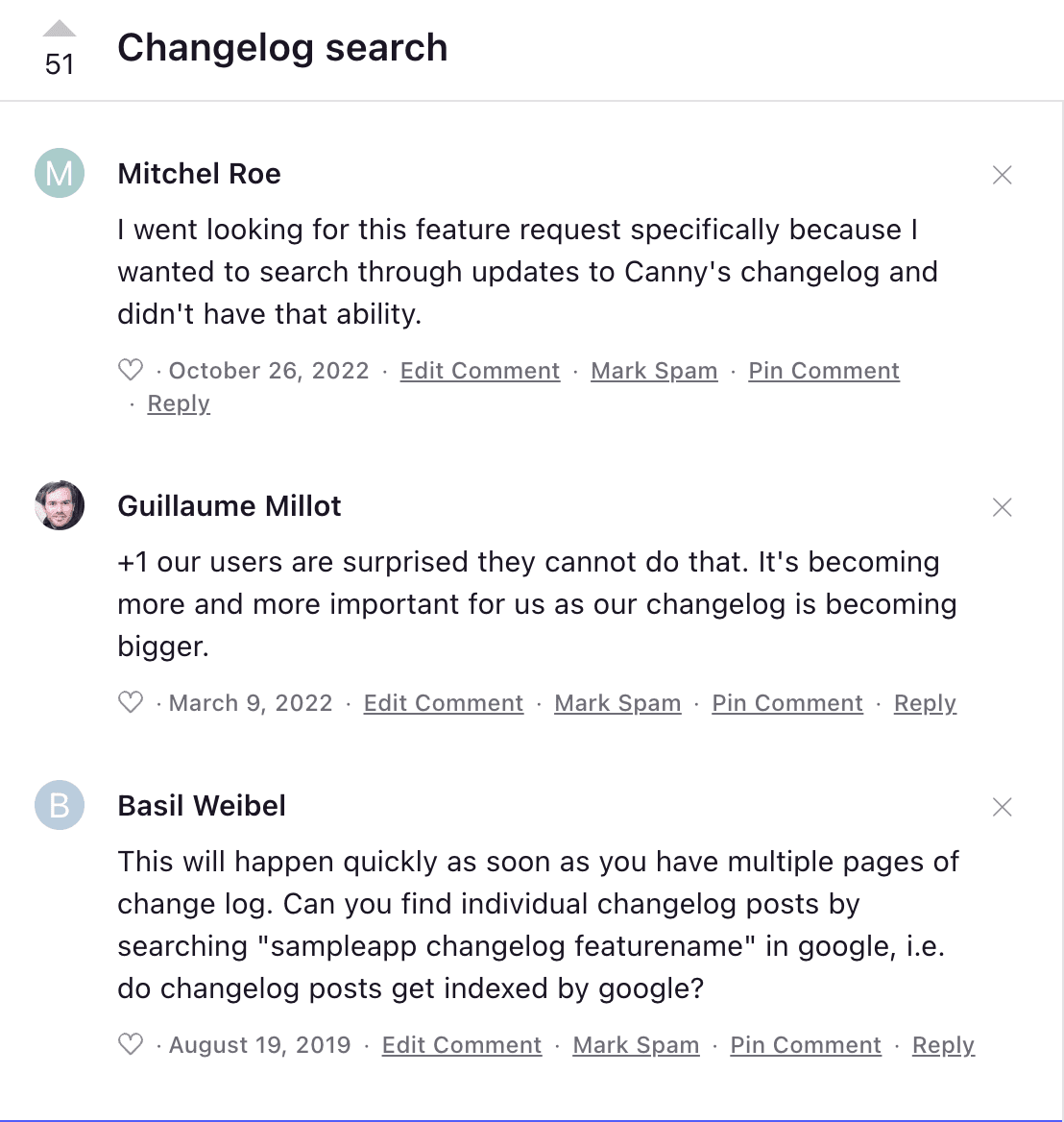 Staying organized
Idea management also involves organizing those ideas. To stay on track, it's best to keep them all in one central location, find a way to avoid duplicates, and make sense of them all.
Here's a Canny board that shows different ideas, the number of votes and comments, potential MRR, status, and more.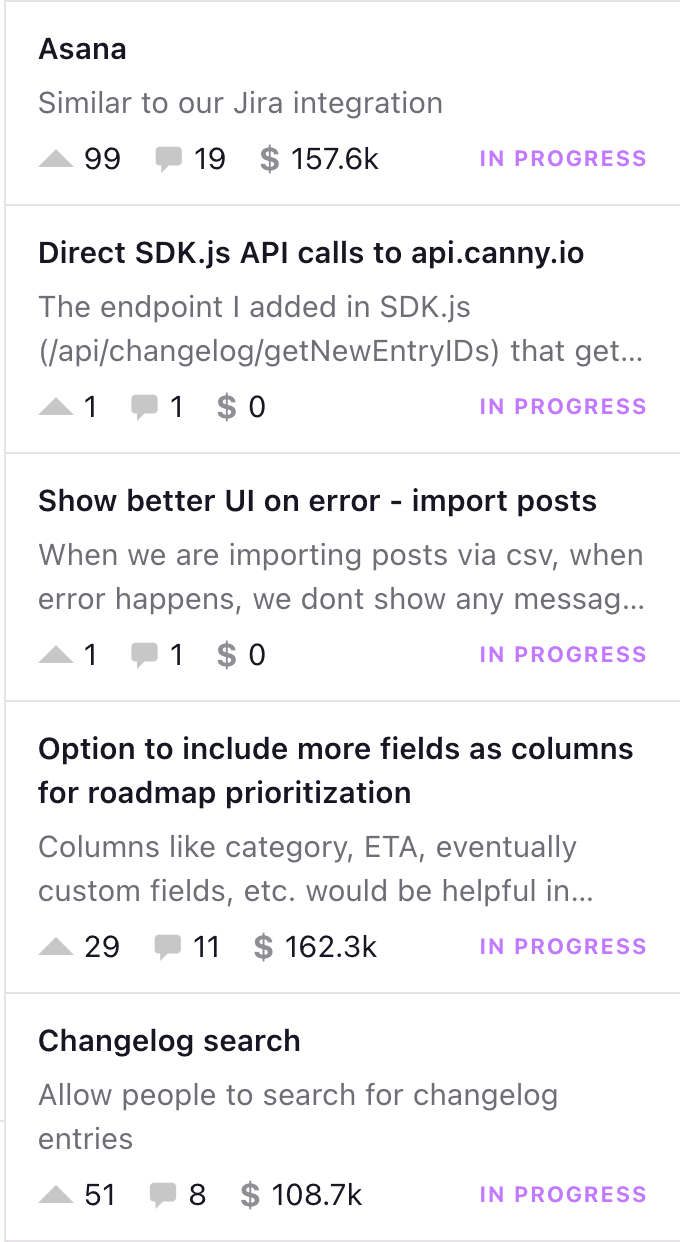 How to manage ideas
If you've tried jotting down ideas on napkins, notepads, spreadsheets, and making long lists of feature requests, you know how tedious that can get. In fact, that's exactly what Missive, an email collaboration tool, faced.
"Before Canny, we had a spreadsheet. For each request, we had an email, a name, and a link to that request. Once we shipped a feature, we had to manually go through the list and follow up with each person who requested this feature. It just wasn't scalable."

Philippe Lehoux, CEO at Missive
But how exactly do you approach idea management? Do you just go around asking for new ideas? Let's go over some strategies that will help you bring the best ideas forward.
Ideation
Ideation is the first step in idea management. It's the process of coming up with new ideas and concepts. In this step, you're trying to come up with creative solutions to problems or challenges. The goal of ideation is to produce a wide range of innovative ideas.
Brainstorming
Brainstorming is a technique within ideation that you're probably familiar with. The goal is to throw as many ideas on the board as possible, as quickly as possible. During brainstorming, there are no bad ideas.
Here's an example of a brainstorming session we had at Canny to come up with content ideas.
We broke down ideas into existing, in the works, and future ones. We also had separate columns for existing well-performing content and what the product team is focusing on at the moment.
Then we asked our team to suggest any ideas they could think of for each. After a quick brainstorming session, we discussed and voted on those ideas as a team.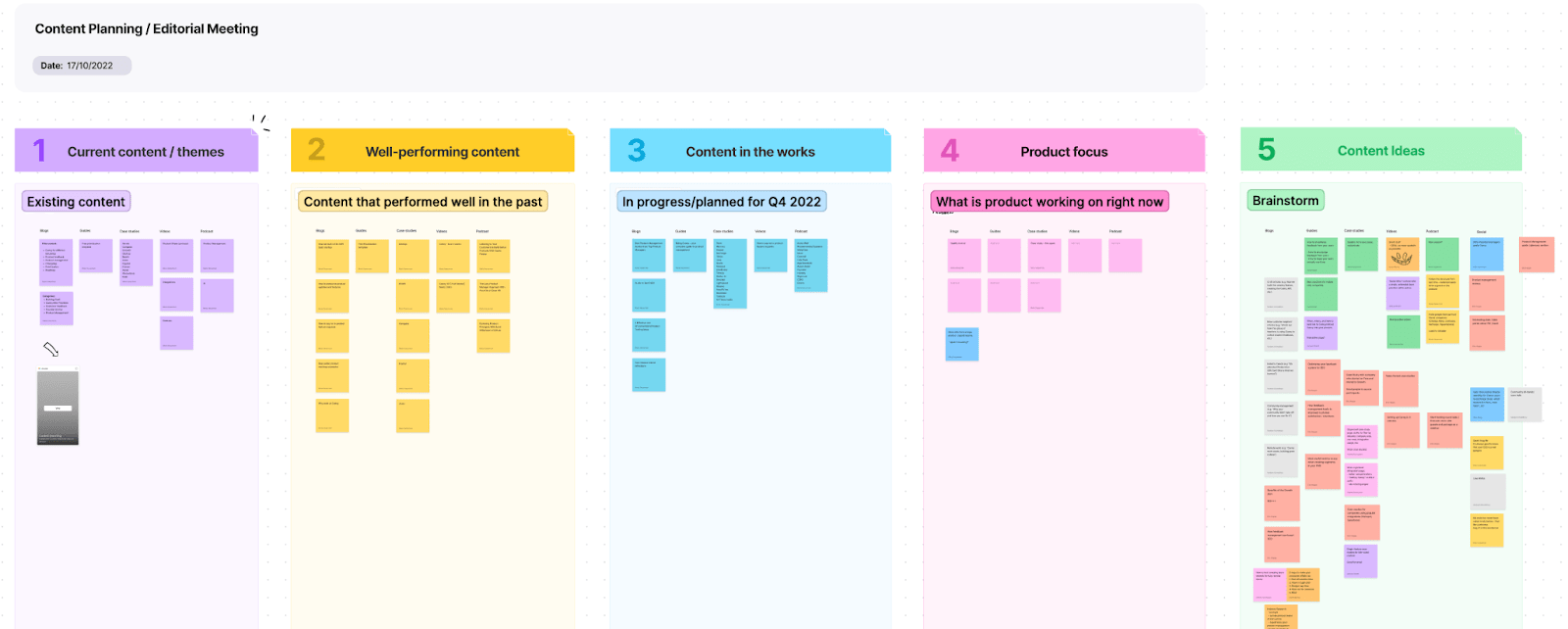 Mind mapping
Another technique is mind mapping. It's a slightly more visual approach to ideation. When mind mapping, you're connecting similar ideas together.
You can use mind mapping after brainstorming and ideation. Once you have a central idea that you'd like to develop further, you can create a diagram. Then, you link different concepts together using words, images, and symbols.
From that central idea you'll create a diagram that shows the relationships between different ideas.
Idea box
The idea box is exactly what it sounds like – a box for ideas. You've seen them before – at reception desks, restaurant welcome counters, and even online. The purpose is to collect honest feedback from people.
Instead of having a physical box with papers in it, you can do it with the help of a software tool. You can use Canny to collect, organize, and prioritize ideas all in one place. It's a modern and much more efficient take on an idea box!
Here's how ideas in Canny look like. All ideas are organized in boards. Each idea includes details, as well as room for our team to discuss ideas with our stakeholders.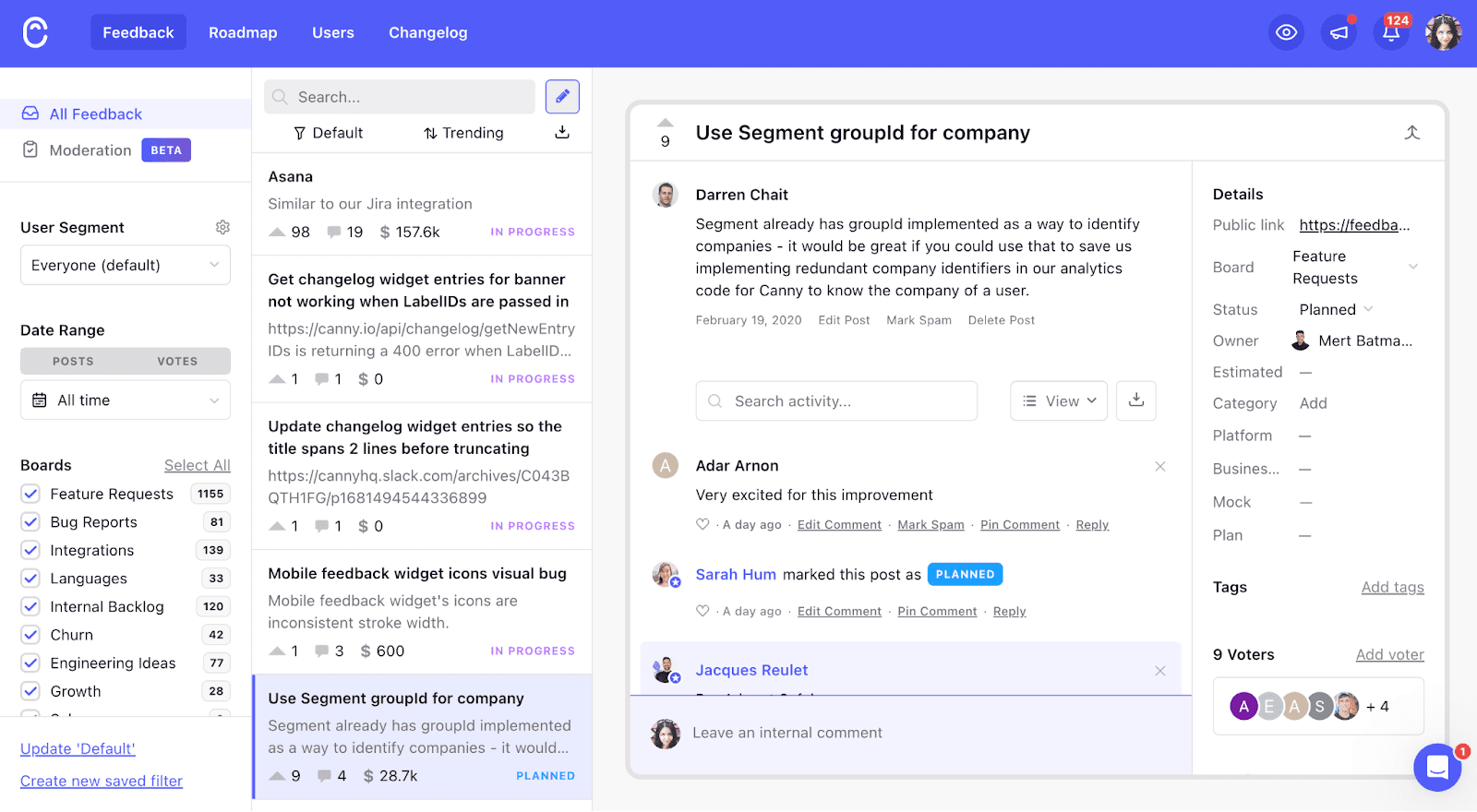 Idea submission
Now that we've explored why you need to collect ideas and different ways of doing it, let's break down the logistics.
It's very important to make it easy for your stakeholders to submit ideas. Otherwise, they won't do it!
For example, have you ever received a survey that was glitching? How hard did you try to make it work? Probably not very hard. Even if there's an incentive to fill it out, you're probably very impatient when something glitches.
The same thing happens to your users. Many customers want to share their opinion, but they don't know how or where to start. That's why you need to make idea submission easy, smooth, and very straightforward.
With a dedicated idea management system, this becomes easy. For example, in Canny you can set up idea boards. You can then invite your users to submit ideas on each of your boards.
Alternatively, you can submit requests on their behalf.
Your users can see, upvote and comment on other ideas, get automatic updates when their requests have activity and more.
Here's how you can set up and customize a board in Canny.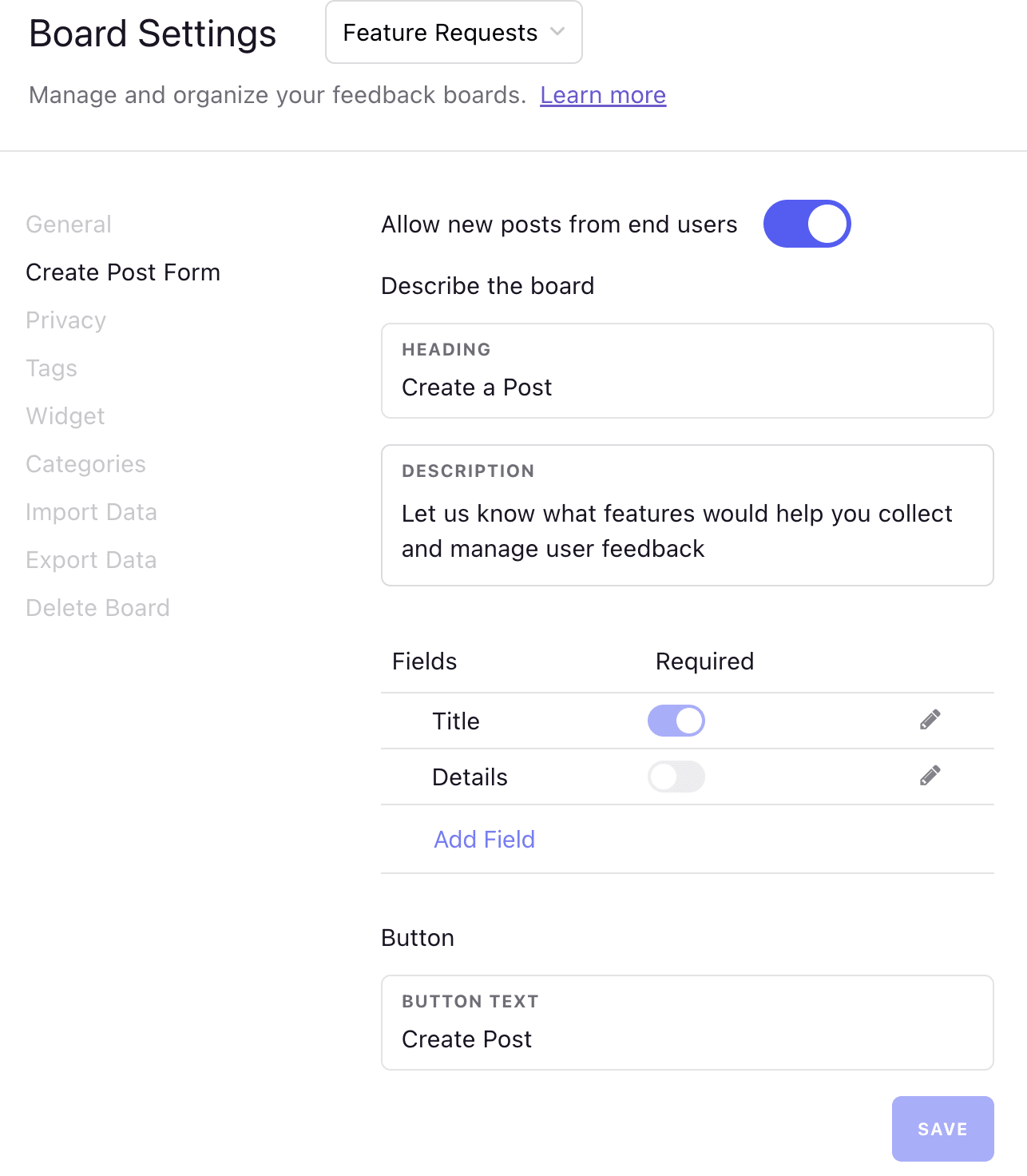 Idea collection & evaluation
After you've created a way for users to send ideas your way, you need to process it all somehow. Let's break this down next.
Collecting
Stakeholders like your users, leads, team members, and investors, submit their ideas. Let's make sure that they don't go into a void.
You need a way to collect and organize those ideas. Many of our clients used spreadsheets before and quickly found that all their feedback quickly got out of hand. With spreadsheets, there's no easy and quick way to sort those ideas, find and remove duplicates, figure out which ones are a priority, and keep customers in the loop.
That's why it's important to set yourself up for success from the very beginning.
Instead of a spreadsheet, try a dedicated idea management tool (like Canny). It'll help you aggregate all your feedback from different sources, and much more.
Evaluating
We never get tired of repeating this – not all ideas are created equal. Sure, you want to pay attention to each of your customers and their requests. And, you want to make everyone happy.
At the same time, it's easy to get lost in this process and build something that won't make a huge difference in your business.
That's why you need to evaluate each idea. You can look at things like time commitment, potential revenue, urgency, and so on. After you've determined the factors that matter the most, you can come up with a formula that will help you evaluate each idea. There are many prioritization models you can use to help you.
Ultimately, you want to pick the best idea. And you can do that by prioritizing.
Prioritizing
Ideas pile up quickly. And selecting the best ones to work on is no easy task. But there are different methods that can help.
Popular ideas
When you get the same request multiple times, it's a clear sign that you should pay attention to it. If you're using a tool that lets your users upvote an idea, that becomes very clear.
Also, figure out who exactly is requesting those features. And how valuable those clients are. For example, if an idea has 100 upvotes, but 80 of those 100 are non-paying users, perhaps it's not as worthwhile as you thought.
In Canny, you can actually build segments of users based on any criteria you want. That way, you can easily see what your highest priority users want.
Potential revenue
Sometimes, leads don't convert if you're missing a certain feature. If your sales team is openly communicating this to the product team, you can assess the revenue potential of every feature. And then you'll understand how much it may cost you not to build a certain feature.
Churn impact
Don't forget about your current customers! If they're asking for something and you don't deliver, they can find a solution elsewhere. So always try to assess how likely your clients are to churn if their idea isn't implemented. And how valuable those clients are to your business.
Prioritization frameworks
To go even deeper with prioritization, you can use prioritization frameworks (RICE, Kano, ICE and others). Prioritization factors within those frameworks can and will vary from company to company. But the key here is to consistently evaluate ideas against your goals.
As we mentioned before, feedback plays a huge role here. Only when you actively collect user feedback can you evaluate each idea and move forward. Knowing what's important to your customers (and which customers specifically) and why is critical to evaluating ideas.
Here's a prioritization method we use at Canny. The first column lists impact factors – what affects our decision. For example, will this idea help customer retention? Does it improve our roadmap? What's the potential MRR?
Then we select how we want to score each factor – votes, stars, checkbox (yes/no), etc. We also select a segment that this affects. We choose how we calculate it and what weight each factor has. Then Canny calculates the score for us using the weighted score model.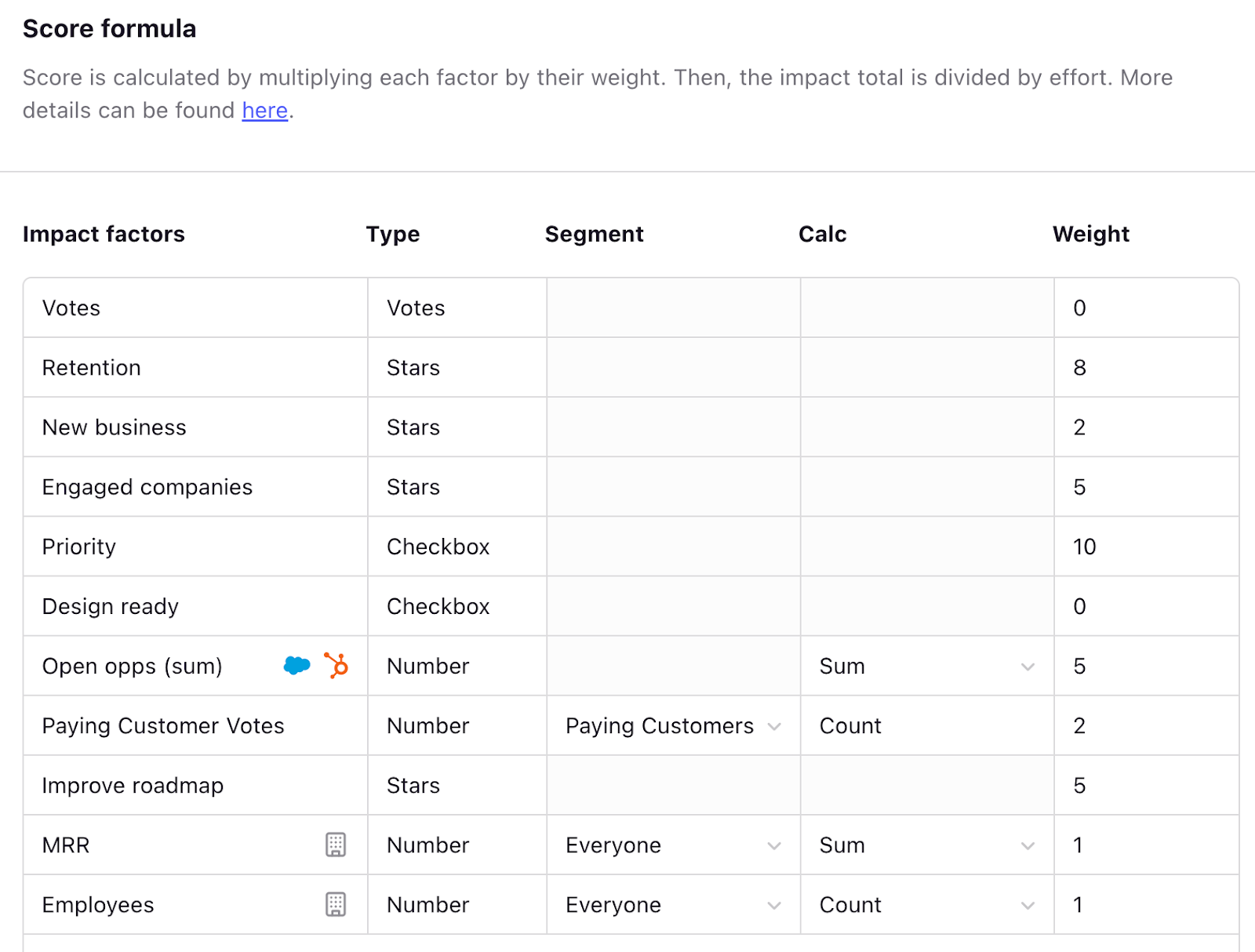 Idea management tools
We've mentioned a few ways of managing ideas:
Spreadsheets and lists
Feedback forms
Project management tools
Dedicated idea management tools
Many teams start with simple spreadsheets to track ideas. It's a no-brainer at the beginning, but it gets hard to manage over time. Especially when you get a few people suggesting the same idea or when you need to manually follow up with them. It's also difficult to pull in data about the person who sent the idea. And, you definitely can't discuss ideas with stakeholders.
Using list-making tools and boards like Trello is a step up, but ultimately they aren't perfectly suited for idea management. They often have similar limitations as spreadsheets.
Project management tools allow you to keep lists as well. However, they're not built for idea management, so the functionality is very limited. For example, you can't really build a community with your users through a project management tool. After you've selected the ideas to work on, you can send them to a project management tool. But these tools aren't the best for ideation.
Feedback forms are similar – they invite users to submit ideas, but on their own, they don't allow you to easily process that feedback. You end up with some version of a spreadsheet again. You need a feedback form, but you also have to find a solution to house that feedback.
That's why a dedicated idea management tool like Canny is your best bet. If you're serious about driving innovation, delighting your customers, and building ‌features that really matter to your audience, consider Canny.
Here's an example of how we got and implemented an idea for our latest integration (with Asana):
Received an idea from a user
Saw many users upvote, request, and comment on this idea
Evaluated it using a weighted score method within Canny
Noticed great potential and added it to the roadmap
Set deadlines, collaborated with engineers and designers to build it
Kept our users in the loop on the progress
Submitted the project to Asana's team
Shipped the integration
Announced it through Canny's changelog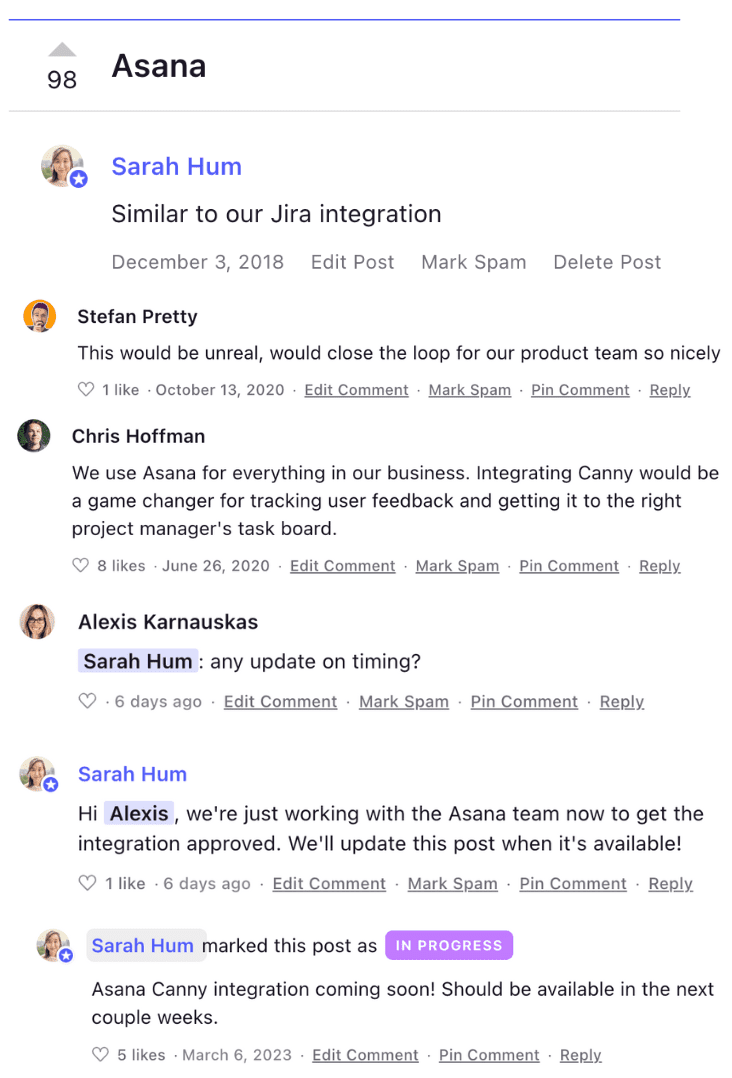 Collaborative idea management
When you're working through ideas, don't do it all alone. Invite your customers and team members to leave feedback. Also, empower your sales and success teams to gather feedback from current and potential customers. This will help guide your product development.
When everyone's on the same page around feedback, you can benefit from collective intelligence. In other words, two minds (or many!) are better than one. If you're striving for open innovation, collaborate with your users, teams, and even leads.
A tool like Canny helps you foster that collaboration. With an idea management platform, you can create communities centered around certain ideas. By encouraging discussion around these ideas, you can ultimately create better products.
Here's an example of an idea within Canny and an internal discussion under it.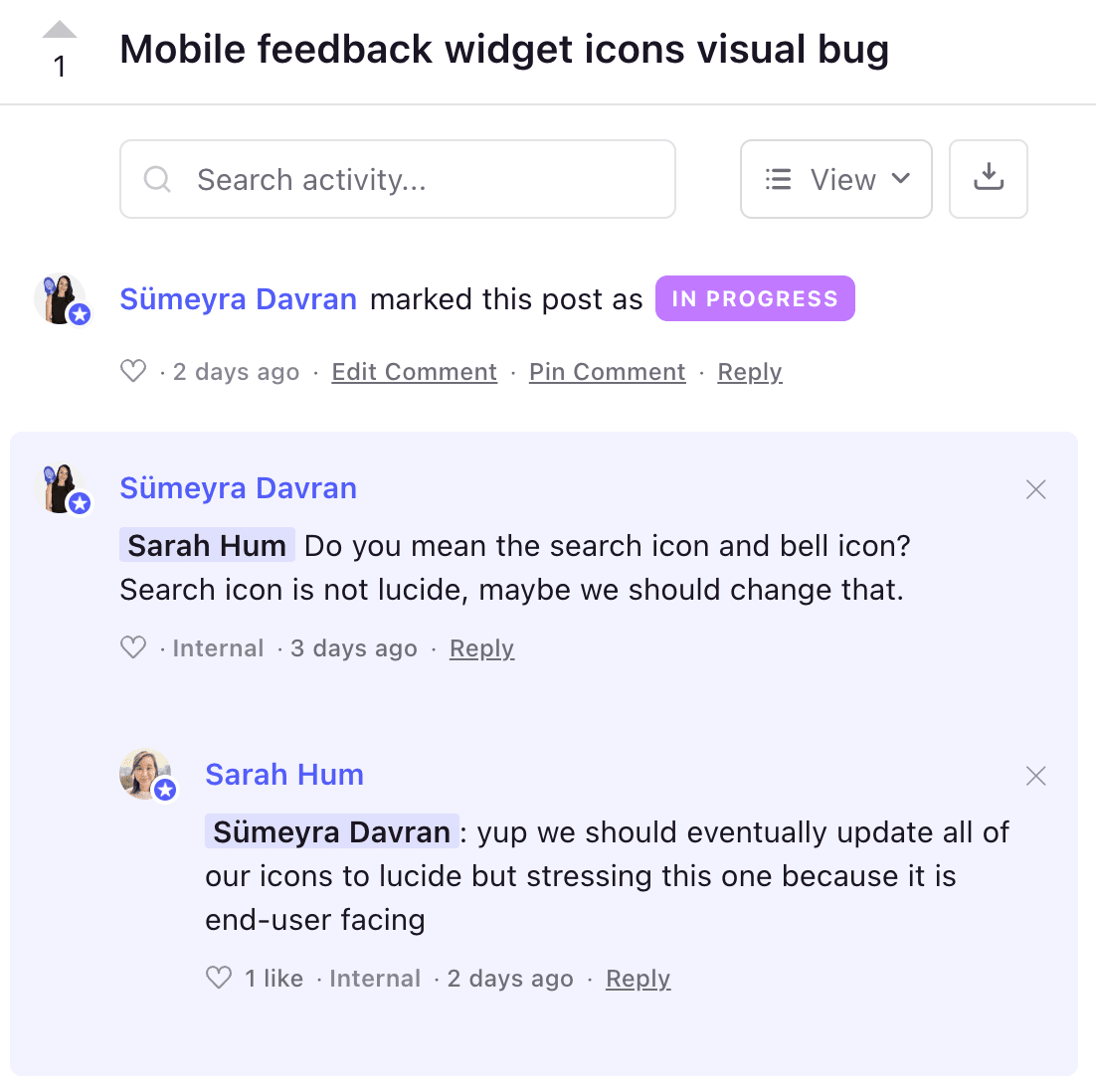 Implementation and project management
After you've gathered and analyzed different ideas, it's time to build them. Usually, project and product managers coordinate the whole project and involve developers, designers, and other team members. Let's go over this process.
Product manager's role
The product manager's role in idea implementation includes:
Defining the product vision and strategy
Identifying and prioritizing features to be developed (based on idea management)
Communicating with stakeholders to gather requirements and feedback
Creating and maintaining a product roadmap
Collaborating with different teams to execute the roadmap
Tracking and analyzing product performance metrics
Making data-driven decisions to improve the product
Continuously iterating and improving the product based on user feedback and market trends
There are many other people involved in this process too. Let's discuss the entire process.
Product development process
The product development process typically includes the following stages:
Idea generation and research
Concept development and prototyping
Design and engineering
Testing and validation
Launch and marketing
Post-launch monitoring and iteration
Product managers oversee the entire process and keep everyone on track.
Don't forget to involve other stakeholders in this process! In particular:
Customers – you're building it for them, so always consider their opinion first
Employees – they're the closest to the product and likely have some ideas
Partners/suppliers – they know the industry and can suggest something you haven't thought of
Leadership – make sure your projects are aligned with their vision
Expert consultants – you can get a fresh outside perspective that way
Investors – they can give you market trend insights and a different outside perspective
It's easy to get lost in all of these ideas, though. So set yourself up for success from the beginning – find a way to stay organized. A dedicated idea management system can help.
Innovation
It may seem like product management and development is strict and timeline-heavy. Where does innovation happen? Is there even room for creativity?
In reality, projects rarely follow these processes to a T. And in our experience, the majority of innovation happens at the very beginning – when we gather user feedback and ideas. When we open up and welcome any and all ideas, we often get something really good out of it. Of course, those ideas go through many iterations in the process.
By collecting ideas from all sources, you can stay ahead of the curve. And feedback can help you with that. Innovation is born out of ideas and feedback. Then project management helps you implement those ideas.
Small businesses and idea management
Many teams (including ours!) are pretty small. You may not have a dedicated person for each role we've outlined. And that's totally OK! Just a few years ago, Canny only had two people – our founders, Sarah and Andrew. But that didn't stop them from welcoming and managing ideas from their community.
By inviting your stakeholders to help you with ideation, you can get a lot of help.
Canny has put user feedback at its core right from the beginning. We believe that contributed to our success.
Communicating progress with stakeholders
As you're going through the idea management process, it's very important to keep your clients, team members, and other stakeholders in the loop. It's easy to lose track of the updates, though.
That's why in Canny we built an automatic way to close the feedback loop. When the status of a certain submitted idea changes, everyone who's involved gets an update. This simplifies communication and automates something that's easy to forget.
Conclusion: why idea management is important
Idea management is a major driver of innovation. When you gather insights from your customers and your teams, you can figure out how to move forward. These valuable insights will indicate any gaps in your current flow and help you build a better product process. That's why you should really invest in idea management within your organization.
We hope that this idea management guide was helpful! Follow us for more useful product management tips and start building better products today!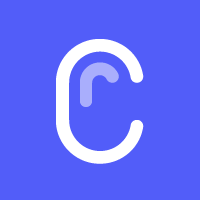 Canny
is a user feedback tool. We help software companies track feedback to build better products.