Last month I spoke at Uppercase, an online conference by the team at Missinglettr that brought in over 100 speakers, about building your brand.
Thanks to everyone who came out and especially to those that sent a note afterward. Public speaking has always been a fear of mine so I really appreciate your messages.
You can watch a recording of my talk below or continue reading for the blog version.
Today, I want to talk about building your brand. I'm not talking about branding (your logo, brand colors, etc). I'm talking about showing people what you believe in, your values, your voice, and who you are.
Whether it's your startup's brand or your personal brand, I think you're all here today because you know how important building your brand is for growing your business.
It also isn't something that happens out of nowhere. You need to put time, effort, and love into building it over time. I hope that I can inspire you to do some of that today.
Before I dive into it, I tell you a little bit more about us.
I'm Sarah. I'm one of the founders of Canny, a SaaS tool. We launched about a year and a half ago. We help other software companies manage feedback from their customers. We're super proud to serve hundreds of paying customers, including some that you might recognize: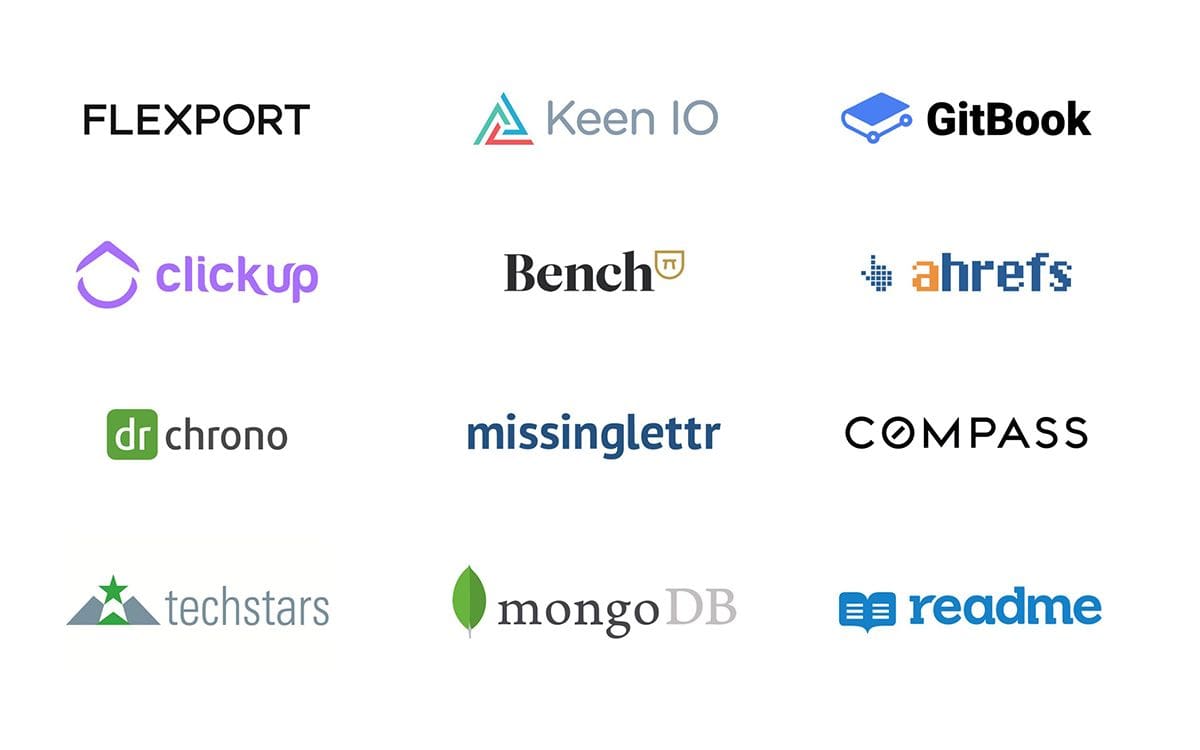 I would attribute a lot of this success to the brand that we've built.
The theme
Alright, so now you know a bit about us. I want to kick this off with a few photos that I feel communicate the theme of this talk. This is the first one: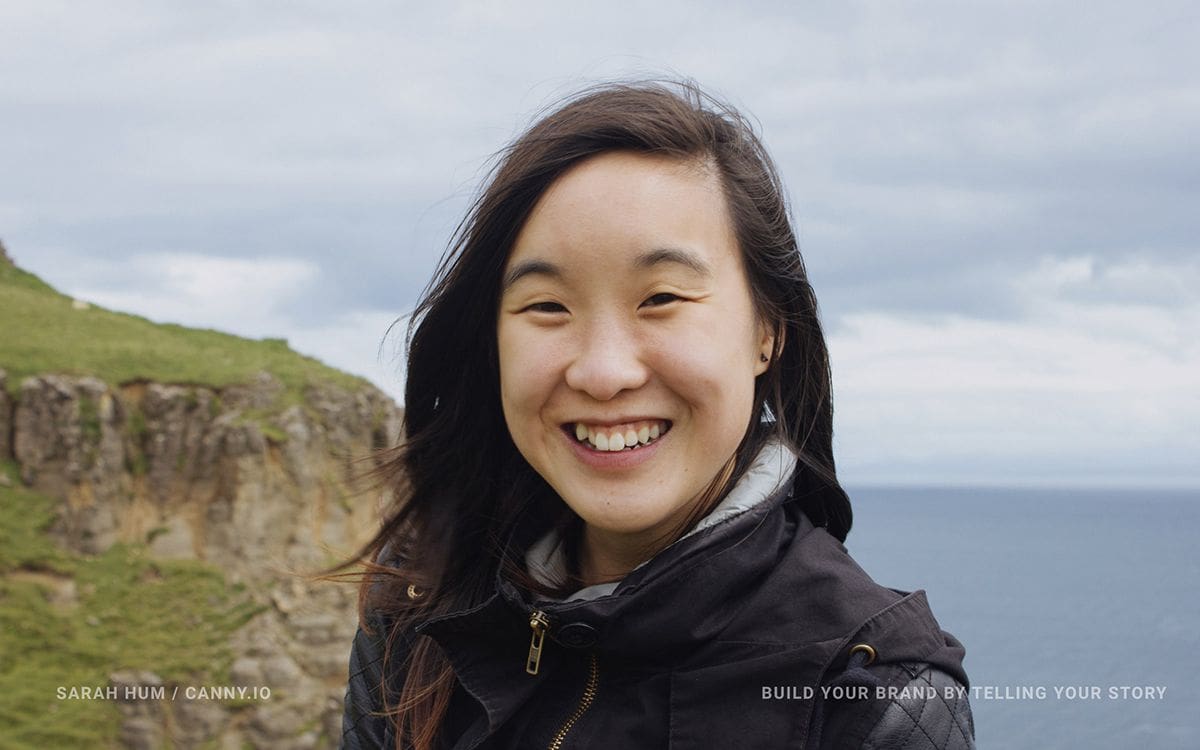 Yup, it's a photo of me. Not much more than that. It's kinda nice. I might use it as a profile picture. It's not much more than what you see here.
This is another one of me.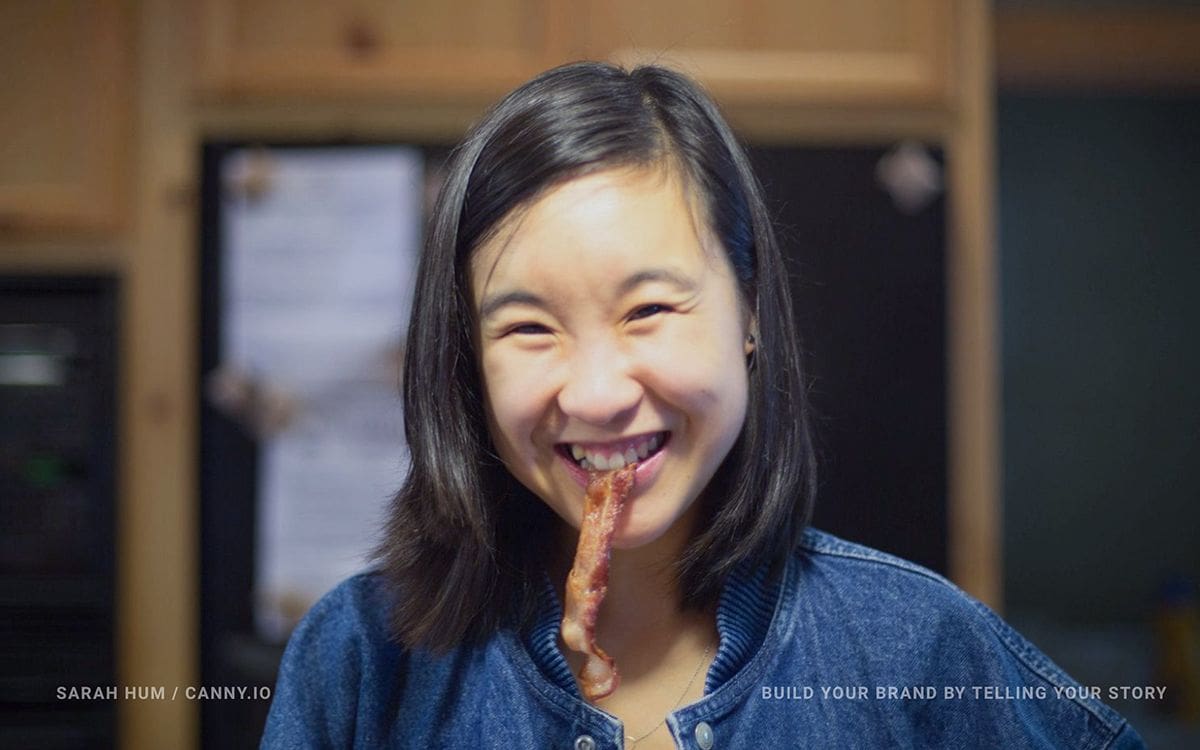 I think through this you instantly get a better feel of who I am. It's more relatable. There's a story behind this post. I have bacon in my mouth. Why is there bacon in my mouth?
Why is this relevant?
It's more personal. Right? Even though it's such a simple thing. It's just a photo. And people, including you hopefully, responded to that.
Here's another one: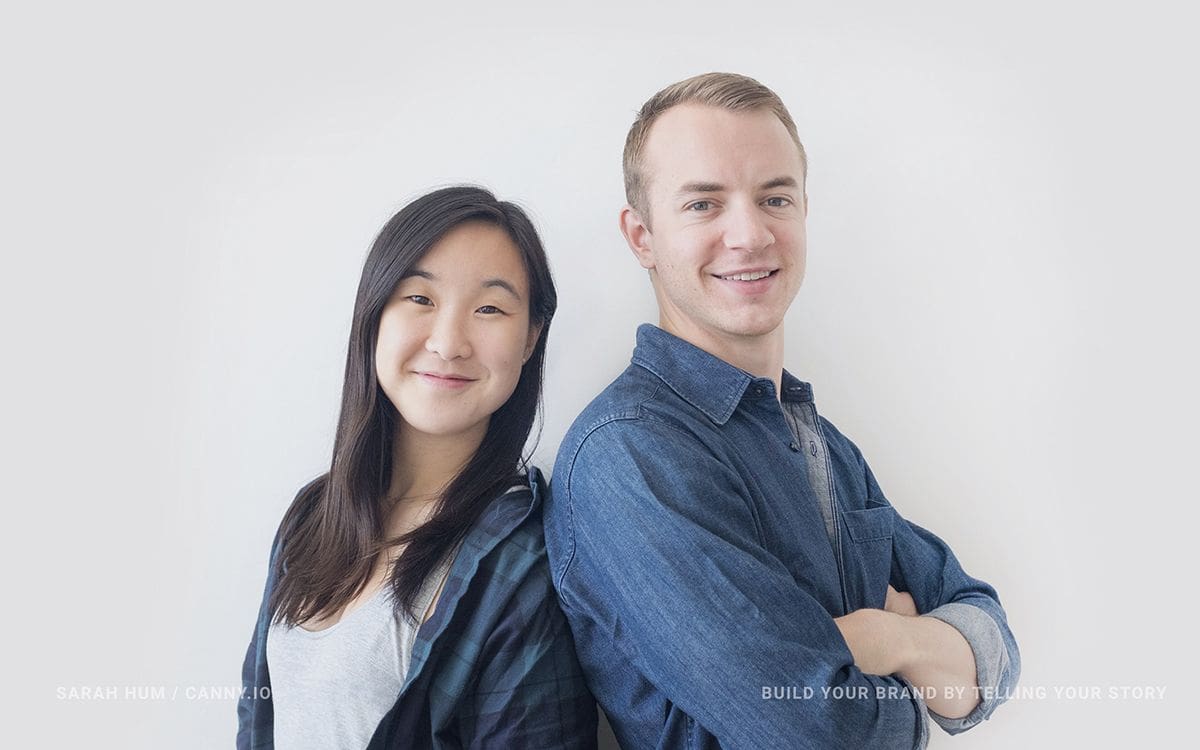 This is me and my co-founder, Andrew. Again, it's a nice photo by photography standards. We're well-lit, we're well-framed. We're smiling. But this could be a stock photo.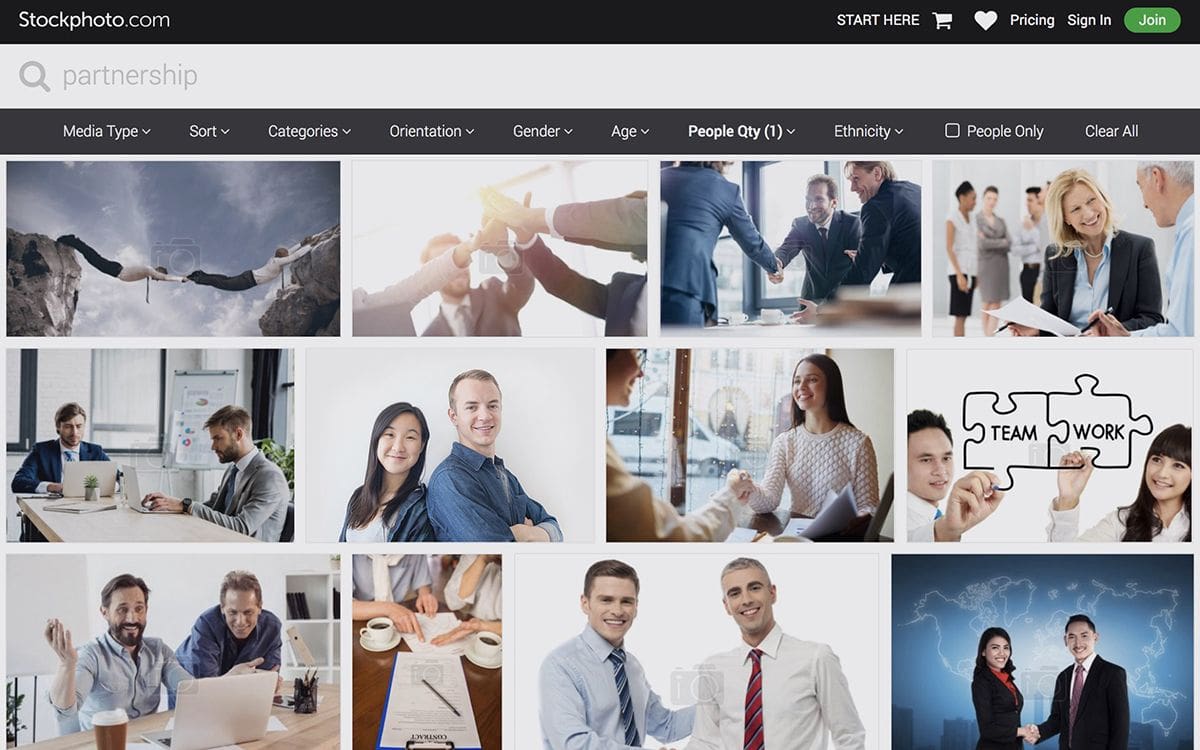 On the other hand, this photo is instantly more personal: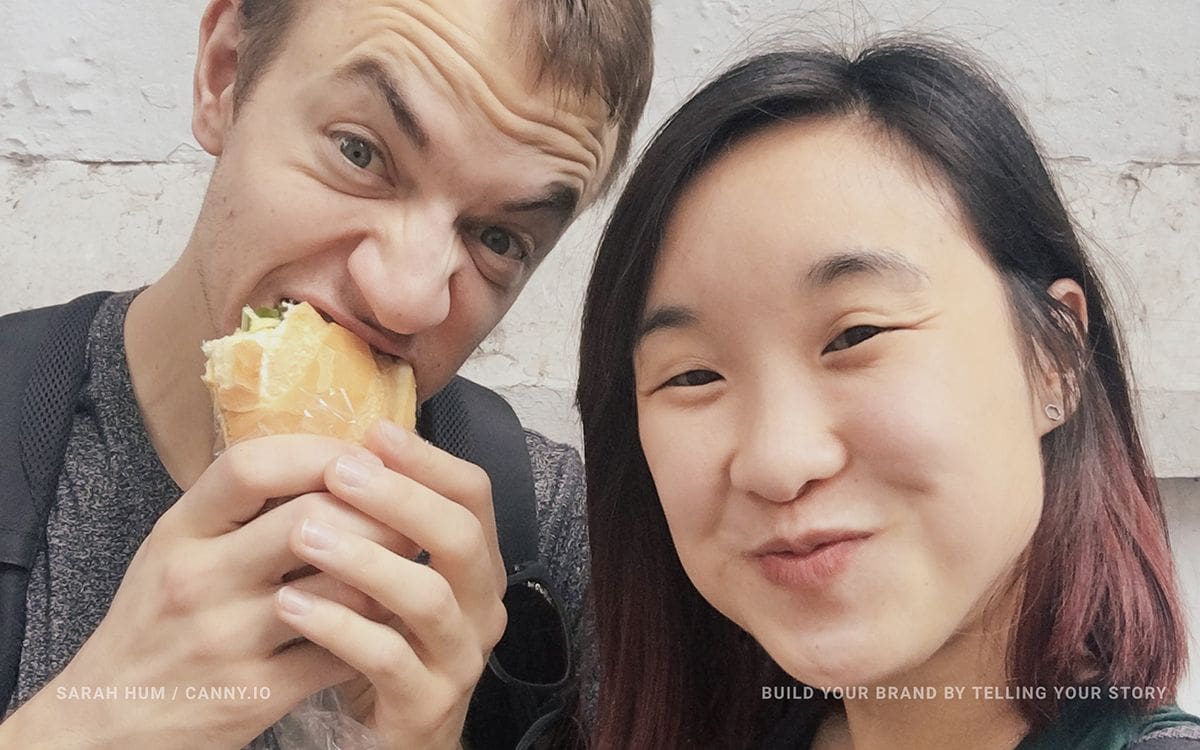 We're not doing much but you can tell there's something going on. There's a story behind this photo.
This photo was taken on the streets of Vietnam. Andrew and I are "digital nomads". We're eating $0.80 banh mi, on the street, hanging out and enjoying life.
Andrew and I are product people. He's an engineer, I'm a designer. We're good at building product. We're not so good at marketing.
Both of us are also quite introverted. But we've managed to create a spark and see the beginnings of a recognized brand. People know us! And it's really, really cool.
At the heart of it, I think it's this: authenticity
What I'm trying to get at here is, I think your brand is the same way.
You can pose and smile for the camera; put on this other self.
Or you can be your authentic self; be who you are on a day-to-day basis.
You can do just that with your brand. You can practice building your brand by being yourself. By packaging it in an interesting, compelling, and relatable way.
I know it sounds cheesy but it's true! Just like the photos I showed you, that's what people relate with. That's what your audience will relate with.
Lucky for you, you don't need to overthink it because you're already a unique, authentic, individual. You already have your own unique stories and experiences you can share with other people.
If your brand looks like everyone else's, it'll be generic. You won't stand out. This is what media is like today.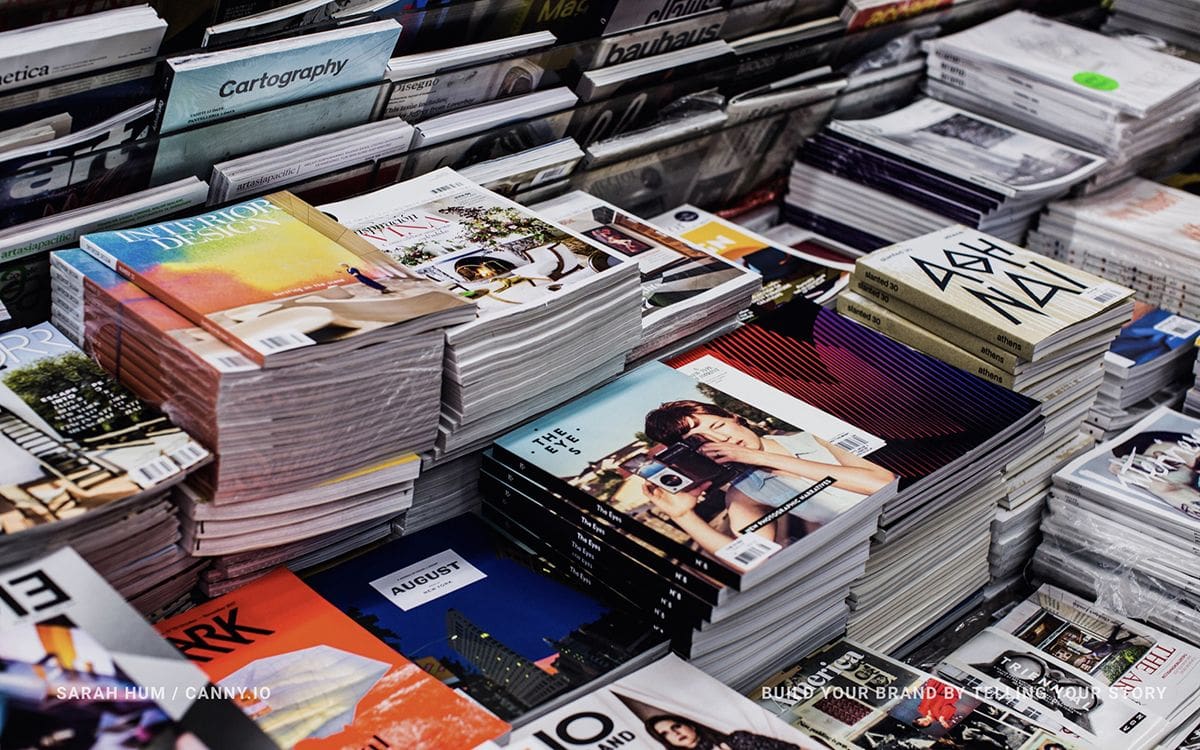 How in the world were we, starting from nothing, supposed to attract an audience?
There's so much great content out there written by experts. Written by people who know all these things. Why should we reiterate everything they've already said?
There's also a lot of boring, repetitive content out there. There's a lot of bad content out there. People can tell you're just marketing your product. You're just trying to make a sale.
I want to share with you what we've done so far. How we've built our brand from nothing, and how we've put storytelling into practice to do that.
The Canny blog
The first example I want to highlight is our blog. It's a great, obvious, place to start. Content marketing is known to be a great channel for SaaS. Help people and they will remember your brand; they will come back. At this point, neither of us had set up a blog before. We aren't writers. So we started with a few posts to get a feel for it: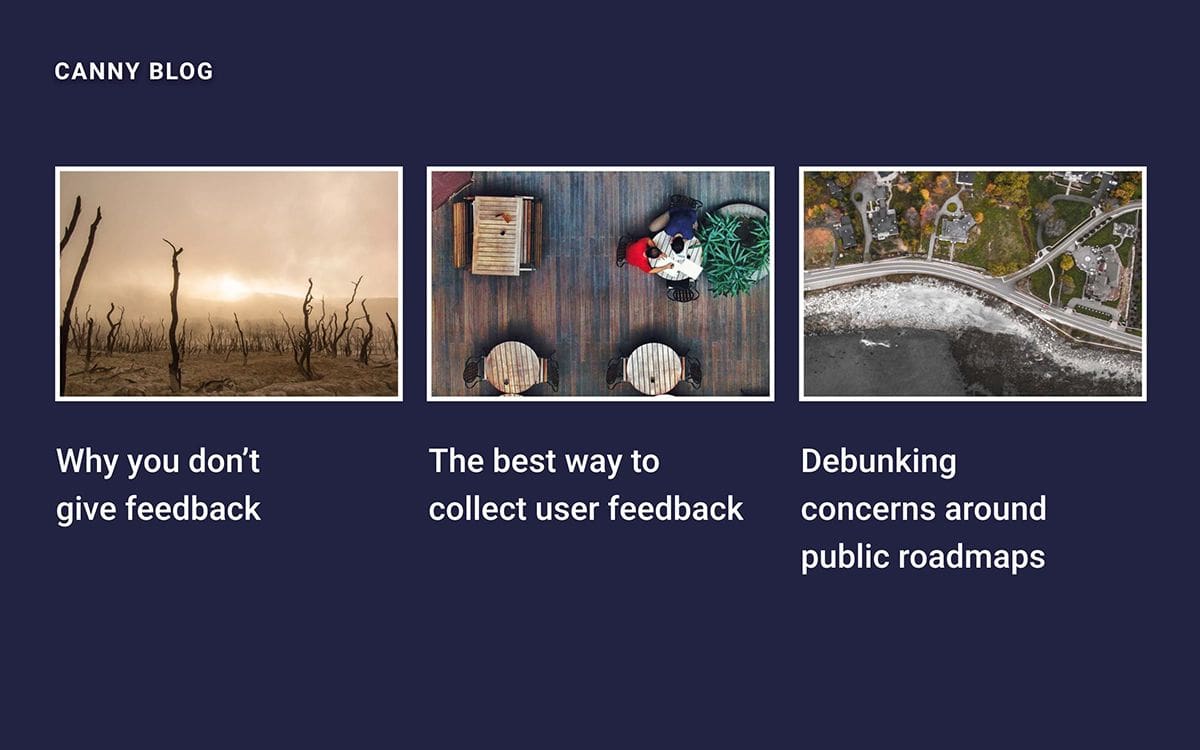 What do you think? How boring right?
These are the first few posts that we put out. My eyes are literally glazing over looking at these and this is the stuff our company does!
It was definitely hard to keep writing when people weren't responding to these. It felt like nobody was listening.
Eventually, we put out this post. It was about bootstrapping Canny to ramen profitability. Making enough money to feed yourself with ramen. Aka, very cheap.
We shared learning lessons from each phase of our growth. We made this much, this is what we did, this is what we learned.
I remember sitting in our Airbnb in Spain and this hitting the front page of Hacker News. Looking at our Google Analytics and seeing how many people were reading this post. We were freaking out. It was a celebratory moment. It even took the blog down.
Of course, we went for ramen after.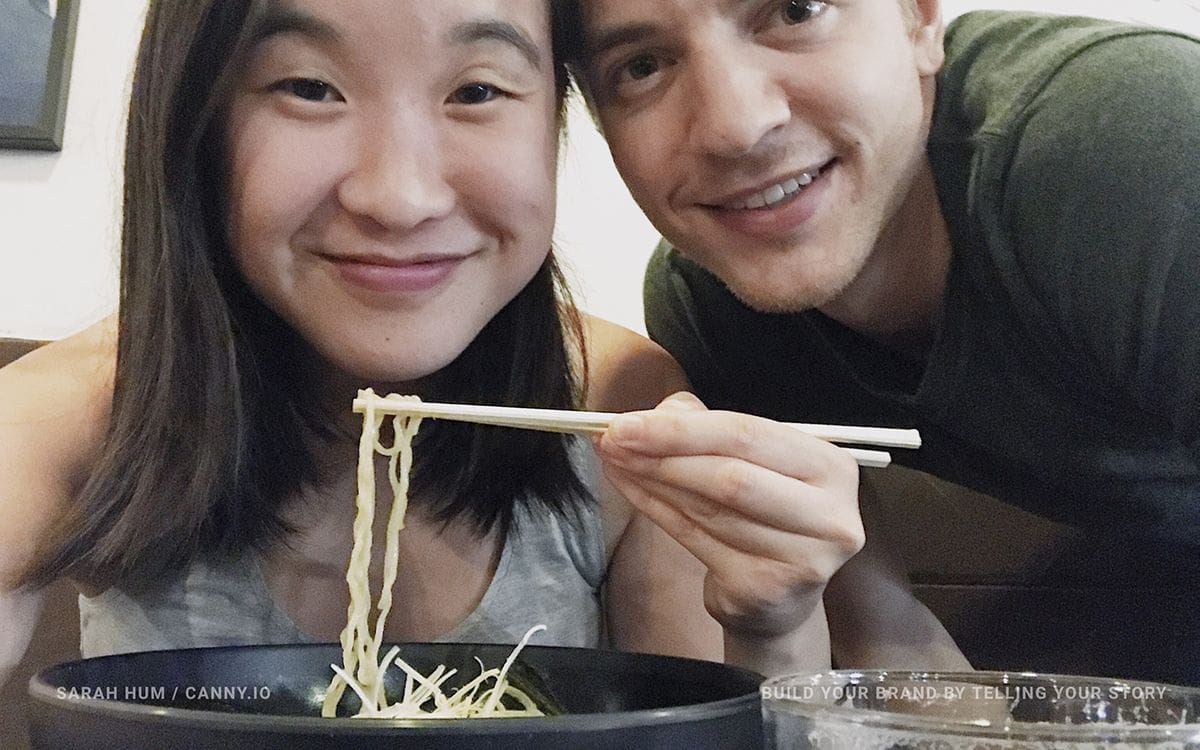 This is something to reflect on because we initially wrote this post from the angle of "how you can bootstrap your business to ramen profitability". After showing it to some people, what didn't resonate with them was us telling them what to do.
We're not a household name by any means. Why should they trust us?
Flipping that whole narrative on its head and coming at it from: these are our experiences, this is what happened to us, resonated so much more.
It's hard to argue with an experience. Nobody will say that your experience was wrong.
Over the course of the week, we had over 25,000 people read this thing. Super crazy! We had never had that many people visit any of our websites.
I would attribute this success to speaking from a place where we could be authentic.
We tried to do more of this in our next post about pricing. This post is exactly what the title promises. We were documenting changing our pricing four times in our first year. We talked about the decisions we made, why we made them, and what went wrong, for each attempt. We laid them all out and our whole thought process to share the lessons we learned.
Turns out a lot of founders resonate with this problem. Pricing is a huge problem so a lot of people continue to read and share this post months later. It wasn't nearly as big of a hit as the ramen post but it has proven to be more long term.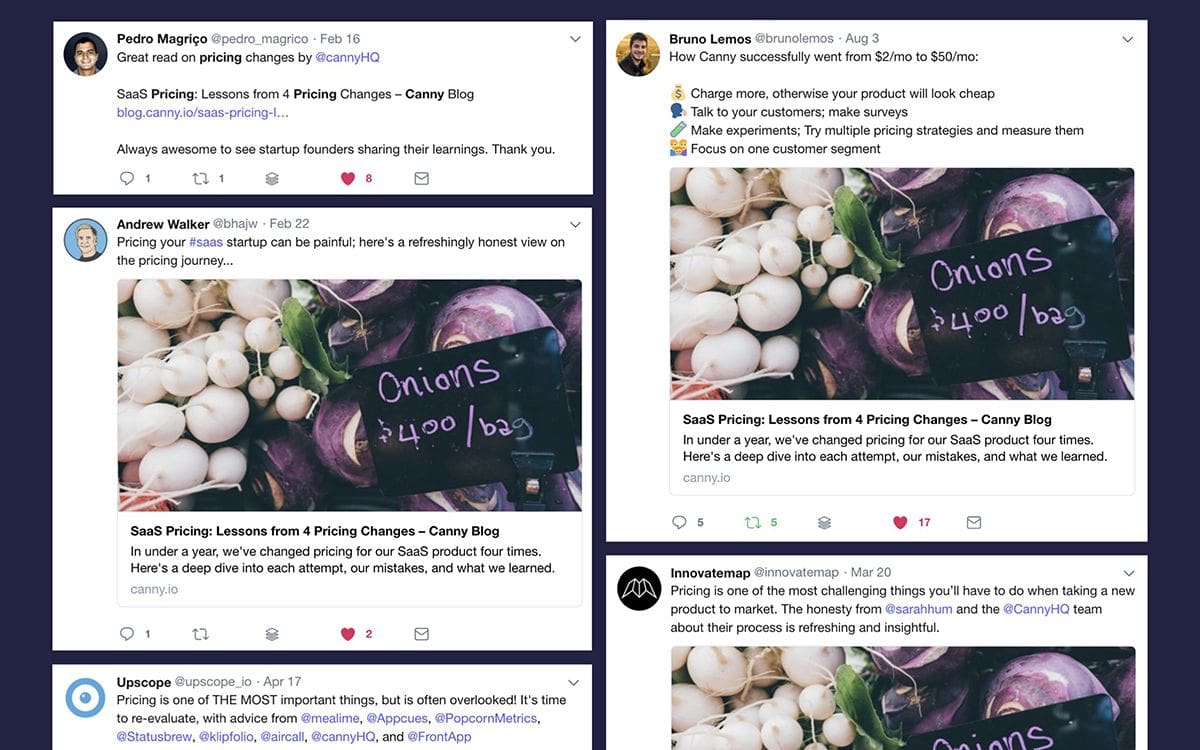 The last post I want to touch on is our most recent one. From the title (First hire to first fire), you can tell it's a touchy, inherently negative topic. But that's what made the post successful. We are not afraid to share our mistakes. We think people can learn from them. People responded and told us they appreciated how honest and open we were.
This post is especially interesting because it was about hiring for writing. We think a big part of why it didn't work out was because they couldn't share our experience as authentically as we could. It's understandable. We were the ones that lived it. How could we expect anyone else to relay it as authentically?
Over the course of the past year and a half, people have been sharing our stuff in their newsletters. They tell us they like our stuff and that's really awesome to hear.
Here's a specific example. This is Ruairidh.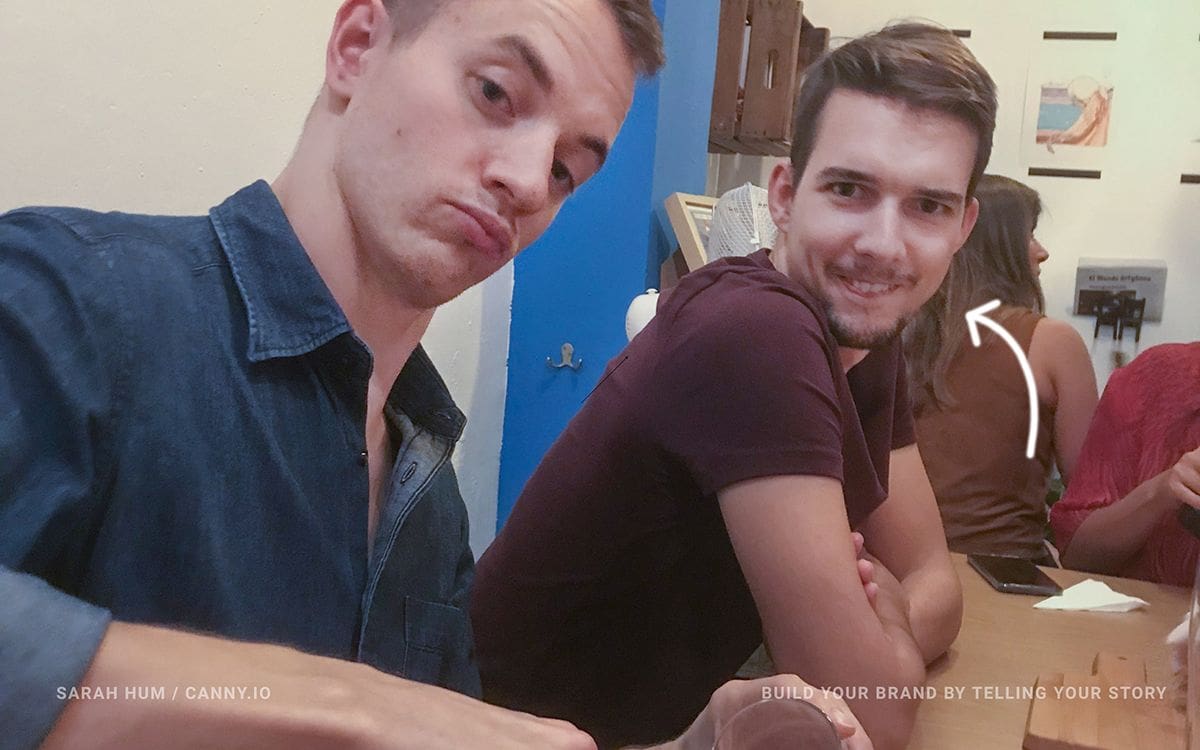 We met him in Valencia, Spain, while working from a cafe. Ruairidh was sitting at the end of the table, with a bunch of tech stickers on his laptop. We eventually got to talking and we told him we work on Canny. We travel the world while we do that. He pulled up our site on his laptop.
"This Canny?"
"Yeah!"
"I've read your stuff!"
That moment was so surreal. This guy, in Spain, had already read our stuff. He remembered it. He remembered us. It felt like such a big achievement. Especially today, where there's so much information overload, how do you break through the noise? How do you stand out?
That was a big moment for us.
So how did all this help build our brand?
I like what Rand Fishkin said about marketing being the window into the soul of a company. What you sell is one thing but how you sell it shows your values and who you are. That's what we're trying to do. We're trying to share the soul of Canny. Because of these posts, people know who we are. People know our brand.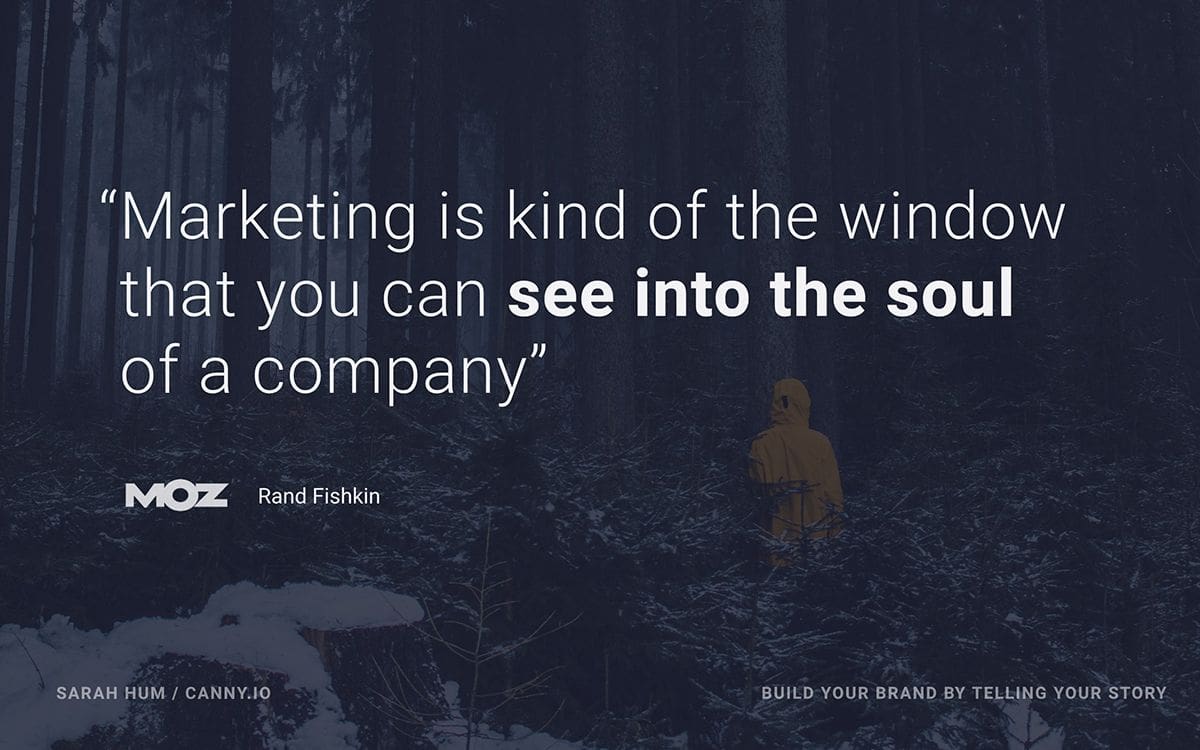 Again, I think a lot of content out there isn't good because people are trying to sell. That's what we were doing at the beginning. Talking about feedback and what our product does. I think if we had continued to do that, nobody would know who we were today. People can see through it. People can see there's no heart it in.
It's a really telling sign when you're writing or producing something: if you're not enjoying it, don't do it. It's not going to come off as authentic.
I also want to stress quality over quantity. To this day, we have 13 blog posts including those terrible ones I showed in the beginning. It's not about creating a bunch of stuff and hoping something sticks. It's putting your heart into each one. Most of the stories on our blog today are ones that we thought were worth sharing.
The Canny Instagram
The second example I wanted to highlight is our Instagram. We're @carryoncode. There's not much Canny on it at all. It's not salesy. We don't post that much (quantity over quality).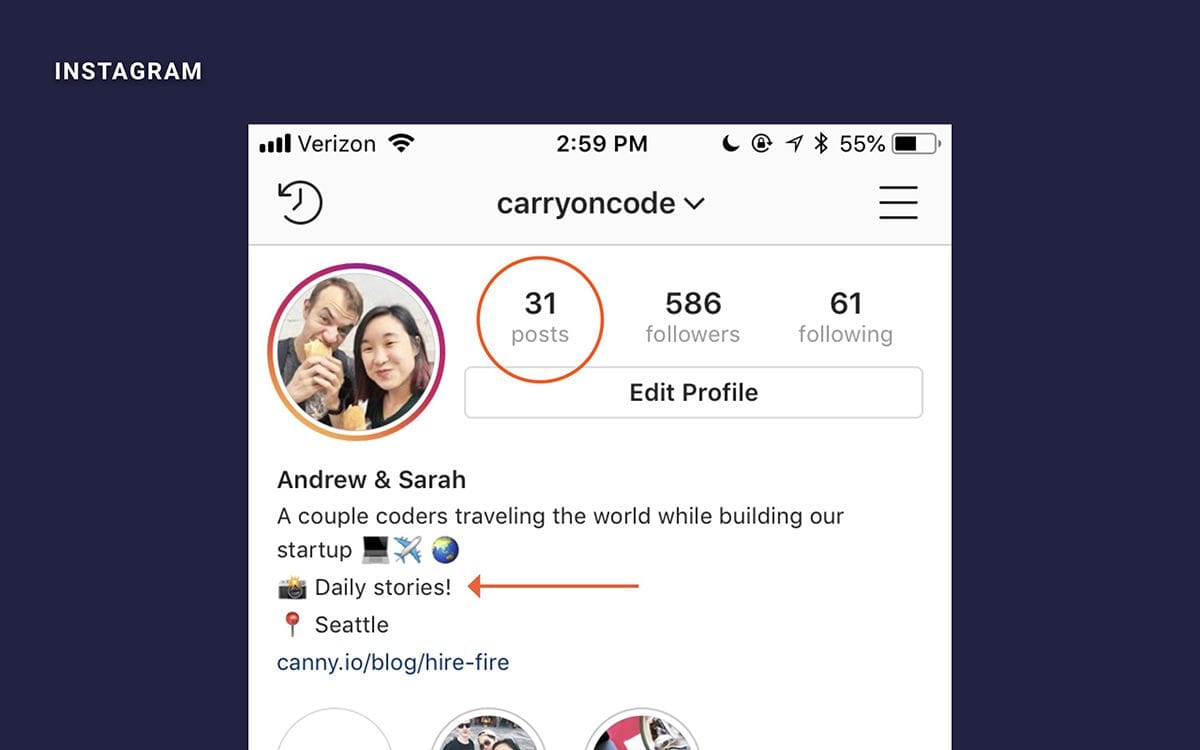 We don't have that many followers. Although that sounds like a bad thing, the followers we do have are quite engaged. We specifically enjoy sharing Stories. Random things through our day. Just showing people what our lives are like.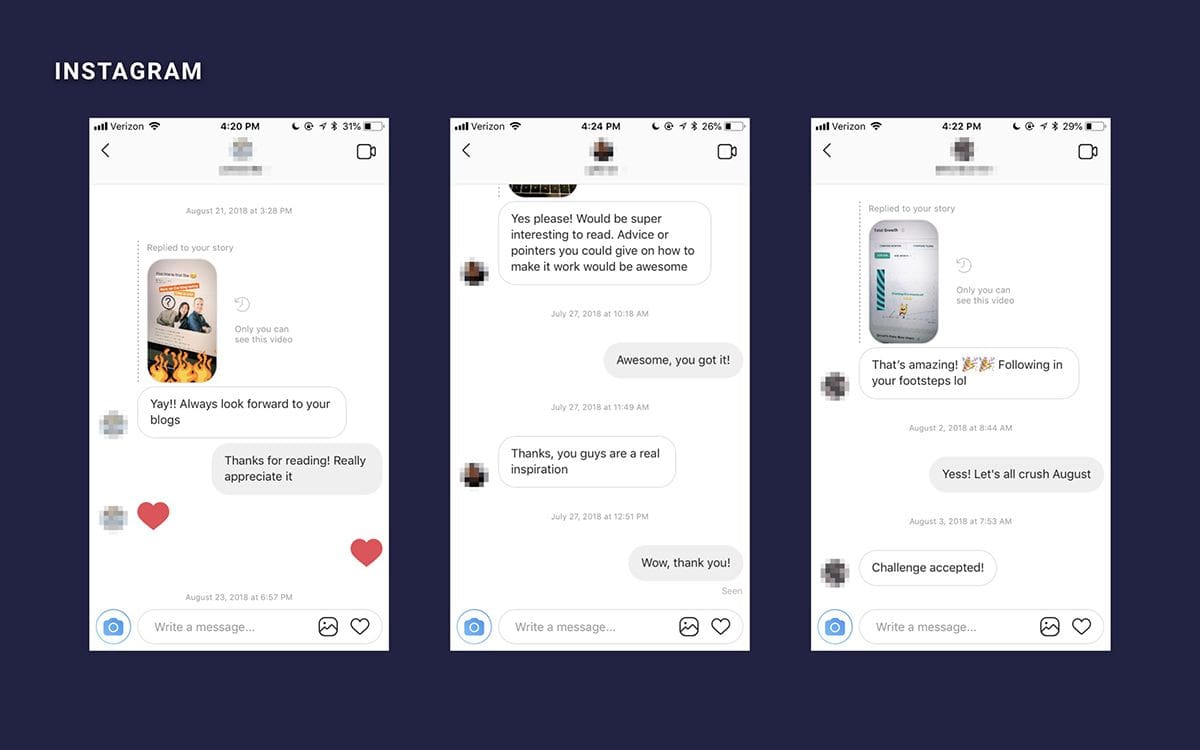 These are followers that reached out to tell us they enjoyed our blog post. Telling us we inspire them. Sharing their own startup journeys with us. I think this is so cool. We've been able to create real connections.
I would much rather have 500 followers that actually appreciate and connect with us vs. 100,000 that follow us because we post pretty pictures.
I'm proud that we've grown our followers in a healthy way. We're not playing a game. We don't follow people so they'll follow us back. Our stuff isn't production-ized. People resonate with our stories and it all goes back to authenticity.
Here's a specific example we have. Here are two posts: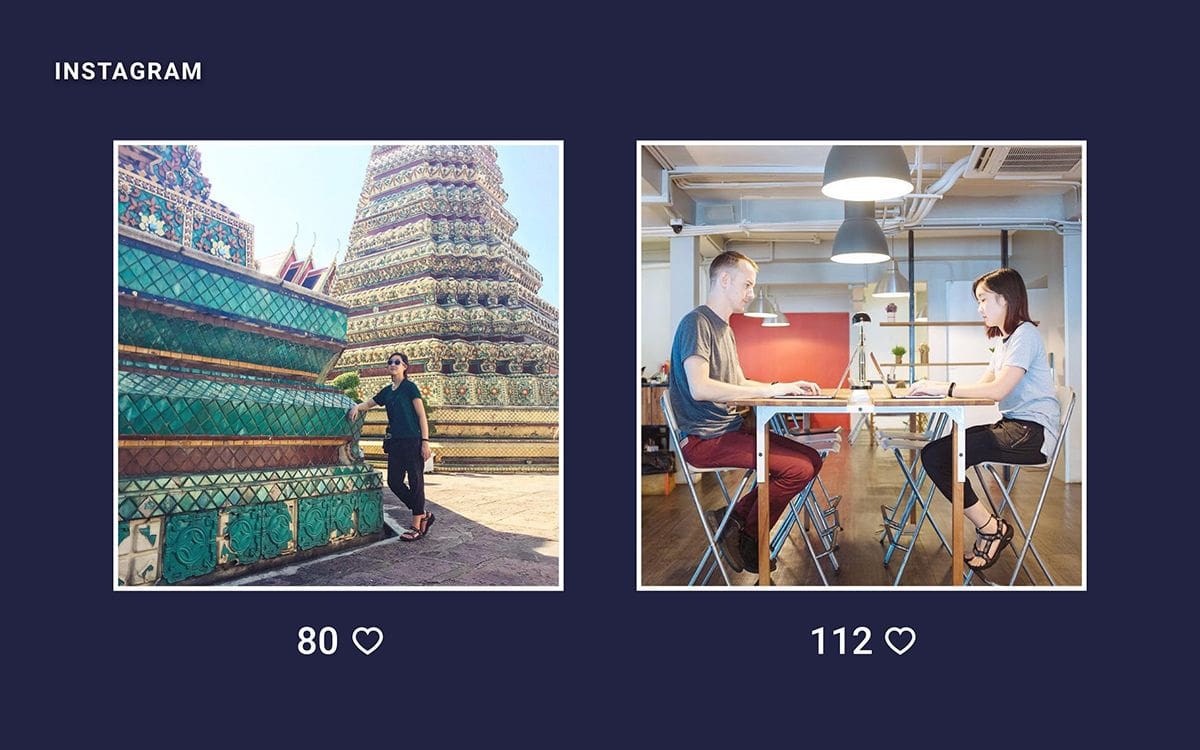 On the left, a nice shot at a temple in Bangkok. On the right, a shot of the two of us working. Not super interesting but people responded to it way more because we told a story.
Here's another one, even more boring. Me on my laptop.
We told a story and people responded to that.
By sharing these snapshots each day, we're building on our brand. People can see what we represent, what we're about. They relate to the content so much that they have become customers. They have applied to work with us because they think we're cool! It's really hard to convince people to join a tiny startup. Just by sharing these things, they want to work with us.
I think this all gets a lot harder to do at scale when you're trying to represent a lot more people. That said, there are several examples of great companies that are being personal with their marketing. Some that come to mind for me are Buffer, Baremetrics, and Drift who says it's the way you succeed. You be real, you be authentic, you be human. That's how the magic happens!
You get where I'm going with all this?
Subscribe to Canny Backstage
[mc4wp_form id=\"554\"]
The framework
I tried to put together a framework for you to think about all this for yourself.
Pick a couple of things that are interesting about you. Pick a platform that appeals to you. That's it. That's a place you can start telling stories. Sharing stories to build and engage with your audience.
Here's a recap of the examples I went over with this framework in mind: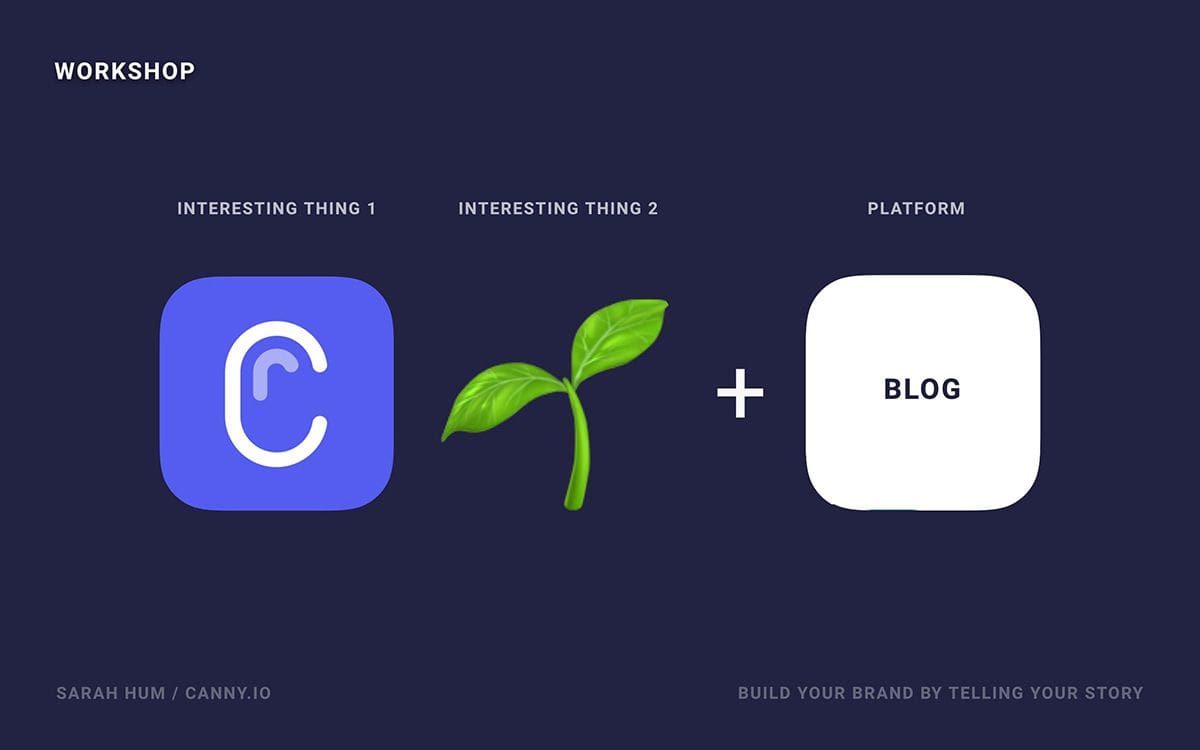 We're a software company, Canny.
We're an early stage company.
Mash them with our blog and that's what we have.
We're sharing stories about our journey as an early stage startup and what we're learning.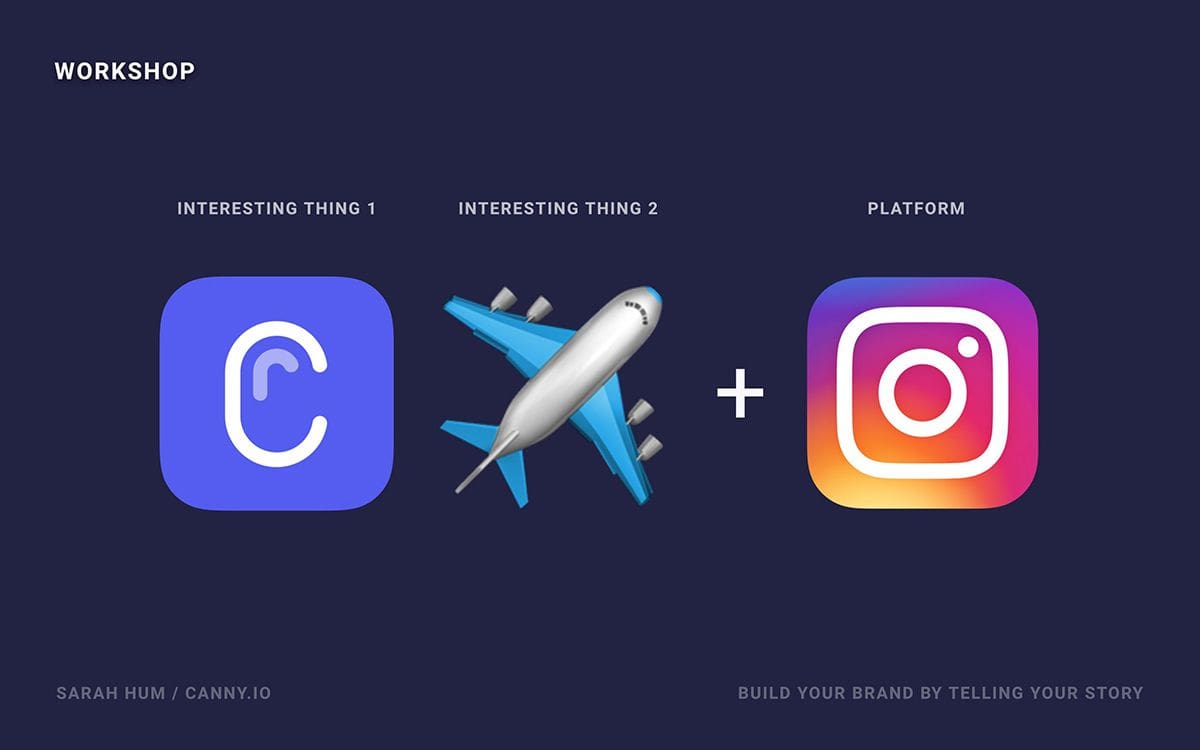 We're working on Canny.
We're traveling.
Let's try that with Instagram.
It's as simple as that.
I recommend using two/three interesting things for added dimension and interest. And then pick a channel. There's so many out there. Pick one that resonates with you.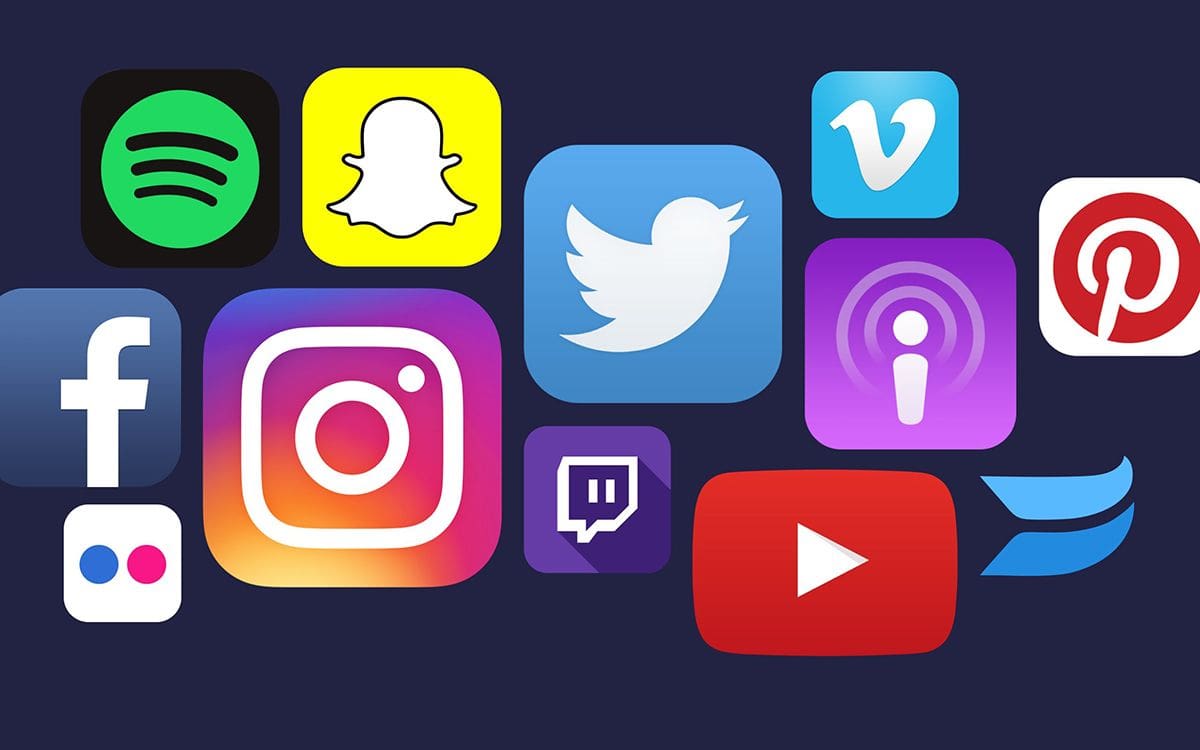 There's no excuse! It's something you can do today.
Don't tell me there's nothing interesting about you. So you're not an SEO expert. Don't pretend to be one. People can see through it.
Something you think is boring and normal will be interesting to someone else.
Me: I'm a female founder. I'm a first-time founder. I am starting a company with my partner. I'm a nomad.
Maybe you're none of those things but maybe you're a parent. Or you're a self-taught programmer. Maybe you're a solo founder. Those are all interesting things that you can mash together to tease out interesting perspectives.
Building your brand is all about telling your stories
To summarize:
Document. People try to create things and give advice from nothing. But you're doing things on a day-to-day basis that you can share and be real about.
Be authentic. That's baked into telling stories.
Quality over quantity. We have 13 blog posts and 30-ish Instagram posts.
Go tell some stories!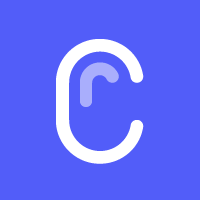 Canny
is a user feedback tool. We help software companies track feedback to build better products.