Gathering feedback has many benefits. Often, people associate user feedback with product improvements. And there's definitely a direct correlation between the two. But there are other benefits connected to collecting, organizing, and using customer feedback. Specifically, customer satisfaction and customer retention.
Increasing your customer retention rate by only 5% may lead to a 25-95% profit increase. Seems like a big deal!
This article explains how and why feedback management improves customer satisfaction and retention.
It builds brand loyalty
Satisfied and loyal customers rarely complain. And very happy customers become your brand evangelists. They tweet about you without you even asking. They tell their friends and bring business your way. Sounds awesome, right? But how do you get there?
Paying attention to their feedback is a great way. Here's a scenario to illustrate:
Customer submits feedback ("please fix this bug")
Other users vote on it ("yes, I'm having the same issue")
You comment to get more details
You prioritize this issue based on votes, effort, urgency, etc.
You actually fix it
You tell your customers about it (and the ones who brought it up find out first)
What do you think is going to happen if you follow through on their feedback? They'll be ecstatic! Actions speak louder than words. So acting on customer feedback will make your customers feel heard and valued. Here's an example of how we got a request to build a ClickUp integration.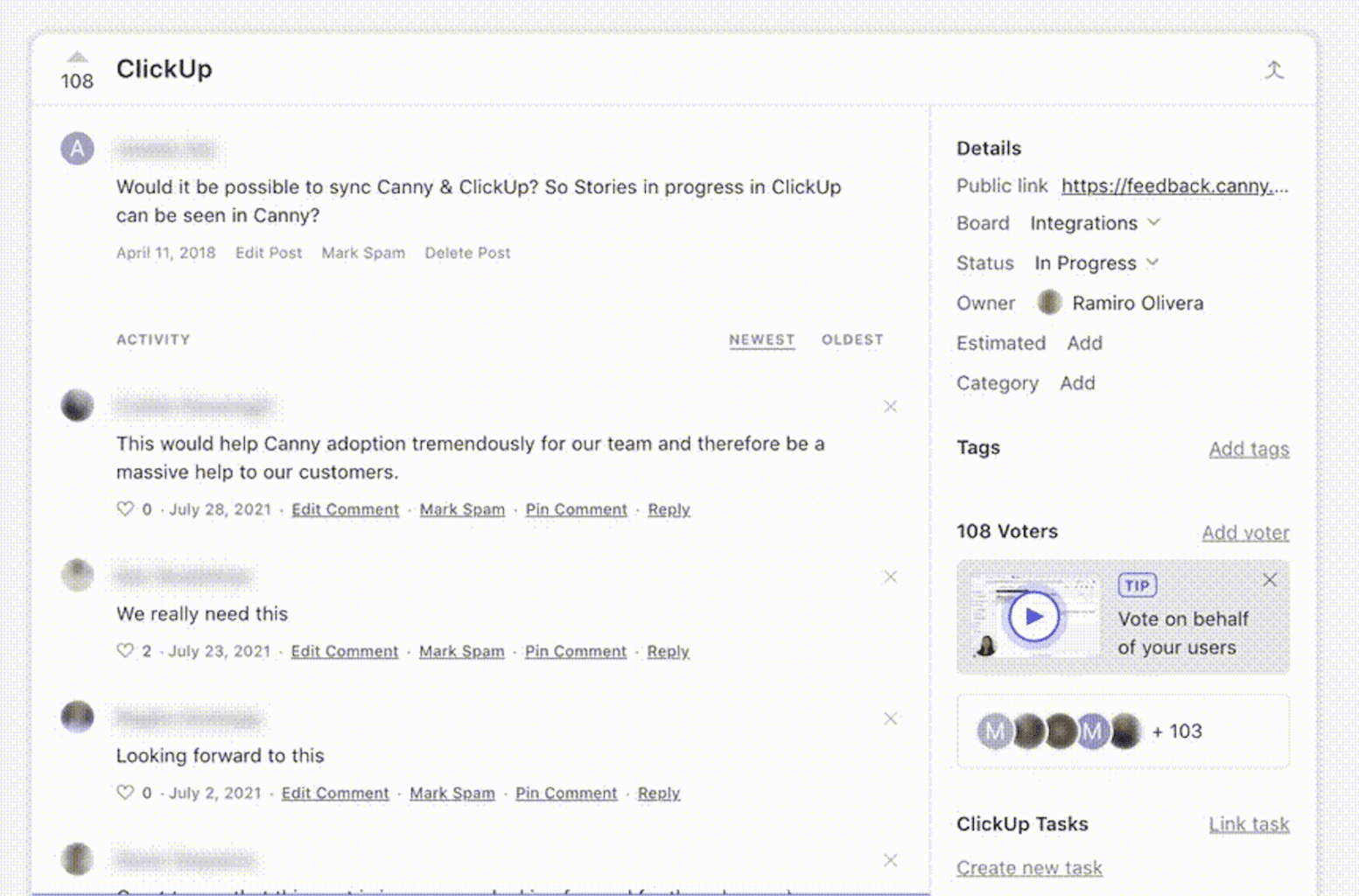 Chris Wainwright, Director of Marketing at Humi, says:
"Feedback from our current customers lets us know what they like about our HR software. And, what needs improvement. We use that information to make improvements. That leads to a better user experience for all users of our product. This helps us keep our existing customers and win new customers. Because, they know that we're listening to their feedback. And, making changes based on what they tell us!

The more feedback we get from customers, the better we can tailor our products to their needs."
You can take customer relationships one step further and build a loyalty program. Encouraging feedback can be a great component of any loyalty program. Many programs actively reward users contributing feedback..
It's surprising how many companies fail to collect customer feedback. Even fewer involve customers in their product management.
Make sure you're not one of those companies 🙂
It prevents complaints
Why wait until someone is really upset?
The last thing you want is to receive complaints from public review sites (like G2 or Capterra). Or, negative posts on social media.
Be proactive instead. Manage customer expectations. Give your users a direct channel of communication. Invite them to share their opinion, have a conversation, and take part in the process. Better yet, set up a public roadmap to show them that you're working on their issue.
The roadmap assures users that you're continuously improving. And, that you're not another "zombie project". It also promotes customer engagement.
Public roadmaps are also discoverable in search engines. An upset customer will usually Google to find a solution or see find other affected users.
Having an upset customer find your roadmap item first is beneficial. It lets you control public discussion about the issue and prevent complaints.
It stops churn
There's evidence that simply asking for feedback can reduce customer churn. Even if the customer doesn't actually provide feedback! That's because people just want to feel heard. They need to know that their opinion matters. If they do speak up, someone will actually listen and take their opinion seriously. And, the company will do something about it.
Customer success and customer support teams can really get involved here. When they talk to users who submitted feedback, users will know that someone's listening.
If an upset customer is chatting to support, asking for feedback is a great way to diffuse the situation. Encourage your teams to always ask for feedback when interacting with customers. It goes a long way.
Plus, the CS team can also keep those users up to date on the progress of their requests. All this can go a long way! 
"The two most frequent customer service annoyances are:

Waiting for sales or support help
Being placed on hold for an extended period of time

Response speed is a crucial factor in enhancing customer satisfaction."

Jamie Irwin, James & James Fulfillment
Things like AI-enabled chatbots and other automation can help here. But feedback management really lies at the core of reducing that churn rate.
David Bitton of DoorLoop describes it like this:
"Feedback management systems let you identify when customer satisfaction begins to decline. This way, you can make changes before the situation worsens."
In contrast, if users believe that they can't change anything, they won't bother saying anything at all. They'll simply move on. So try to prevent that from happening. And start early on – before they get upset and start looking elsewhere.
It invites users "behind the scenes"
When your customer base feels like they can join you "backstage", they get that much more invested. They're almost collaborating with you to build the best product for their needs. So really, they're doing it for themselves. You're just providing a vehicle.
Users also feel like they have a direct line of communication with you. They're heard by the decision-makers in the company they chose.
Be active about making, replying to, and managing comments. It really helps customers feel seen and heard.
It helps you stay ahead of the curve
When you work in isolation, without user feedback, you're simply guessing.
There's a lot you can do to figure out what your users want:
examining trends
researching and benchmarking against competitors
checking past performance
calculating customer lifetime value
mapping your customer journey
brainstorming customer retention strategies
planning customer loyalty programs
and more…
What's easier?
Asking them.
When you collect customer feedback and data, you start seeing patterns. When a certain number of customers mention or ask for the same thing, you've got to start paying attention. You can use feedback management software to do so quickly and efficiently.
User feedback can help you uncover new ideas that don't already exist in the market.
Your users want to give you feedback and ideas. You just need to ask them. Doing so lets you proactively build your product and innovate. And that's the best way to become and remain competitive!
Otherwise, you end up playing catch-up.
It builds a community
People love connecting over a specific topic. When a product is exceptional, users create communities around it. Think of all the Lego fans out there for example! It wasn't Lego marketers who created those communities – the fans created them.
It might seem less likely in the B2B tech space, but it certainly exists. Tech fans love getting involved, so give them a way to do so!
Users can then collaborate, vote on various ideas, discuss and get very involved. In a way, you're crowd-sourcing ideation for your product. All thanks to user feedback!
It helps you build exactly what your users want
And isn't that the ultimate goal? Give your customers exactly what they want by asking them.
Joe Kevens from PartnerStack says:
"Feedback helps us understand what our users want from our product. We get customer feedback directly from customers to our Customer Success Managers. Through onboarding and NPS surveys, and even through reviews. For example, when we get a new review on G2, we send the review details to our Slack channel. That lets our product team members see what the user highlights."
He also adds that:
"In SaaS, some of your partners use a product in instances across a range of use cases and maturity levels. They also use your competitors' products. So, your partners arguably can provide better feedback than your customers. Though, it should go without saying that customer feedback is still very important."
When you have those open conversations, you can uncover very specific pain points. From there, your product team will be able to figure out solutions. As a result, your customers will enjoy a better user experience. In fact, you can even customize that customer experience.
And that, in turn, will keep them around. This brings us back to our very first point – customer loyalty. See how we closed the feedback loop here? 😉
Knowing what your users want most is also critical to prioritizing feature development. Prioritization doesn't depend only on customer feedback. But, it's a critical consideration.
With limited engineering resources, it's critical you prioritize the most important features.
Please and keep your customers through feedback management
It's hard to improve if you don't know where to start. So let your customers tell you. When you open up the gates for their feedback, it will be much easier to understand what really matters to them. And, when you show how much you care, they'll want to stay with you forever.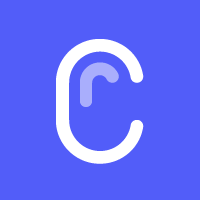 Canny
is a user feedback tool. We help software companies track feedback to build better products.