Managing a product team can be intensely challenging.
Some of the main challenges for product managers are:
Communication
Working with other departments
Getting consensus on product direction
And now that teams are more often than not working remotely, managers have additional obstacles.
Remote product managers need to find ways to communicate and share information with their teams in a virtual environment. They also need to keep a team motivated and working toward the same goals.
A remote work playbook can help you address some of the issues of working remotely. But in order to establish an effective, company-wide process for remote product management, you'll also need to develop a "fit for purpose" roadmap.
Which could end up looking something like this:

Why is roadmapping important for remote product management?
Without a roadmap in place, it's easy to lose sight of the big picture. Having a fully remote team can make this even harder.
A good roadmap provides the team with clear directions around their progress and includes the answers to questions in one easy-to-access place. It should give users a detailed visualization of the team's strategic direction.
As things change over the course of the product's development (and they inevitably will), the roadmap keeps team members in the loop. Then, they can adjust their priorities and workload accordingly.
Now that we've covered why a roadmap is vital for remote teams, here are some of the best ways to create and share your roadmap.
How to create a successful remote product management roadmap
1. Always keep an open roadmap available online
Version control can be problematic for product managers, especially if they're using the wrong tools for their roadmaps.
Spreadsheets and presentation documents are static documents and need updating every time a change is made. As new versions are constantly being created and sent out, team members often find it hard to keep track of which is the latest version.
Having the right collaborative tool with a product roadmap feature can help here. This allows a product manager to make updates in real-time that can be shared automatically, either with the whole team or with specific users.
And, the roadmap can be made publicly accessible, so anyone can access it at their convenience.
The roadmap provides the one source of truth and reveals how each team member's to-do list contributes to the overall strategic objectives for the product. A solution like Canny, too, lets you build your roadmap around real-time customer or colleague feedback, so it's clear why specific projects are represented on the roadmap.
2. Organize and prioritize tasks
Prioritization can be one of the biggest challenges for product teams.
But, it's essential that managers make product decisions based on thoughtful prioritization. And, it's valuable to keep the entire company looped in on how you are prioritizing product decisions.
A solid product roadmap helps distributed teams keep track of progress across many tasks and milestones, and prioritize task-level work.
Before including tasks on the roadmap, they should be listed and classified as either High Priority, Medium Priority, or Low Priority.
They can then be plotted on the roadmap and assigned a color that represents key information about the task's priority level.

As well as classifying tasks by priority, you can also group tasks by team or by status. For instance, those that are planned, approved, in development, or completed. Or, depending on what tool you use, different priority levels can be coded with different colors.
The use of "swimlanes" or other dedicated sections on a roadmap allows a team to view only the items they are responsible for, as in the above illustration. And, it's helpful to be able to update a roadmap as tasks are completed and have a way of tracking completed tasks, such as with a changelog.
3. Focus on progress, not perfection
When working remotely, it can be difficult to keep the team in the loop about the status of a particular project or task. It's risky to set out concrete dates for a product's release because, for any number of reasons, this date may not become a reality.
Rather than striving for perfection toward a long-term goal (which may be some time off), the best way to keep a team motivated is to show them the progress they're making.
A roadmap can help demonstrate each team member's progress on their assigned tasks. Then it's possible to celebrate each completed task as a milestone. It also demonstrates to customers that you are actively working on building out new features or improving your product.
These milestones are important project checkpoints so they need to stand out clearly on the roadmap. You can also add milestone markers to show which tasks the milestones apply to. And, if milestones apply to multiple tasks, you could pull important deadlines into separate timelines that run alongside the roadmap.
Canny's Changelog feature makes recognizing milestones particularly easy. Not only does it keep your team updated on developments, it also helps schedule announcements for customers.
4. Conduct real-time meetings with team members
Even if you follow all the roadmap best practices, it isn't a given that a cross-functional team will review the map as often as you would like.
So, schedule regular meetings with the entire team, perhaps on a monthly or quarterly basis. Then, using the roadmap as a discussion point, everyone can share content, suggest updates, and discuss overall strategy—and be updated on priorities.
Product roadmaps provide a great way to keep everyone on track so you can cover the ground you think is worth reviewing.
5. Be open to change
A product roadmap is often a high-level strategic document that reflects your long-term product goals. That said, it doesn't need to be set in stone.
Your roadmap will inevitably require adjustments. You may need to adapt your roadmap as markets, customer requirements, and stakeholder needs change. Your roadmap should be a living document that can easily adapt to new situations.
And while your roadmap should be flexible enough to adapt to different situations, it must still be helping you establish and meet goals.
How often you change your roadmap depends on how much information you have on there as well as the timeframe. For example, if your roadmap is long-term (longer than 12 months) and is more strategy-led, you may not need to change it as often as, say, a short-term roadmap with lots of details.
Note: Don't focus on "perfecting" your roadmap
When you're creating a roadmap, don't keep it hidden until the "final draft."
It should be continually evolving, so sharing your roadmap from the start will help give viewers context around its development.
And, knowing it can be viewed at any time will foster an environment where your team is used to updating it on an ongoing basis, not just before a meeting or presentation.
Following roadmapping best practices is key
A well-presented roadmap keeps things in perspective and lets team members know their tasks and responsibilities.
It's essential to get the whole team on board with using roadmaps at the start. If you're using roadmap software it will involve some effort for them at the outset, so understanding the "why" will help motivate users to put in the effort.
To keep team members on track with the roadmap, you could assign a "champion" team member to check each colleague is using the roadmap as they should and to check they're following best practices.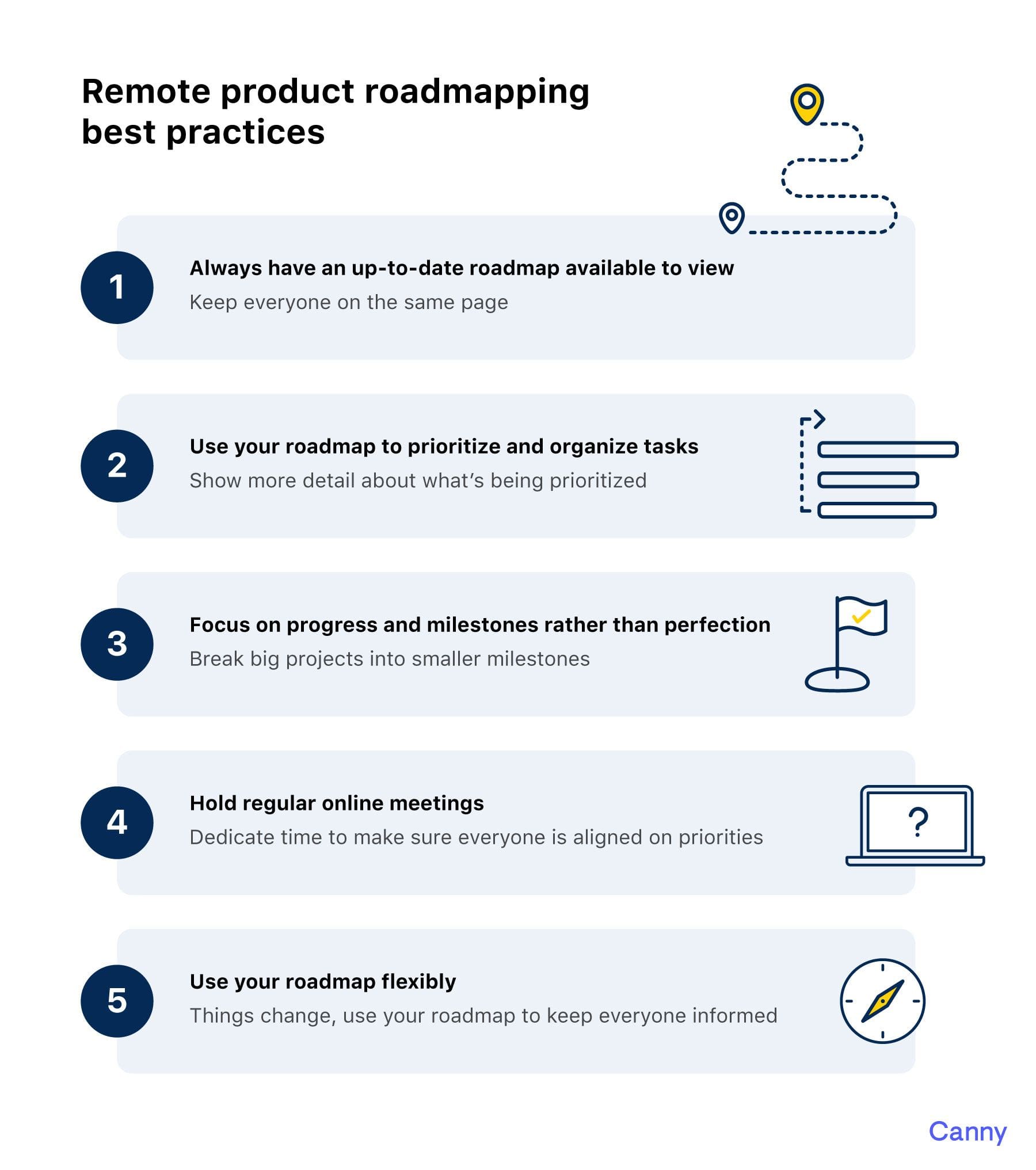 Choosing a roadmap software like Canny that automatically updates and integrates with your other tools will make managing your roadmap easier, and cut down on manual effort. However, the most important thing is that you have a roadmap, period—regardless of the tool you use.
If you follow these roadmapping best practices, your roadmap will help your team stay focused and productive, even when working remotely.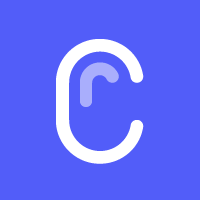 Canny
is a user feedback tool. We help software companies track feedback to build better products.